🔥Magsafe Powerbank Magnetic-(Buy 10000mAh save more)
🔥Magsafe Powerbank Magnetic-(Buy 10000mAh save more)
CHARGE YOUR PHONE WITH A SNAP
Ditch the cable and experience the magic of superfast magnetic wireless charging with our Macsafe Elite Power Bank!
This ultra-slim and stylish power bank combines the convenience of wireless charging with advanced Quick-Grip magnet technology. Its cool, cutting-edge design is the perfect way to discreetly store power on the go, allowing you to enjoy superior charging performance without compromising on portability. Unlock the luxury of effortless charging with our sophisticated and exclusive elite magnetic power bank.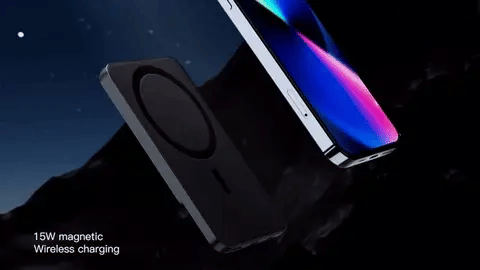 The small & lightweight power bank comes with built-in magnets that perfectly align with iPhone 12,13 & 14 MagSafe technology, allowing both the power bank and phone to snap together for a seamless wireless charging solution on the move.
FEATURES
✅ Snaps and becomes a second battery for your phone using strong magnets
✅ Premium, stylish and luxurious
✅ Large capacity (5000mAh or 10000mAh) means superfast wireless charging (20W)
✅ Aesthetically-pleasing LED digital display provides real-time power value monitoring. Say goodbye to power shortage anxiety.
✅ Ultra-slim (9mm) & super lightweight (145/215gm) makes it super-easy to carry in your pocket or bag
✅ Perfect for iPhone 14/13/12 Series and Android phones with USB-C port
✅ AI-enabled intelligent temperature-control ensures no overheating or damage to your precious phone
Charge Through Your MagSafe Case
Using a Magsafe case compatible with the iPhone 12/13/14 series and the correct charging accessories are important to ensure a smooth user experience.
POWER ON DEMAND
With MacSafe Elite Power Bank, who cares about an outlet? And we designed this handy wireless charging power bank to prove it. Just snap it on and go wherever you are and whenever you need it. It's Just An Easier Way Of Living.
ULTRA-SLIM AND POWERFUL
No one likes bulky accessories to lug around. That's why you can use your MacSafe Elite Power Bank anywhere with it's compact, seamless design. However, don't let the slim design fool you, with 5000mAh, the MacSafe Elite Power Bank packs a mighty punch.
Need extra power for those day-long treks or camping night outs in a middle of nowhere, just get our 10,000mAh capacity version, which allows you to charge your phone up to 3 times.
PLAY WHILE CHARGING
Do you like waiting for your phone to be charged before you can use it to play your favorite game? We neither. With MacSafe Elite Power Bank you don't have to wait!
Just snap it on the back of your phone and take on those final bosses or crush those colorful candies as much as you like. You can even charge two phones at the same time.
QUICK-GRIP MAGNET
We've eliminated the need for wires. Just slap this on the back of your Smartphone and keep a full battery wherever you go. We've ensured to make it super slim and compact enough to give full access to your phone camera.
CHARGE THROUGH YOUR MAGSAFE CASE
MacSafe Elite Power Bank is compatible to be used with the Magsafe case for iPhone 12/13/14 series and delivers a smooth user experience. No need to remove your case every time on-the-go charging is needed.
RECHARGE IN NO TIME
MacSafe Elite Power Bank not only delivers a fast charge to your phone, it also accepts a fast recharge thanks to high-capacity input ports (12W Lightning port for iPhone and 20W Type-C for Android). Avoid the frustration of long recharge times with the MacSafe Elite Power Bank charge levels being restored quickly.
NEWLY UPGRADED AI CHIP
Newly upgraded AI chip: intelligent cooling, no damage to the phone, no heat.
Smart Transformer: Reduce Chip Loss and Improve Efficiency.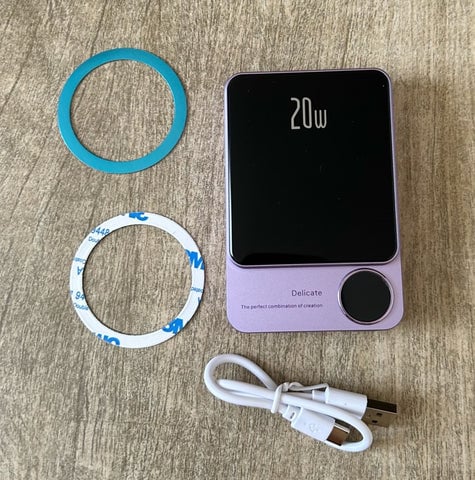 Specifications
Colors: Black/Green/Purple
Dimensions: 104mm x 68mm x 9mm (15mm for 10000mAh version)
Weight: 145g (5000mAh) / 215g (10000mAh)
Wireless Output: 15W
NOTE:
1.Press the button to activate Power Bank before using the magnetic charging function.
2.As the magnetic power bank has been hot while charging is normal. In case of overheating, it will automatically reduce the charging speed or stop charging until the temperature drops.
3.Not compatible with non-magnetic phone cases, such as OtterBox defender cases.
4.Wireless charging and mobile power can be used simultaneously to charge different devices.