The super bright flashlight with a maximum of 100,000 lumens  allows you to  see everything within 2 kilometers! With excellent  heat dissipation design and long  battery life , you  don't have to worry about high temperature causing excessive use time.   
IP 56 waterproof material
The flashlight has IPX56 waterproof ratingand can work well even in rainy and snowy weather or even in water.If it is used on a boat, it can prevent waves from entering the flashlight,and it can be used normally at a depth of 5 meters.The large size and heat dissipationcapacity of the flashlight gives it excellent battery life. It can be used for1 hour at maximum power and the longest use time is up to 15 hours.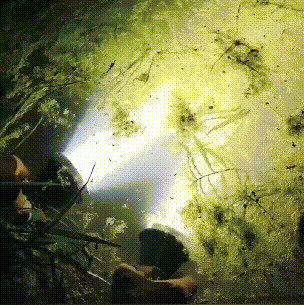 The flashlight adopts aviation-grade aluminum structure , allowing you to adapt to any harsh and extreme environment. It is an excellent solution for camping, sailing, search and rescue!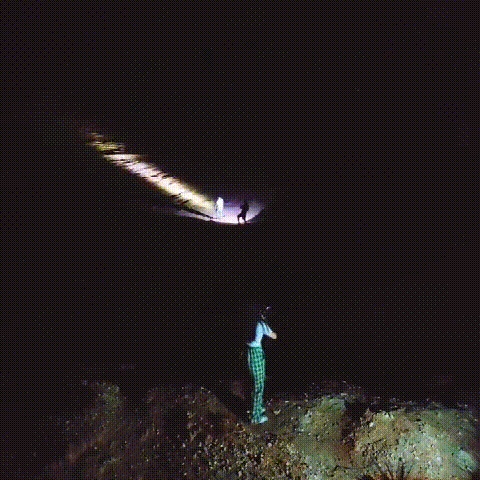 feature:
Super bright:  MS18 is the brightest powerful flashlight in the world. The MS18 rechargeable flashlight has a sturdy structure and amazing brightness. It is equipped with  18 Cree XHP70 2nd high-lumen LEDs, with a maximum output of 100,000 lumens and a maximum beam distance of 2350 meters (nearly 8429 feet).  Suitable for power outages, camping, hiking, caving, adventure, etc.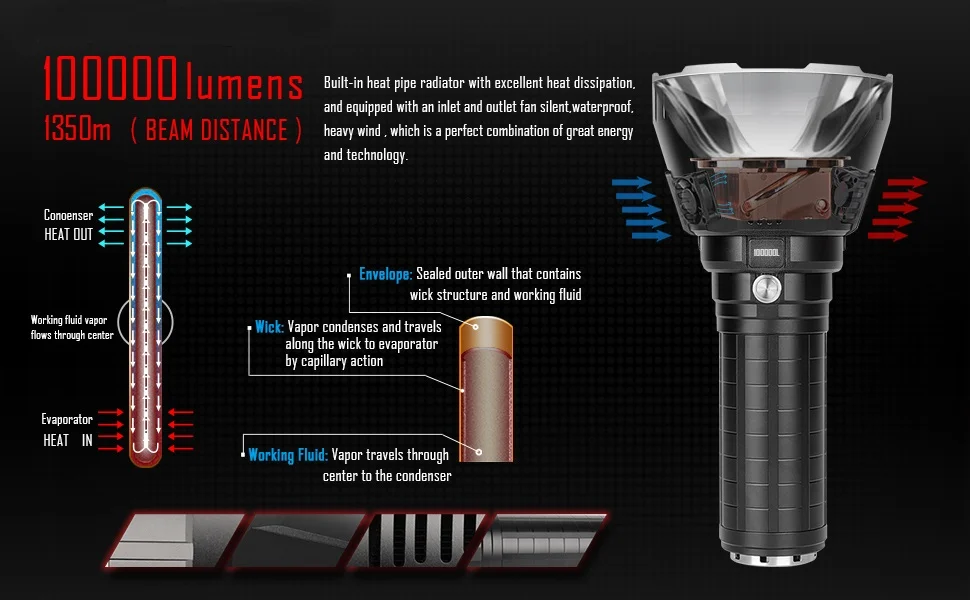 SUPER BRIGHT WIDE BEAM & 9 MODES: Ultra- brightUltra-wide beam effortlessly illuminates a whole room or backyard. It is 50 times brighter than car lights. 9 settings replace the need for multiple flashlights:(700lm/2000lm/5000lm/10,000lm/22,000lm|30,000lm/60,000lm/100,000lm/Strobe).And this led flashlight is powered by a rechargeable battery pack (included), which helps to save battery costs and is very environmentally friendly. Can be used as a practical supplement to any family or emergency kit. And this led flashlight is powered by a rechargeable battery pack (included) which helps save the battery cost and is very environmentally friendly. Makes for a practical addition to any household or emergency kit.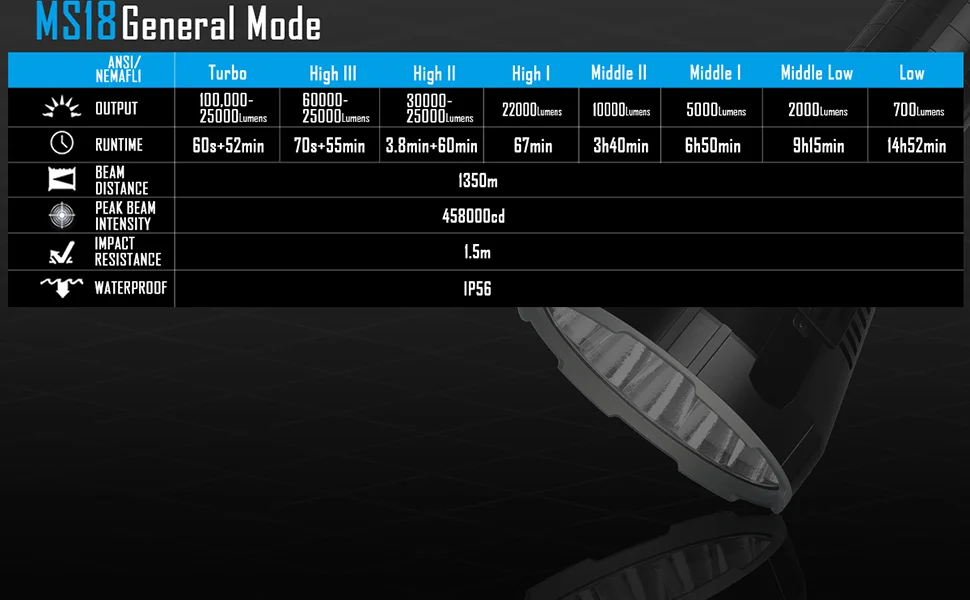 OLED display:  The digital screen of the bright flashlight will display its power, so that we can clearly know how much power is left in the battery.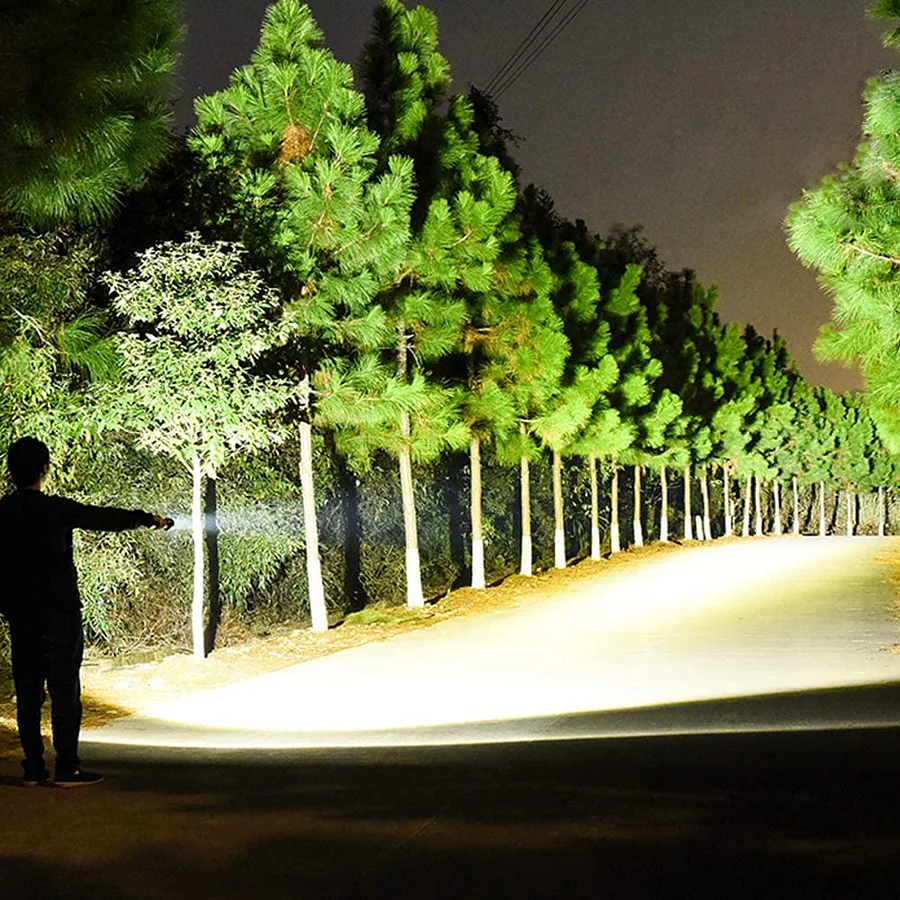 Robust and smart design:  This powerful MS18 flashlight is rechargeable, made of high-performance aluminum alloy, sturdy and durable , and  almost indestructible. The first flashlight with a heat pipe cooling system (cooling fan) to ensure high performance and longer running time at high output. And it is  IP68 waterproof and dustproof, making the flashlight more durable and tough.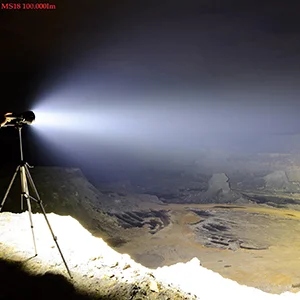 Your benefits:
✔️ 5 modes-strong, medium, strobe, low, SOS
✔️ Impact resistance-the rigid aluminum body can withstand a drop of more than 2 meters
✔️ Waterproof-IPX68 rating, can be used under heavy rain
✔️ Super-high lumens 10 XHP70.2 LED bulb, 100,000 lumens
✔️ Durable-100000 hours lamp life
The quality of our flashlights is second to none
Ultra-bright wide beam
A flashlight with 100,000 lumens can illuminate two football fields effortlessly, providing people with a reliable and convenient lighting tool.
Durable
Aviation-grade aluminum alloy body, wear-resistant Type III hard anodized surface treatment. Combination of tempered ultra-white mineral and anti-reflection coated glass aluminum OP reflector. IP56 standard waterproof.
how to use: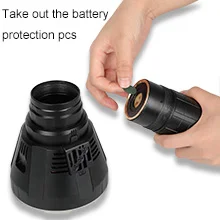 When using it for the first time, remove the battery protection sheet. (It's between the flashlight head and the battery pack).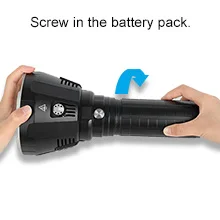 Tighten it as much as possible, because the flashlight requires a large amount of current. If it is not tightened enough, it will not be able to pass current.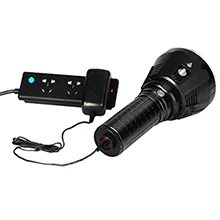 Before using the batteries, be sure to charge them. It will take 4 hours and 25 minutes to charge 8 21700 batteries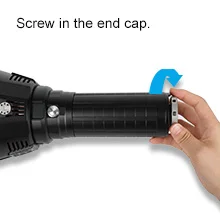 Screw on the end cap after charging.
FAQ:
Q: How many light modes does this flashlight have?
A: This item has 5 modes-full, less, smaller, blinking, SOS signal. This flashlight is bright when fully charged, but of course it uses battery power accordingly. 
Q: How many hours is the running time?
A: I would say that it takes about 4 to 5 hours under high settings. If you want to take it for a long trip, the best way is to buy a few extra batteries for it.
Q: Where is it produced?
Answer:  MS18 is produced in the United States and shipped from our warehouse in California.
Q: Is MS18 safe?
Answer: MS18 has a "safety level" and can be safely operated in areas where explosive gases, liquids, dust or fibers are or may be present. Our flashlights are designed to not become a source of fire in potentially hazardous environments.
Question: Is it really that bright or fake?
Answer:  With 100.000 lumens, MS18 is one of the brightest flashlights on the market. We are one of the few manufacturers specializing in LED flashlight beam splitting power supplies. You can't fake this power!
size:
Length: 265mm
Head diameter: 129mm
Body diameter: 59mm
net weight:
1900g (including battery)