2023 Fashionablet®Crystal Necklace – Free (Crystal) Gift Included🎁
Elevate your style with the exquisite 2023 Fashionablet® Crystal Necklace.
Crafted with precision and attention to detail, this stunning necklace is a must-have accessory for the fashion-forward individuals.
🧙‍♀️Healing Crystal Necklace: This sleek mesh holder keeps your precious gems secure and accessible, allowing you to embrace their energy wherever you wander. Change your crystals every day depending on your mood.
🧙‍♀️Exquisite Craftsmanship: Sturdy coppery cage, tightly fixed, not easy to break and fall off, and can be worn for a long time to promote beauty, health and good luck.
🧙‍♂️Perfect Gift: Our crystals and healing stones necklace is an ideal gift choice during Christmas Day, Anniversary Day, Valentine's Day, Mother's Day, Father's Day and Birthday to your loved one.
🧙‍♂️Place Your Own Stone: Have lots of stones? This Empty Stone Holder is Interchangeable so you can push the knot above the stone and place different ones similar to their size.
Amethyst: Power, Protection, Wisdom
Citrine: Joy, Success, Self-confidence

Tiger Eye: Power, Courage, Protection

Rose Quartz: Kindness, Unconditional Love

Emerald: Loyalty, Serenity, Harmony
Sapphire: Clarity, Truth, Confidence
Carnelian: Confidence, Love, Vitality
Moonstone: Balance, New Beginnings
Black Onyx: Strength, Energy, Protection
DETAILS
Handmade item
Nickel-free and Hypoallergenic
Material: Titanium steel(chain) + High quality copper(cage)
Length of Chain: 23.62"+1.96"/60+5cm
Weight: Chain (10.8g), Crystal Stone (15~25g)
Package1:
1* Crystal Stone Holder Necklace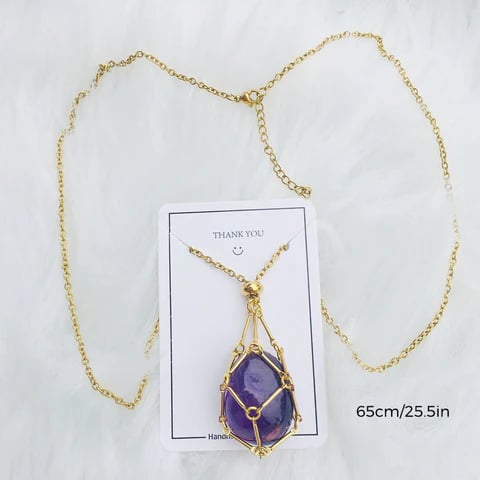 Package2:
Package of 9 crystals
Embrace elegance and sophistication with the 2023 Fashionablet® Crystal Necklace. Add it to your collection and let it be a staple piece that enhances your style and makes a statement wherever you go.