Adhesive Mini Velcro Cords Organizer(6PCS*39.37in)
Adhesive Mini Velcro Cords Organizer(6PCS*39.37in)
One wrap tape for all-Perfect cord organizers or managing headphones, charging cables, home/office/studio wires, cables, cords, and more. For extra-large cables or special circumstances, simply combine multiple ties together. Or get creative with your ties as a means of dealing with plant/flower bundles and keeping your loose items organized.
Easy operate-Self-gripping and firm, while easy to open and wrap. The eye hole and tapered design allow you to not only achieve a more secure wrap but also firmly combine multiple ties together for bigger jobs.
Reusable and efficient-Self-attaching hook and loop tape, one wrap onto itself for a secure hold. Reusable cable ties. Cut the size as required, handy choice for thin or bulky cables, small or big bundle.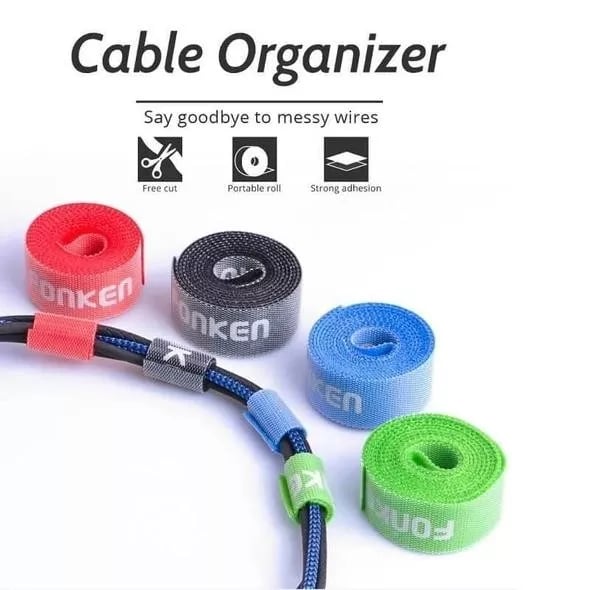 Hook loop cable ties-Made from nylon hook loop cable ties, Unlike many, cheaply made ties on the market that the hook easily peels apart from the fabric under stress, due to advanced engineering cable ties are completely free of this problem
Wide applications-Perfect for bundling cables together and keeping things neat and tidy, can also be used for the replacement of magic buckles for clothing, shoes, backpacks, etc.
▶  HOW TO USE IT?
✅  Cut strap to the desired length
✅  Wrap the strap around the item to be secured
✅  Fasten strap by positioning over itself
✅ Fasten strap by positioning over itself
✅  You can classify your items with different color tape
  Package includes
 Color Data Cable Storage Buckle Velcro × 6 Roll
6PCS*100cm × 1.5cm × 0.5cm