Multifunctional Stainless Steel Basin Grater
Multifunctional Stainless Steel Basin Grater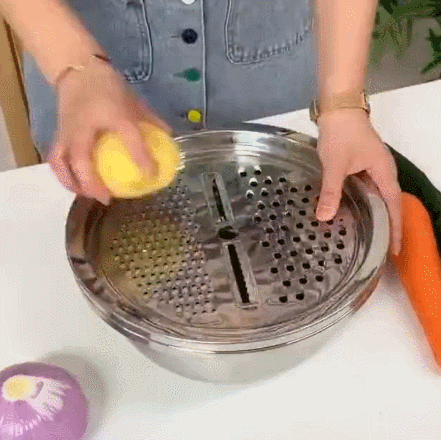 🥒 3 in 1 grater multifunction stainless steel basin set, including top vegetable cutter, drain basket strainer and mixing bowl basin. As a multipurpose julienne grater, it's a good kitchen helper and saves you lots of valuable time and energy.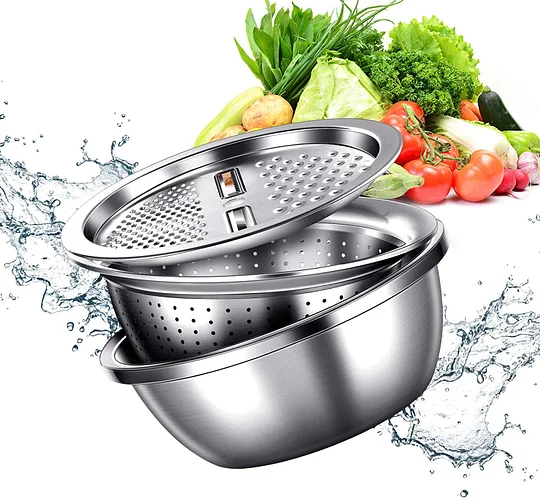 🥕 It's a combination of a vegetable grater, strainer, and bowl, you can do all prep work at home without being swallowed by kitchen gadgets. The horizontally oriented grater sitting on the colander helps you slice or julienne mac-n-cheese mozzarella zucchini ginger and other veggies. The nesting drain basket has many uses such as draining fruits vegetables pasta noodles and more. The below generous-sized bowl is handy for making salads mixing dishes and for food storage.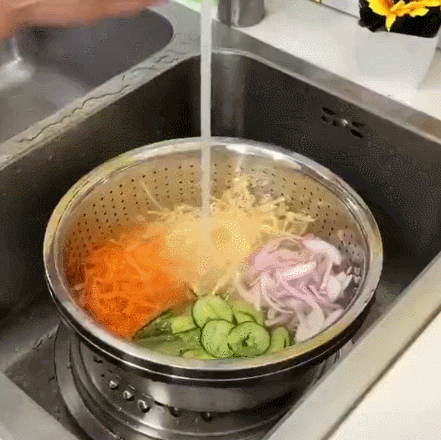 MAKE COOKING EASIER – Top grater is sharp enough to julienne or slice cheese and most vegetables. All pieces will fall into the strainer below when operating. The strainer is effective to drain pasta elbow noodles spaghetti veggies and fruits. Basin at the bottom can be used to rinse all kinds of ingredients, blend baking flour, ferment doughs, and as a salad mixing bowl.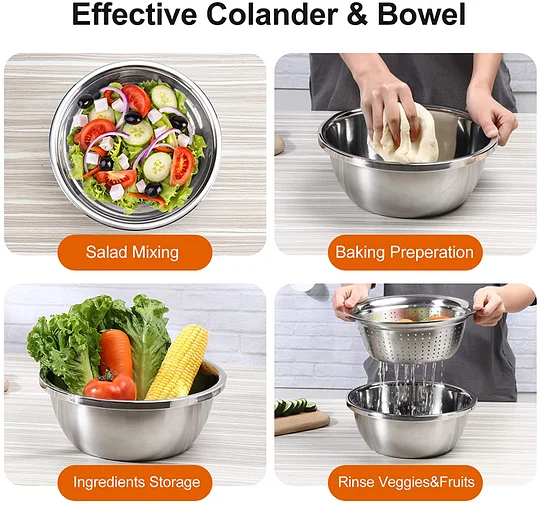 STURDY CONSTRUCTION – This multifunctional stainless steel grater is made of thick and good quality stainless steel material, it WON'T dent easily. There's also no worry about it shattering or breaking. (TIPS: For long-term use, please try to keep the whole set neat and avoid unnecessary dropping.)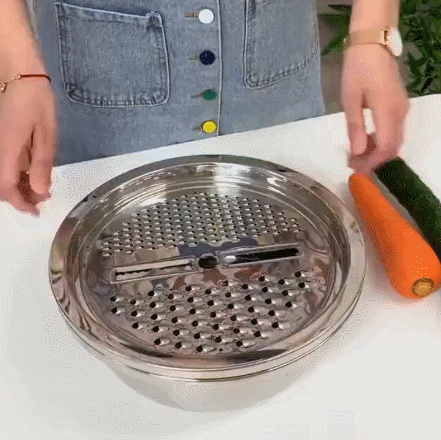 PRACTICAL SPACE SAVER – Nesting design not only saves storage space but also simplifies washing draining and mixing of food within a small workspace. It properly fits in a large kitchen fridge or countertop.
EASY AND CONVENIENT – After all prep work is finished, you can simply wash this set with tap water and then put it in a ventilated place for airing, which is good for maintenance. The multifunctional stainless steel basin set can be easily washed by hand or dishwasher after an assortment of kitchen jobs.
Multifunctional Stainless Steel Basin Grater
Package including
Multifunctional Stainless Steel Basin Grater x1