✨Multifunctional medicine cutting machine
Multifunctional medicine cutting machine
Does your pill cutter often pinch and crush your finger?

It Cuts Pills So They Can Be Mixed with Food or Water or Taken More Easily As A Smaller Size.
Not only does it crash and cut medication but it also includes a drinking cup with a cover and a pill storage compartment.

Is your pill divider very difficult to disassemble once you have closed the sheet in a pill? For anyone with grip problems, arthritis, etc. It is awful.
PRODUCT FEATURES
PRECISE DOSE – The pill cutter uses a unique design to firmly hold pills for easy and precise cutting, making it a premium drug splitting device. It is the best pill cutter to provide an accurate dosage of any medicinal tablet.
EASY TO SPILL – The comfortable pill cutter design makes it easy to split pills in half for precise dosing or for those who are having trouble swallowing. No more pills that crumble or break unevenly, a pill cutter is so easy to use.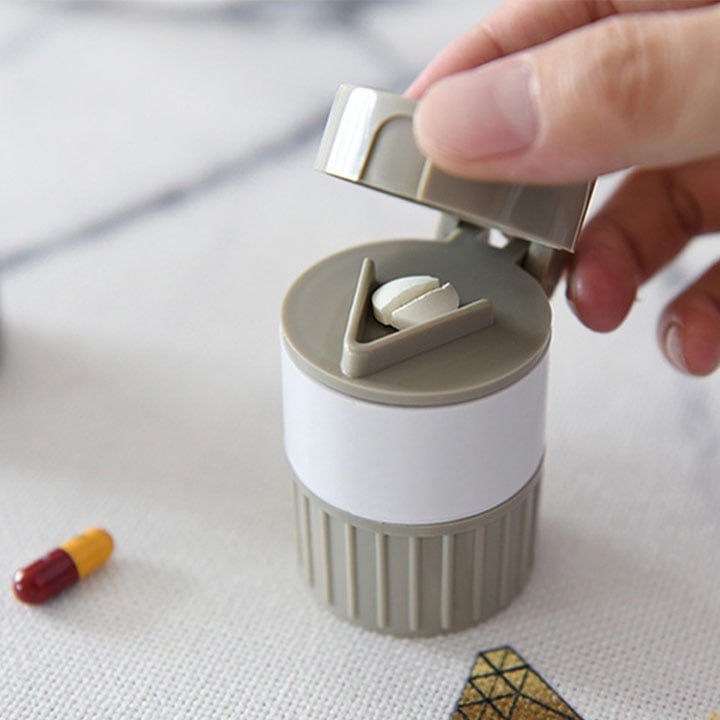 SHARP BLADE- The pill cutter features a stainless steel blade that stays sharp longer, so you can have the ease and comfort of a pill cutter to precisely cut your medication pills for a precise dose time after the weather.
EASY TO CARRY – This pill cutter can cut the pill and can also be used as a pillbox for a day. It is a small pill cutter, light and easy to carry, it is a pill cutter necessary to go out.
PRODUCT SPECIFICATIONS
Material: High-Quality ABS, Blade, Stainless Steel
Features: Cutting, Grinding, Easy to carry
Size: 6.5 x 5cm (2.56 x 1.97 in)
PRODUCT INCLUDE
1 x 3-in-1 Pill Splitter Cutter