📣45%OFF-PILLBOX WATER BOTTLE
📣45%OFF-PILLBOX WATER BOTTLE
Do you forget to take your daily pills?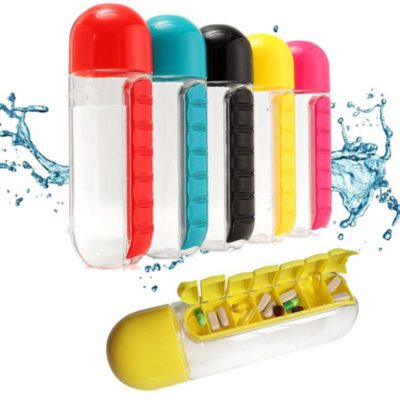 It is an issue for many of us to stay clinched to the routine of taking daily pills. When not organized effectively, the busy daily routine overwhelms us and we often forget to take pills as prescribed.
Though it is essential, we tend to often give a miss and suffer consequences. This puts elders or children at the greater risk, as their daily medicine dosages are not taken care of.
How to overcome such disorganization in your daily intake of medicines?
Keep your everyday pills and vitamins with this amazing pill organizer water bottle!
Your medicine slides right on, making you take your most important essentials with you every where including home, fitness, or office! The cap turns into a nifty drinking cup and it holds up to 20 oz. of water!
This pill box  is conveniently attached to the water bottle and is a multi-compartment compliance aid for storing medications. The 7-day pill organizer makes it easy to stay organized and worry free throughout your daily routine  such as while being at work or during exercise by helping keep your medications secure with a water bottle!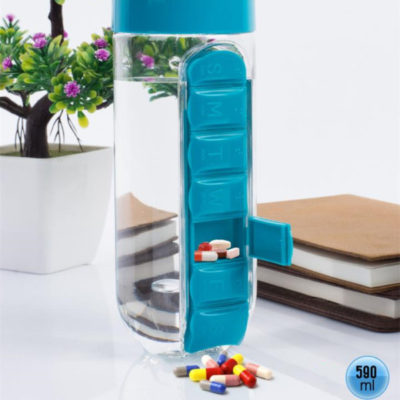 Features:
LARGE CAPACITY BOTTLE : The pill organizer box comes with 20 ounce capacity water bottle so you can rest assured knowing your covered with your pills and water all stored in one cool gadget
CONVENIENT DAILY ORGANIZER : Made with a built in 7 days pill holder so you've got the pills the water and even the lid as a cup with at all times. Great for outdoor, traveling, work or keeping at your bedside.
ORGANIZED AND NEAT : Our seven section pill storage case allows you to store each day's pills (about 3 large sized pills) in an easy open close compartment so you know that you've taken your daily dose.
SIMPLE TO ASSEMBLE : The pill container box is easily removable to make it simpler for you to wash and refill your bottle with water juice or any beverage that makes it easier to take your vitamins or medicine- hand wash
TRITAN NON BPA MATERIAL : Constructed with virtually indestructible tritan material this bottle is durable for even the most rigorous traveling
SITS EVENLY ON DESKS OR NIGHT TABLES : Made with for tiny anchors so your bottle will sit where you put no rolling around. Leave it on your night table and in the morning you'll find it exactly where you left it
Specification:
100% brand new and high quality
Material: PC+PP
Size: 23×7.5×7.5cm
Capacity: 600ml / 20 oz
PACKAGE INCLUDES:
1 water bottle, in choice of color