2 in 1 Stainless Steel Carving Knife
Fruit lovers, don't miss this tool!
Carve fruits and make perfect circles in no time with the 2 in1 Dual-head Stainless Steel Carving Knife!
PRODUCT FEATURES:
Makes eating fruits a breeze. Stop wasting your time and ruining the fruits and making a mess by trying to scoop them with spoons. Bring this 2 in 1 Fruit Knife to your kitchen and make cute small balls of any eatable you wish. Give them a more fun look.
2 in 1. Cut food in a zig-zag shape, scoop it into circular balls, remove the seeds with only 1 tool! This tool is designed to do all these things in a convenient and easier way compared to the traditional way or knife.
Durable. Made from high-quality stainless steel, silicone handle. It's dishwasher-safe and rust-proof.
A must-have in your kitchen. Ideal for scooping out cherry tomatoes, remove seeds from cucumbers or scoop out the core of an apple or pear and scrape strings from the inside of the squash. Can also be used as a cookie drop and more!
Comfortable handle. The handle is made from premium silicone and ergonomically designed to scoop, cut fruits with ease and scrape away fruit seeds conveniently.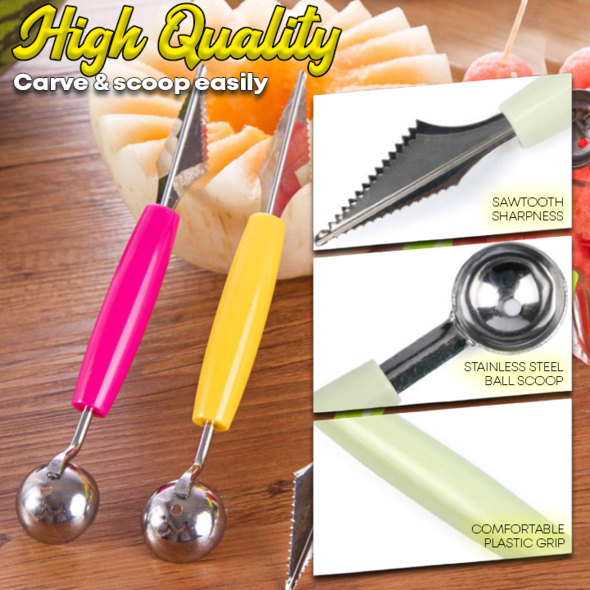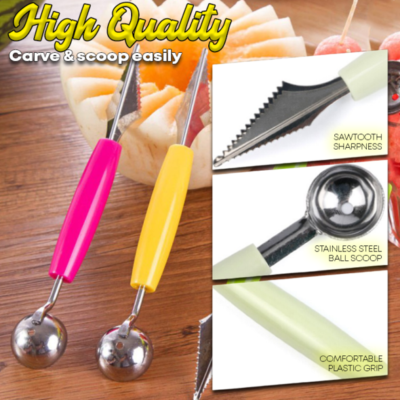 PRODUCT SPECIFICATIONS
Product size: 18.5×2.9×1.4cm
Material: Stainless steel, Silicone
PACKAGE INCLUDES:
1 x 2 in 1 Stainless Steel Carving Knife