2-in-1 Woodworking Hand Tool
2-in-1 Woodworking Hand Tool
Are you still worrying about measuring curved corners?
Features:
1. PERFECT FOR BEGINNERS: If you are just starting out in woodworking, this single knob feather board will make it easier than ever before for your to control and cut wood accurately, using just one hand at a time.
2. CLEANER, SMOOTHER CUTS: The precision and accuracy in this premium feather board ensure that you can hold the wood tight against the fence which results in cleaner, smoother uts.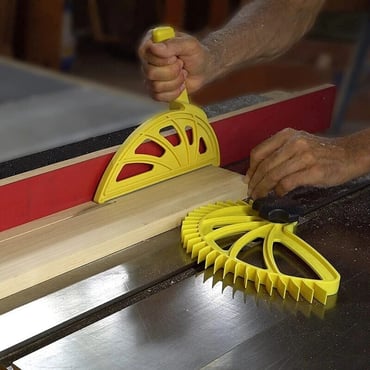 4. REDUCE KICKBACK & OTHER DANGERS: Thanks to the snug fit of this feather board, reduce wood kickback, which makes it a safer working environment for you.
5. IMPROVED QUALITY OF WORK: This premium, single pivot point feather board will guarantee high-quality output every single time. It's perfect for hobbyists and professionals looking to create wooden masterpieces.
---
Specification
Size A: 237*195*10mm
Size B: 268*203*10mm