2021 New Silicone Hammer Toe Corrector
2021 New Silicone Hammer Toe Corrector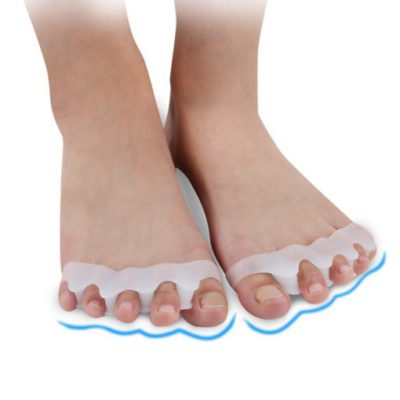 Specifications:
High-quality material:Made of durable and safe -grade silicone gel, stretching your toes and covering bunion with its flexible touch.
All-day comfort and protection: These hammer toe straightener are human engineering designed and made of extremely soft silicone gel. Let you know how to straighten toes in comfort.
Sports Friendly: This toe straightener can be used at home, while walking and practicing yoga.
Re-Useable : Wash them with soap and air dry then you could use it again and again! (Recommend that you need to replace it with a new one after 30 days of using)
Package Included:
—Toe Corrector x 1 pair or more
Notes:
– For the first time, you may feel a little uncomfortable, We suggest to wear for 15-20 minutes, then increase wearing time until you can comfortably wear our toe separators.
-We recommend applying some baby powder on the gel part when you find them sticky.
SOFT and COMFORTABLE GEL MATERIAL – It made of durable, soft and stretchable medical-grade gel, comfortable and safe, infused with vitamins that release mineral oil to moisturize your skin. Latex-free.
PROVIDES INSTANT RELIEF – The best natural way to relieve discomfort from hammer toe, corns, bunions. Protect sensitive areas, reduce friction between toes. Gel Toe Separator also keep interdigital spaces dry, inhibiting fungus growth.
SIMPLE TO USE – They would be for both men and women, you could wears them with shoes(High-Heels, hiking shoes, sports shoes and walking shoes) even while working.and it is OK to wear while sleeping.