24 Teeth Stainless Steel Ice Cleats for Shoes and Boots
24 Teeth Stainless Steel Ice Cleats for Shoes and Boots
Our stainless steel crampons are ideal for snow and ice hikes, Nordic walking and trail running and offer a powerful solution for the toughest weather conditions.
24 Teeth Stainless Steel Ice and Snow Traction Cleats
Traction Cleats for Snow and Ice ​:
We were hiking with our crampons on Alpens and shot the photos on the top of one mountain
Why should you choose our ice spikes ???
Each ice spike for shoes has 24 multi-directional enhanced stainless steel spikes ;
Each stainless steel spike of the ice tracks for shoes is heat treated and hard to bend;
Ice trekkers are Ideal for ice traction and to be used on mountain trails;
Portable Snow Hiking Spikes
To ensure instant traction, we only use stainless steel spikes and chains which coupled with the unique spike design gives you the freedom to overcome bad weather and enjoy your outdoor activities without worrying about slipping.
Whether you're going up a mountain, hiking through snowy plains, or simply taking a walk in the middle of winter, you can count on heavy-duty trail spikes for shoes to keep you firmly planted to the ground and reduce the risk of slipping.
Great to reduce the risk of falls with these micro spikes for snow and ice, when walking on snow or ice to work, school, or even to the mailbox;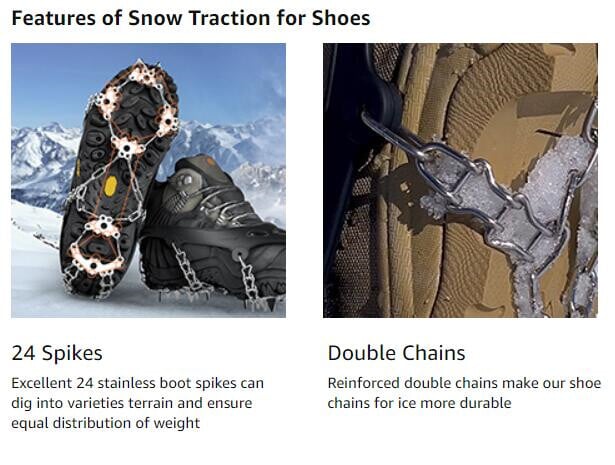 Our crampon ice cleats are the perfect choice for travelers and adventures that don't want water or ice getting in the way of their outdoor adventures.
These stainless steel crampons are the perfect choice for walking, hiking, ice fishing, ice climbing, trail running on light or packed snow, and any other winter activity you have in mind. Thanks to the sturdy steel build, The stainless steel trail spikes are lightweight and don't weigh down your feet to provide better traction without getting in the way of your mobility.
Our shoes ice spikes are a perfect partner for winter hiking, backpacking, ice-trekking, ice fishing, trail-running, etc