3 in 1 Stainless Steel Vegetable Peeler Fruit Knife
3 in 1 Stainless Steel Vegetable Peeler Fruit Knife
Less time cooking, more time for you !!!!!!
Discover a new way to peel vegetables !!!!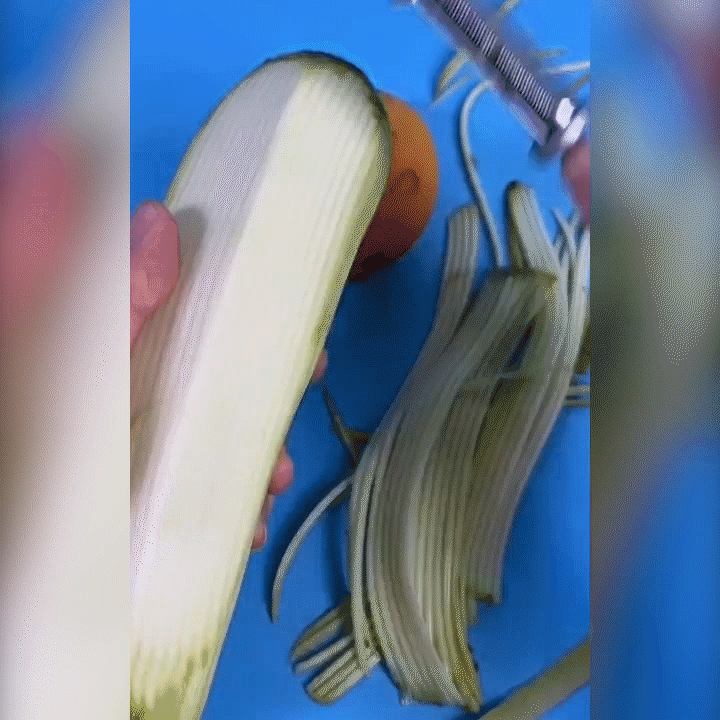 You can peel anything in seconds with this amazing peeler! The KITOOL peeler contains three peelers with different blades – suitable for all kinds of vegetables!
It can be used for easy peeling and to remove fruit or vegetable peels.
Contents of the package:
1x 50 mm peeler (for peeling hard-shelled vegetables and fruits),
1x 60 mm peeler (better for peeling slippery fruits and vegetables),
1x Julienne cutter (for making great stripes)
Vegetable Peeler Gif – Vegetarian Foody & # 39; s
For beginners and professionals alike
This magical peeling trio has been used by chefs in their kitchens for years, saving you time making ingredients and decorations. We are sure you can enjoy cooking better with this product!
Red peeler:
Can be used for peeling potatoes, carrots, apples, pumpkins, pineapples and tomatoes.
Black peeler
For thin slicing of cabbage and cheese.
Blue peeler
For cutting pasta and carrot titles.
PRODUCT FEATURES
DOUBLE, EXTREMELY SHARP BLADE
KITOOL will impress with a stainless steel blade that evenly pulls off any bumps without crumbling.
EASY TO HANDLE
The smooth and light handle is non-slip and ergonomic even during repeated peeling, providing comfort and greater safety during peeling.
EASY TO CLEAN
The products are dishwasher safe.
EASY TO HANDLE
You can use it for regular peeling of fruits or vegetables. They are also great for making healthy snacks, salads or fruit decorations.
3 different peelers (set)
Features:
1. Double super sharp surgical stainless steel double edged blade
2. Peel off smoothly and easily
3. Comfortable feel after peeling for a long time
4. Built-in potato granulator and orange peeler
5. Dishwasher safe