5200 LB. MAX VEHICLE WEIGHT ULTRA-MOBILE SELF-LOADING DOLLY
5200 LB. MAX VEHICLE WEIGHT SELF-LOADING DOLLY
Dead engines, locked Steering wheels, and small spaces are no problem for Sunex car Dollies. The 7708 can be used in singles, pairs, 3's, or 4's to move vehicles in any direction. Features include long aluminum rollers, safety locking casters, a large diamond-plate foot pedal, and a sturdy Ratcheting mechanism.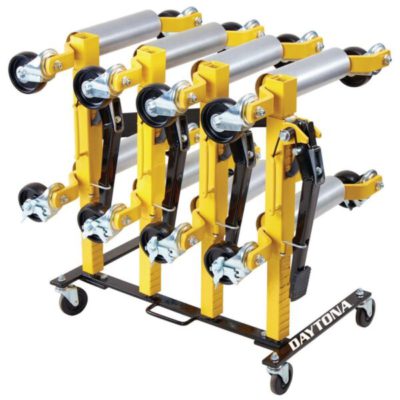 PRODUCT OVERVIEW
OTC's Easy Roller Dollies are a simple and efficient method of moving a disabled vehicle around a shop environment
Position an easy roller at each wheel of a vehicle weighing up to 5200 pounds then use the foot pedals to activate the hydraulic lift mechanisms
Within minutes, one individual can easily move the vehicle throughout the garage while protecting the floor from damage
Features: 1-1/2 ton (1,300 lb) capacity, robust hydraulic system with locking pin, four heavy-duty phenolic casters, and fits tires up to 12 inches wide
1.Lifts wheel weight to 1300 lb., combined vehicle weight of 5200 lbs.
2.Open-side lift handles tires up to 34 in. H x 11 in. W
3.Heavy duty 4 in. swivel casters
4.Ratcheting foot pedal lift for hands-free use
5.Rugged steel construction
5200 LB. MAX VEHICLE WEIGHT SELF-LOADING DOLLY
SPECIFICATIONS