AEXZR™ Sink & Drain Cleaner
AEXZR™ Sink & Drain Cleaner: NO MEASURING, NO MESS, AND NON CORROSIVE!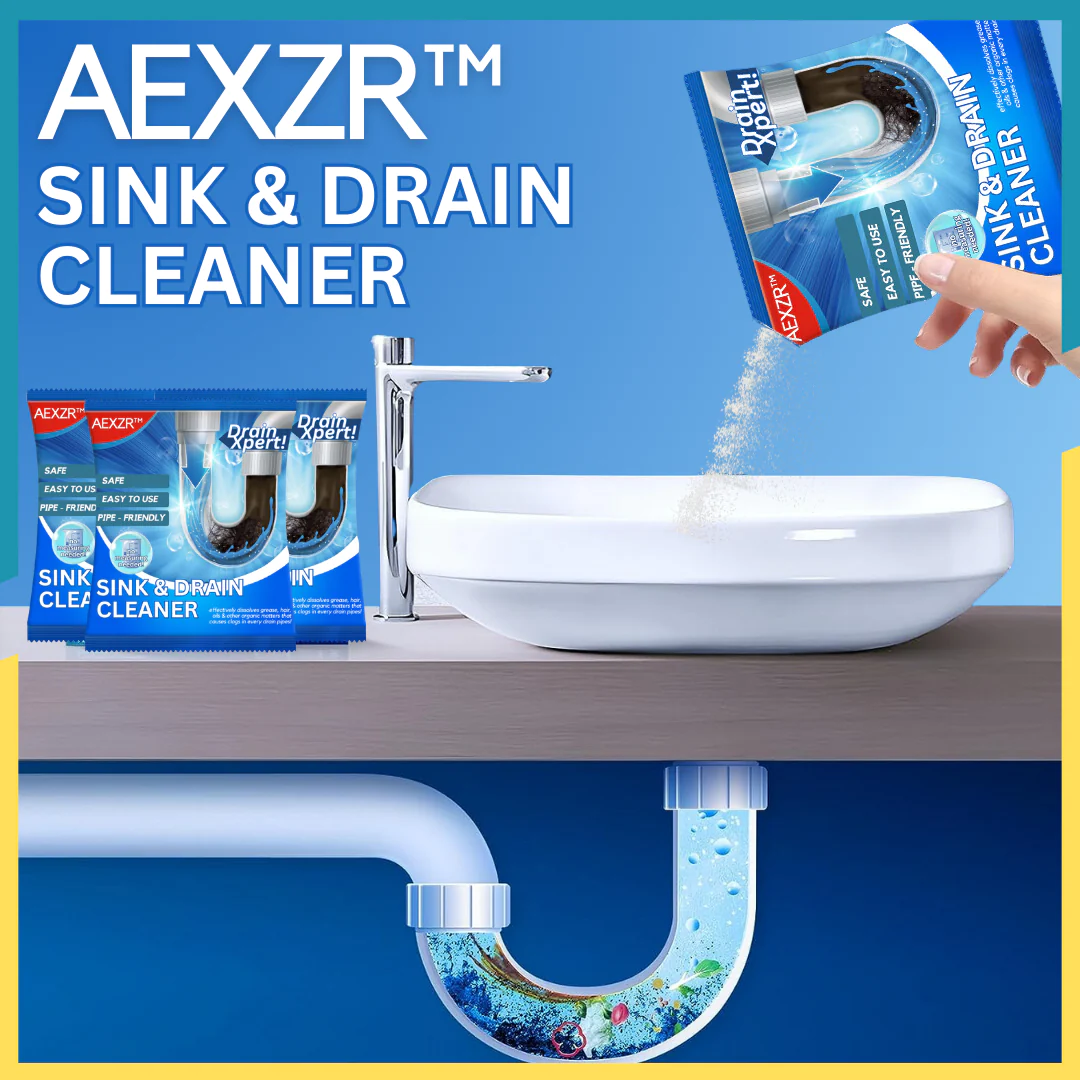 Say goodbye to the most stubborn clogs in your sink's drain! The Ultimate AEXZR™ Sink & Drain Cleaner is specifically designed to effortlessly dissolve common culprits like grease, hair, oils, and other organic substances that are notorious for obstructing and slowing down the flow in all types of drainpipes. This powerful solution ensures that your drains remain free-flowing, allowing you to enjoy hassle-free water drainage without the worry of blockages!
No Need to Call for Professional Help

High-Density & Powerful Formula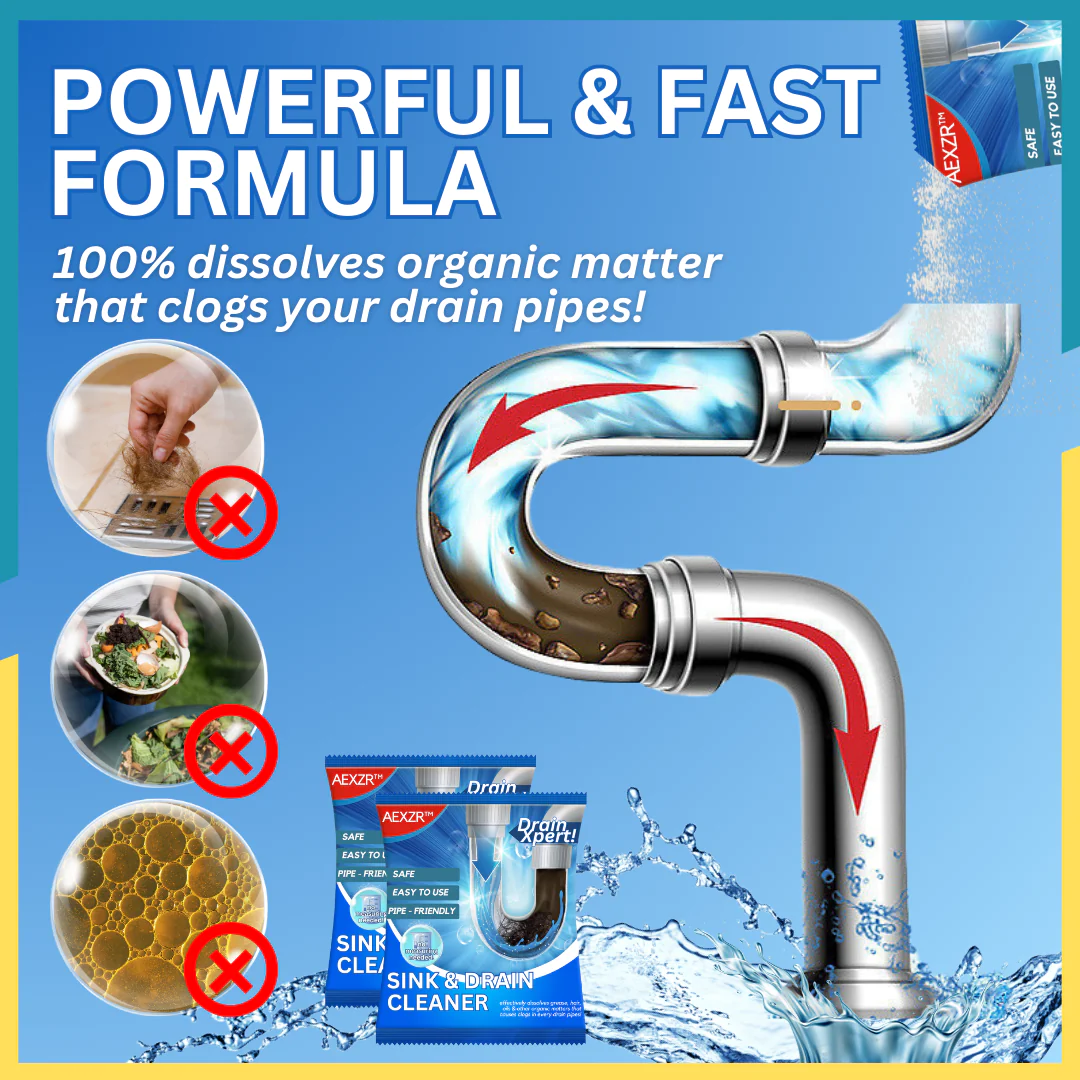 The AEXZR™'s High-Density Solution boasts a unique adhesive property, sticking firmly to the inner surfaces of your pipes, and it works in tandem with its pH-altering mechanism to swiftly and effectively eliminate blockages. This innovative formula adheres to the walls of your plumbing, creating a reliable barrier that, when combined with its pH modification capability, accelerates the dissolution of obstructions, ensuring a rapid and efficient resolution to any clogging issues you may encounter in your pipes.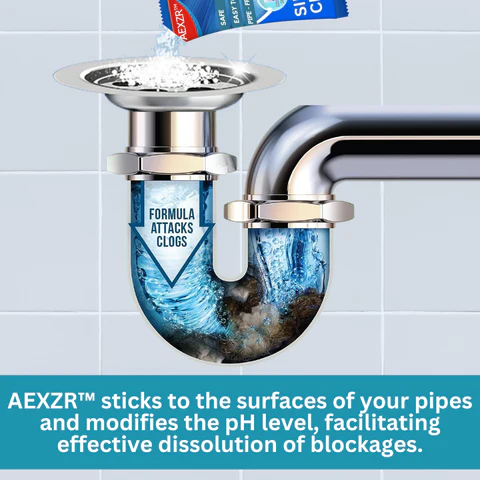 Proper Usage Method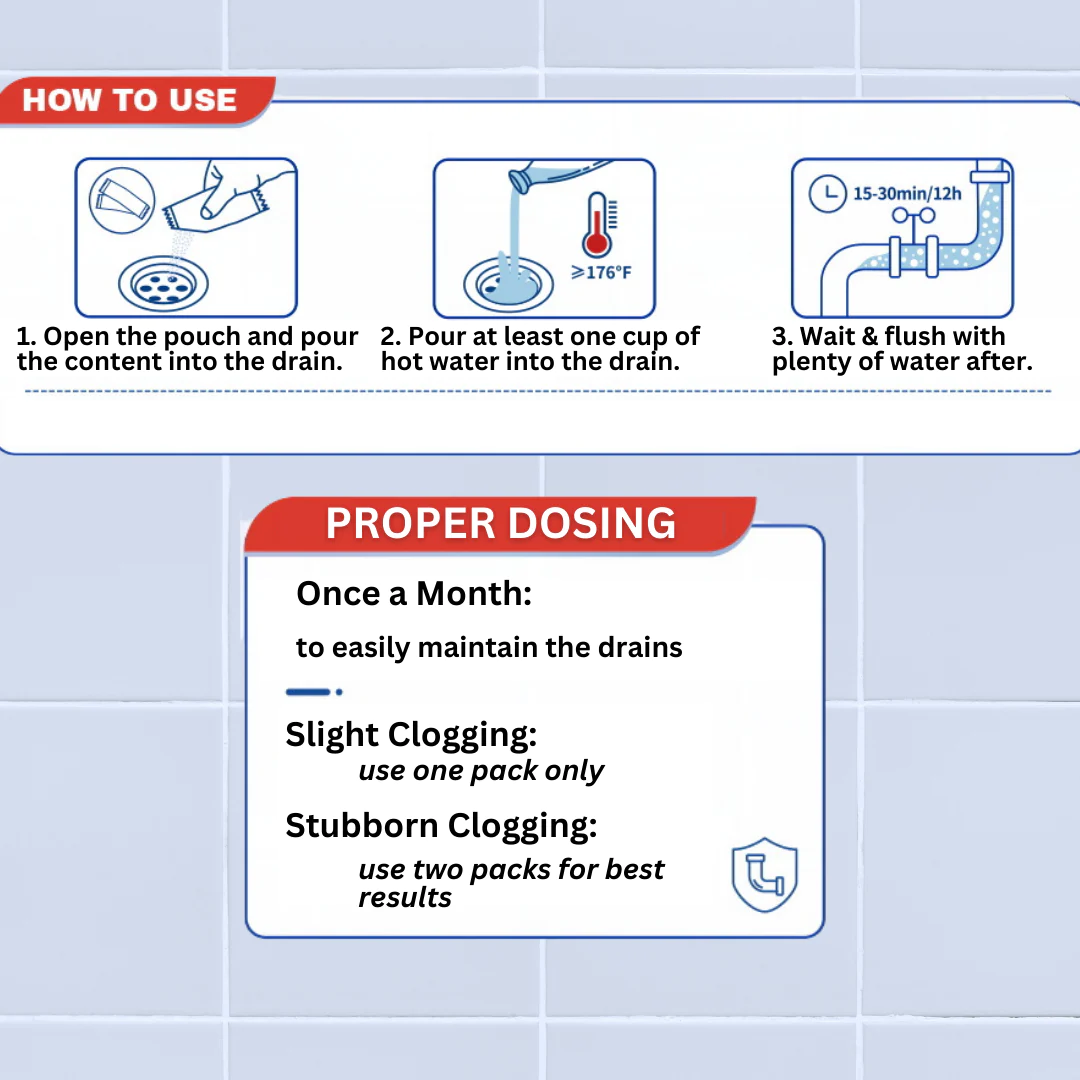 Why AEXZR™ Sink & Drain Cleaner is your BEST CHOICE:
Highly Effective Clog Remover: AEXZR™ Sink & Drain Cleaner feature a potent formula that swiftly breaks down hair, food waste, grease, and toilet paper, making quick work of clogged drains and pipes. Achieving a remarkable 99% efficiency in under 30 minutes, these toilet clog removers are perfect for routine plumbing maintenance in homes.
No-Measure, No-Mess Solution: No need for measuring, clearing a slow-flowing drain is a breeze — simply pour a pack into the drain, add hot water, and wait 15-30 minutes before flushing with clean water (or leave overnight for tough clogs).
Gentle Ingredients: AEXZR™ Sink & Drain Cleaner utilize powerful yet gentle ingredients that are safe for most pipes and septic systems. They're non-toxic and free of harsh chemicals or bleach. (Please note that, like most drain cleaners, AEXZR™ Sink & Drain Cleaner contain chemical ingredients that can be harmful if ingested or come into contact with skin or eyes.)
Safe Operation: Meticulously crafted, AEXZR™ Sink & Drain Cleaner won't produce strong odors, irritating fumes, or splashing when mixed with hot water. They're safe to use in homes, schools, hospitals, cafeterias, and restaurants. Regularly applying this shower drain cleaner once a month helps keep your pipes clear and prevents clogs.
Versatile Application: AEXZR™ Sink & Drain Cleaner features a non-acid, biodegradable formula that's compatible with various pipe types, including metal and plastic. They're suitable for kitchen sinks, bathroom tubs, showers, floor drains, urinals, RV drains, and more.
SPECIFICATION
pH Value: 11-13
Package Includes: 1/2/4/8 x AEXZR™ Sink & Drain Cleaner