AntiSwell Black Obsidian Anklet
Are you experiencing leg swelling? Do you see spider veins?
We have a product that can be the PERFECT CURE for you. Introducing the AntiSwell Black Obsidian Anklet
AntiSwell Black Obsidian Anklet is a BLACK OBSIDIAN ABKLET that is SPECIALLY DESIGNED to TREAT LYMPHATIC DRAINAGE on the LEGS and FEET.
It can EFFECTIVELY REDUCE SWELLING and STIFFNESS as it UNBLOCKS the CLOGGED lymph nodes and REDUCES ADIPOSE TISSUES and FAT CELLS in the LEGS.
It STIMULATES EXPULSION of WASTE and TOXINS of the body. It DECREASES SWOLLEN GLANDS after surgery, injury or inflammation. It PROMOTES RELAXATION and PROVIDES a DEEP and CALMING SLEEP.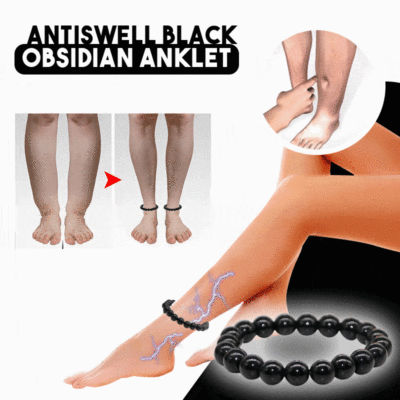 AntiSwell Black ObsidianAnklet has a MAGNETS that INCREASES the BLOOD PRESSURE to PROMOTE and EFFECTIVE and IMPORBED BLOOD CIRCULATION.
It has a BUILT-IN INFRARED that has a BIO-ACT TECHNOLOGY that DELIVERS the FIR (Far-Infrared) ENERGY into a NANO STRACTURE that PENETRATES DEEPLY in to the HUMANS KIN and PROVIDES the FOLLOING BENEFITS: REDUCES INFLAMMATION, STRENGTHENS HEART HEALTH, AIDS DIGESTION, LOWERS BLOOD PRESSURE, DETOXIFY BODY, RELIEVES STRESS and BOOSTS IMMUNE SYSTEM.
It is PROVEN to be SAFE and EFFECTIVE. It is LIGHTWEIGHT and GUARANTEED to DELIVER FAST RESULT.
————————–
SPECIFICATIONS:
Size: One Size
PACKAGE INCLUDES:
1 x LymphDrainage Black ObsidianBracelet