ATTDX Instant HairStimulating PureHerbal Spray
Do you suffer from thinning hair, balding, or hair loss? Are you looking for the best hair loss shampoo on the market? Look no further than our ATTDX Instant HairStimulating PureHerbal Spray! Formulated with potent ingredients like Ginger, Sophora, and Polygonum Root Extract, this spray is designed to nourish your hair follicles and promote healthy hair growth.
Let's see what our happy customers are saying about our product:
"I was a little hesitant to try this product at first because it was so expensive, but I am so glad that I did! The spray definitely works, and the fact that it's all-natural is really important to me. I love the way my hair feels after using it. It's stronger, healthier, and shinier than before! This is one hair care product that I don't think I will ever give up!"—Sarah Anderson—Houston, Texas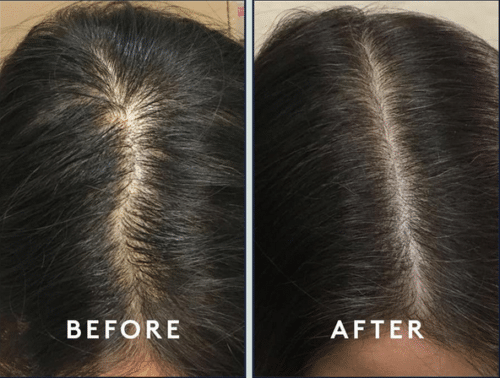 "I was at my wits end trying to find a solution to my hair loss. I used to have long, thick hair and then it started thinning out, getting sparser and sparser until I had bare patches. It was horrible. Then someone recommended ATTDX Instant HairStimulating PureHerbal Spray to me, so I tried it. After the first bottle, I could see improvement in the health of my hair, even my hair color looked better!"—Bettany Johnson—Miami, Florida
Dr. Ashwaq Najemaldeen Abbas, University of Sulaimani Kurdistan Region, 2020
Key Ingredients for Hair Growth:
Ginger Root Extract
Ginger Root Extract helps improve the circulation of the scalp while also stimulating each hair follicle, which in turn promotes longer, stronger hair. The many vitamins, minerals, and fatty acids in ginger also contribute to strengthening your hair strands to combat hair loss, and ginger contributes to restoring moisture loss. Ginger is an advanced formula that promotes hair growth by combining powerful antioxidants, extracts, and nutrients.
"Ginger contains magnesium, potassium, phosphorus, and other nutrients that nourish your hair follicles. This prevents hair loss and makes your hair strong. It also contains essential fatty acids like linoleic acid. A deficiency of polyunsaturated fatty acids such as linoleic acid can result in hair loss. Thus, having ginger with this essential acid may help prevent hair loss."
Sophora Root Extract
Extract from Sophora Flavescens may encourage hair development and be utilized in hair-growing products. In search of natural extracts for hair growth, we found that the extract of dried root of Sophora Flavescens has outstanding hair growth-promoting effect. In addition, the Sophora Flavescens extract was revealed to possess a potent inhibitory effect on the type II 5alpha-reductase activity. Taken together, these results suggest that Sophora Flavescens extract has hair growth-promoting potential and can be used for hair-growing products.
Polygonum Root Extract
Polygonum, commonly known for its restorative effects on graying hair, hair loss, and alopecia, may also be helpful as an anti-aging herb due to its nourishing effect on the blood. A recent study has just discovered that this plant has properties that prevent hair loss and promote hair growth.
Studies have shown that Fo-Ti (Polygonum Multiflorum) can help speed up the transition of hair follicles from the dormant stage of hair growth (telogen phase) to the growth stage (anagen phase) by working on the FGF0-7 gene, which encodes proteins particular to epithelial cell growth. This is especially important to those suffering from hair thinning or hair loss. In a recent study, researchers found that oral administrations of Fo-Ti and topical Fo-Ti could promote hair growth
What Makes the ATTDX Instant HairStimulating PureHerbal Spray Very Effective?
Provides vital nutrients for a cleaner scalp & happier follicles
Promoting strand retention & inhibiting breakage
Nourishes, plumps, and strengthens hair
Nourish each strand to rapidly promote +95% longer
Effectively consolidate hair and prevent hair loss
Contains natural organic herb & botanical properties.
Prevents dryness and breakage as well as repairing split ends
Helps stimulate the scalp, encouraging healthy hair growth.
Deeply moisturizes dry hair.
Encourages +94% healthy hair growth.
Improves the thickness and density of +97% existing hair.
Let's check out Samantha's Hair Growth transformation with the help of the ATTDX Instant HairStimulating PureHerbal Spray:
WEEK 1
"I was eager to try this product and see if it would work for my thinning hair. I had some sparse areas that I was trying to grow out due to some damage from bleaching and dying, and I hadn't had much luck until I tried this. It felt amazing and very refreshing on my scalp. After a week, there was less itching and dandruff!"
WEEK 4
"After using this product for four weeks, I've noticed that my hair has been stronger, healthier, and fuller. I've seen some new growth in the areas that were previously thinning out, including at my roots and on my edges."
WEEK 8
"I've noticed a huge improvement in the condition of my hair. It's been looking so much healthier, and thicker and there are no more patches to hide! The hair has grown back completely, and I'm so happy with the results. I've been consistently using the ATTDX Instant HairStimulating PureHerbal Spray for a couple of months now, and it's definitely one of those great products that really works!"
How to Use:
Wash and dry your hair as you normally would.
With fully dried hair, place 1-2 sprays on the problem area(s).
Massage the problem areas until the product has been fully incorporated into the skin.
Use regularly for best results
Product Description:
Net Content: 30ml
Package includes:
1PC x ATTDX Instant HairStimulating PureHerbal Spray