Camera Stabilizers Crane 4

➤ 4-In-1 Compatibility:Now supporting up to 1.2kg Payload, this small camera gimbal is compatible with smartphone, action camera, compact camera and DSLR. Compatible for mainstreaming mirrorless camera, such as Sony ZV-E10, Sony A7S Ⅲ, Sony FX3, Sony A6000, Canon EOS R5, Canon EOS R8, Nikon Z7Ⅱ, Nikon Z50, etc. *You can check the camera compatibility list in the overview.
➤Camera Compatibility List
| | |
| --- | --- |
| Canon | 1DX Mark III/1DX Mark II/5DS/5D Mark II/5D Mark IV/6D Mark II/6D/90D/80D/850D/800D/200D II/EOS R/R5/R6/R5C/R7/R8/R50/R10/RP/C70 |
| Sony | a1/a9/a9 II/a9M2/a7M2/a7R2/a7S2/a7M3/a7M4/a7R3/a7S3/A7R4/A7R5/a7C/FX6/ILME-FX3 |
| Nikon | D850/D780/D810/D750/D610/D7500/D6/Z9/Z8/Z50/Z5/Z6/Z6 II/Z7/Z7 II |
| Panasonic | G9/GH5s/GH5/GH6/DC-BGH1/S5/S1/S1H |
| BMPCC | BMPCC 4K/BMPCC 6K/BMPCC 6K PRO |
| FUJIFILM | X-H1/X-T3/X-T4/X-T5/X-H2s/ |
➤ Multi 4.0 Quick Release System: Based on the renowned Arca-Swiss quick release system, this cutting-edge design features a detachable L-Bracket, enabling swift device switching and effortless vertical mode shooting.
➤ Magnetic Fill Light with AI vision Sensor: Built-in AI tracking, it works with gesture control, no app or Bluetooth is required. With magnetic AI-powered sensor, you can switch between the front and rear camera to achieve flexible "Follow You" with ease. It offers an added fill light function with two fill light modes: CCT (cold and warm lighting) and RGB ambient lighting.
➤ Vertical Shooting Master: 3-Axis camera gimbal Crane 4 offers two installation options for vertical video mode, one of which enables convenient flip-out screen selfies, allowing you to capture your best moments with ease and precision. It can be the best gimbal for mirrorless camera you've ever seen.
➤Easy Camera Control: Easily control photo and video via cable control or Bluetooth control. Improve shooting efficiency by ditching pressing the camera's shutter button.
➤ iSteady 7.0 Stabilization: Crane 4 is integrated with advanced iSteady 7.0 stabilization algorithms, helping users to capture on-the-move and shake-free creations.
➤ Ultra-Wide-Angle Shots : Switching to ultra-wide-angle shooting mode by pressing the Multifunctional Trigger 4 times, it's perfect to capture unobstructed view.
➤ 360° Infinite Spin Shot: Just press the M button three times in a row to enable the Inception mode which rotates your smartphone camera 360° indefinitely for an impressive shooting effect.
New intelligent Balance Indication
Balance indicator lights added to the motors provide a timely reminder for precise balance calibration. If it is not levelled, the corresponding shaft motor balance indicator will provide the corresponding reminder light effect.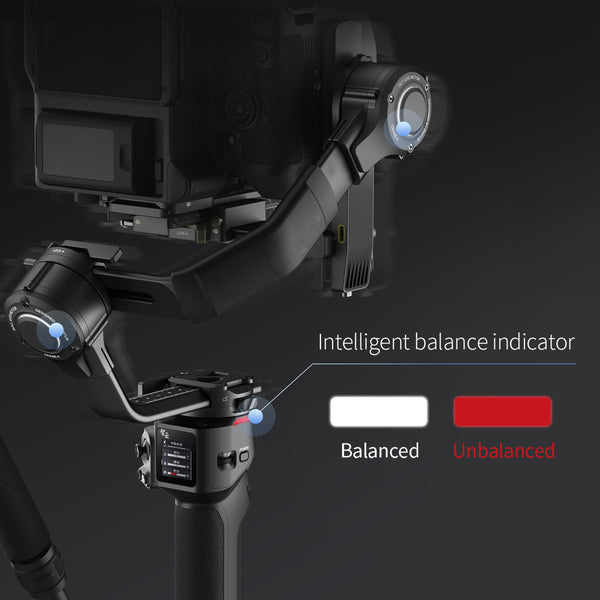 Freely Switch Between Horizontal & Vertical Shots
Boasts an innovative quick-release module that integrates horizontal and vertical lock structure, enabling effortless switching between native landscape and portrait shooting modes.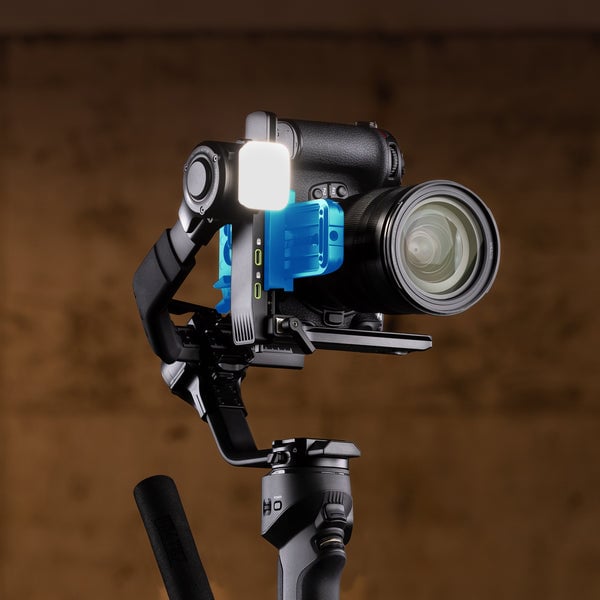 Versatile Sling Grip
The extendable sling grip can be adjusted to the gimbal's central axis, allowing for easy switching between sling mode and two-handed modes. The 1/4″ screw hole on the grip unlocks more combination possibilities of lights and accessories.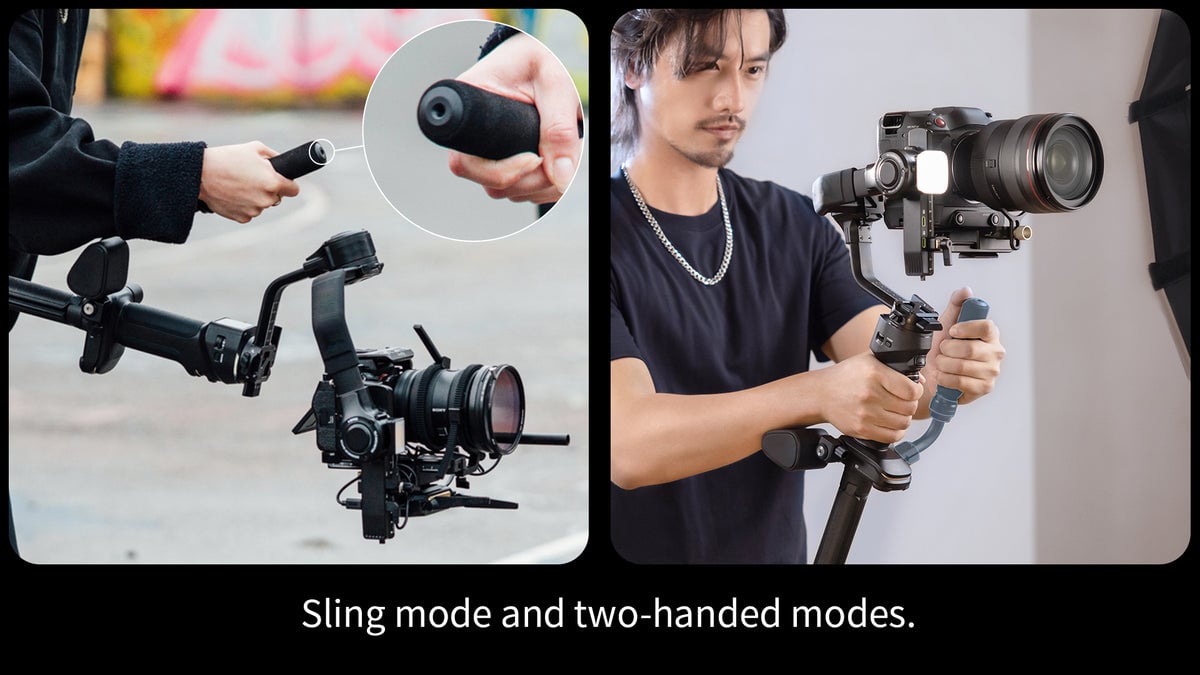 Upgraded Wrist Rest
The flexible wrist rest structure features energy-saving adjustment and skin-friendly texture, making creation effortless and comfortable.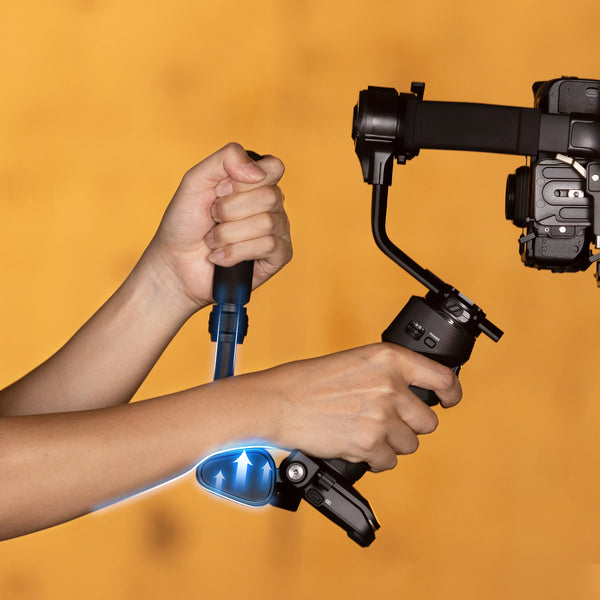 Built-in 10W Fill Light
The built-in 10W fill light adds to the portability of quality shooting, bringing you a lightweight experience than ever with pro LED lighting. Equipped with a light cover to provide ideal light effect for the creation of shooting environment.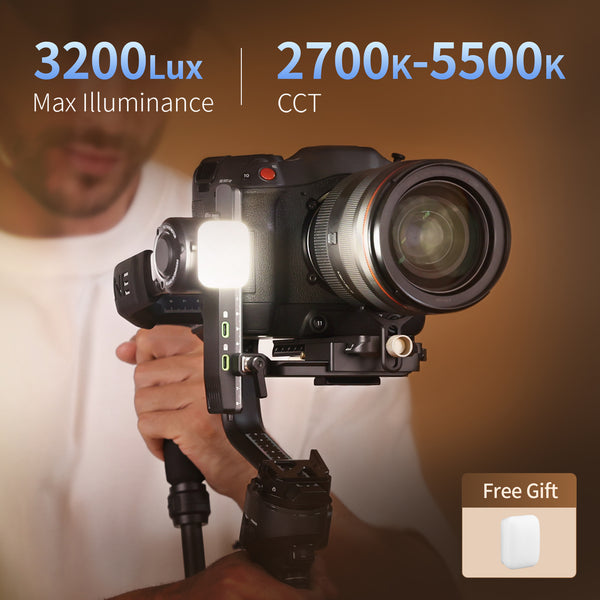 Customize Function Settings
The trigger button and front dial support customizable parameter adjustment, such as ISO, shutter and aperture, as well as focus motor and gimbal mode control, making the creative process more intuitive and convenient.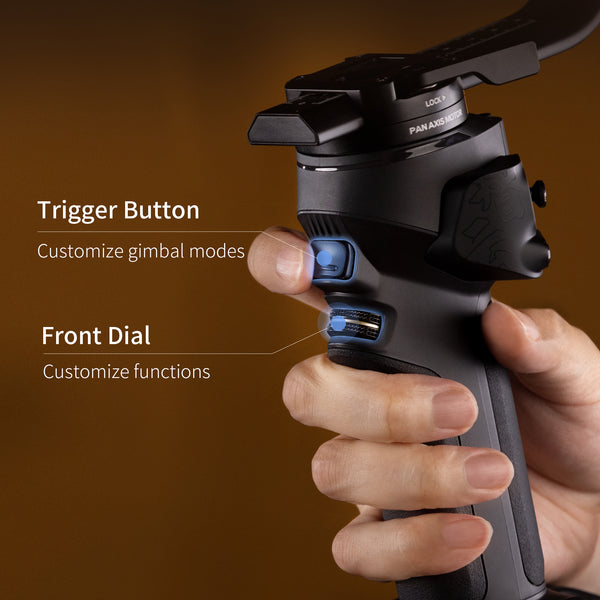 Upgraded Bluetooth Shutter Control
Crane 4 supports Bluetooth shutter control with mainstream cameras. You can start/stop recording or trigger photo-taking functions via the recording button, experiencing a seamless shooting like never before.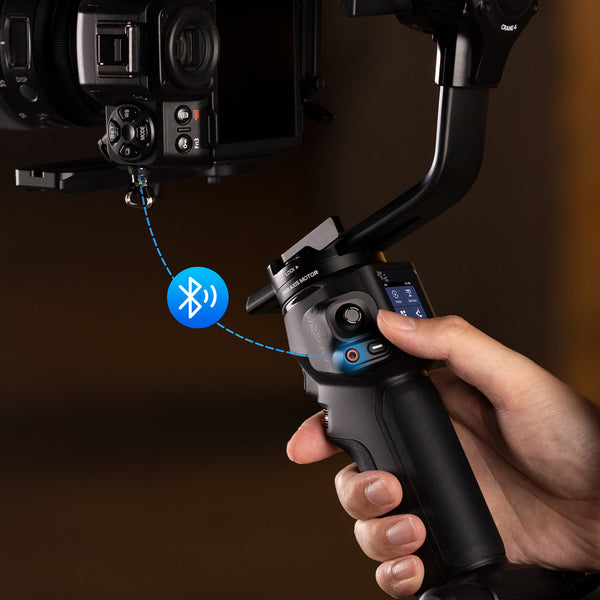 Efficient Color Screen
1.22 inch touch control Chinese and English color screen supports multiple functional adjustments, built-in motion timelapse and other functions.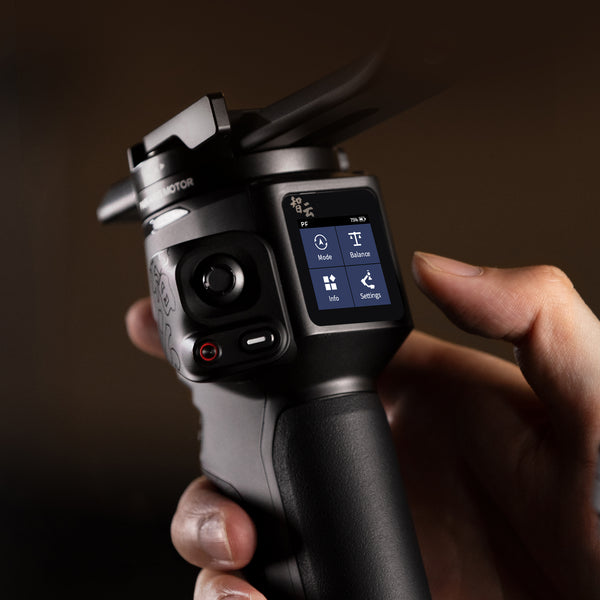 Thoughtful Design
Built-in magnetic tightening wrench for easy disassembly and installation of auxiliary equipment. The shaft arm is equipped with a silicone protective cover to reduce wear and tear caused by carrying the gimbal.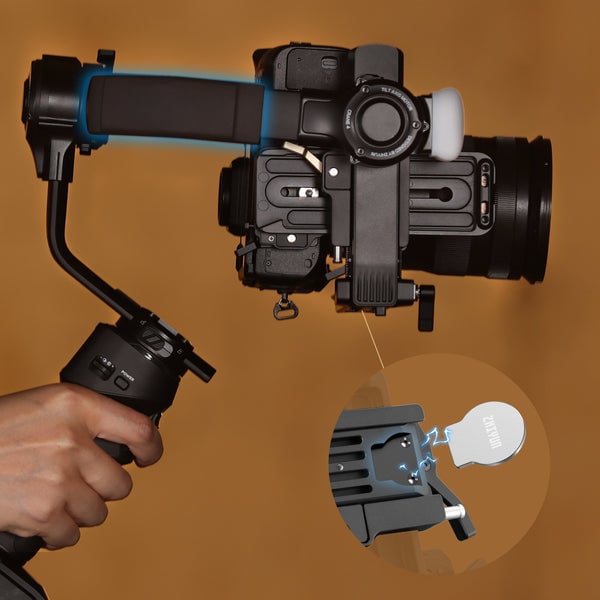 Excellent Focus Performance
With the built-in dual follow focus interface, Crane 4 can be paired with external dual servo focus controllers to provide a precise focusing experience.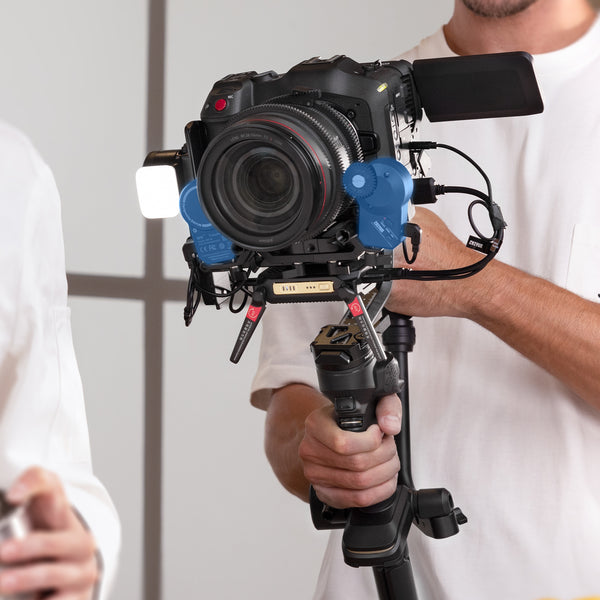 Wide Range of Professional Accessories
With the TransMount image transfer system, you can achieve excellent remote monitoring and collaborative authoring. It also supports matching and focal assembly to ensure that professional creation is not limited by equipment.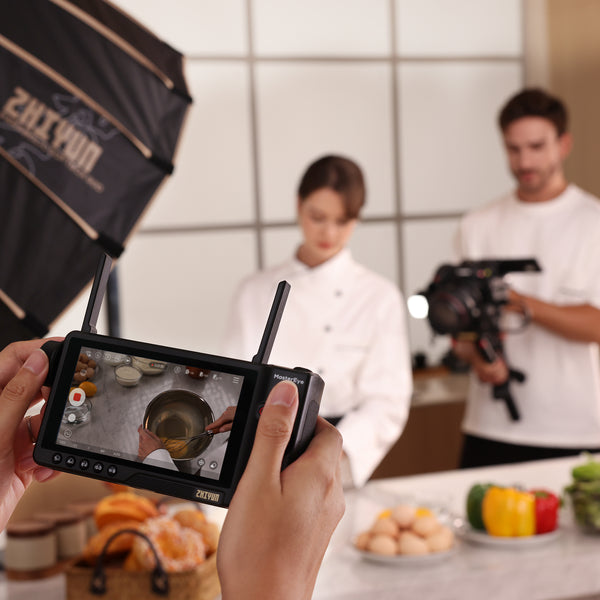 Strong Battery Life, Long Standby
Four 18650 batteries can meet the needs of high-intensity shooting for a day, and PD fast charge supports charging while using.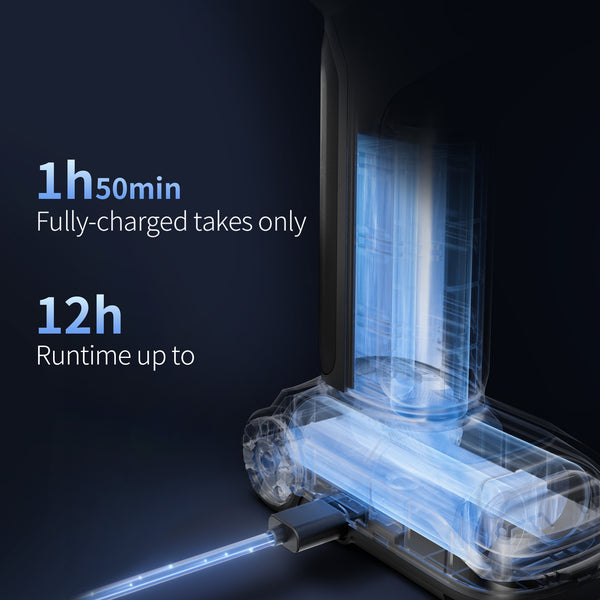 Stabilizer:
Following Deviation in Static State:Max: ± 0.04° / Min: ± 0.01°
Following Deviation in Motion State:Max: ± 0.3° / Standard: ± 0.1° /Min: ± 0.05°
Tilt Mechanical Range:Max: +142° / Min: -72°
Roll Mechanical Range:Max: +71° / Min: -251°
Pan Mechanical Range:360°
Battery:
Battery Capacity:2600mAh 7.4V / 19.24Wh
Operation Voltage:Max: 16.8V / Min: 11V / Standard: 14.8V
Operation Current:Max: 14500mA / Min: 200mA
Battery Runtime:Lab Data: 12h
Charging Time:Lab Data: 1.5h
Main Material:Aircraft Grade Aluminum & High-Performance Composites
Product Size (W*D*H):340*280*70mm
Net Weight:1673g (Tripod is not included)

What's in the Box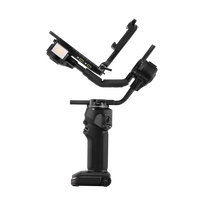 Crane 4 x1
Wrist Rest x1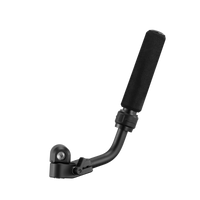 Sling Grip x1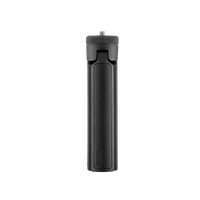 Tripod x1
Lens Support x1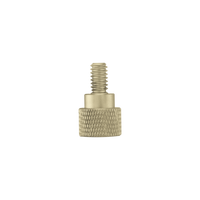 Lens Support Screw x1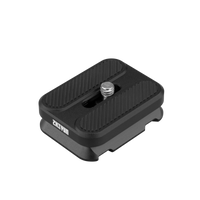 Camera Backing Base x1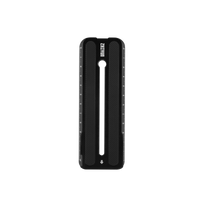 Quick Release Plate x1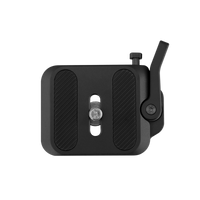 Quick Release Plate x1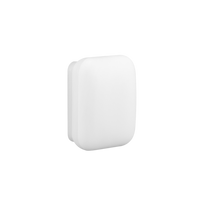 Reflector x1 3/8 Screw x1 1/4 Screws x3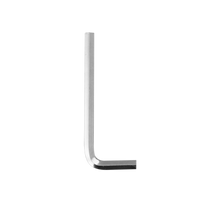 Wrench x1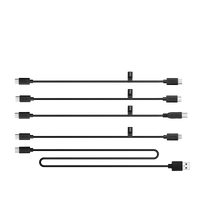 Cables x5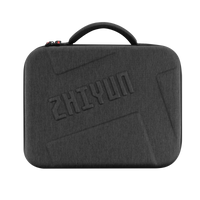 Storage Bag x1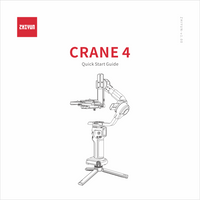 Quick Start Guide x1
Smartphone Compatibility List
Sony:A1; A9; A9II; A9M2; A7M2; A7R2; A7S2; A7M3; A7M4; A7R3; A7S3; A7R4; A7R5; A7C; FX6; ILME-FX3

Nikon:D850; D780; D810; D750; D610; D7500; D6; Z9; Z8; Z50; Z5; Z6; Z6II; Z7; Z7II

Canon:1DX MARK III; IDX MARK II; 5DS; 5DS R; 5D MARK III; 5D MARK IV; 6D MARK II; 6D; 90D; 80D; 850D; 800D; 200D II; EOS R; R5; R6; R5C; R7; R8; R50; R10; RP; C70

Panasonic:G9; GH5S; GH5; GH6; DC-BGH1; S5; S1; S1H
FUJIFILM:X-H1; X-T3; X-T4; X-T5; X-H2S
ZCAM:E2C; E2; E2 F6

SIGMA:FP
BMPCC:4K; 6K; 6K PRO
Smartphone Compatibility List
iPhone:14 Pro Max, 14 Pro, 14 Plus, 14, 13 Pro Max, 13 Pro, 13, 13 mini, 12 Pro Max, 12 Pro, 12, 12 mini, 11 Pro Max, 11 Pro, 11, SE2, XS Max, XS, XR, X, 8 Plus, 8

Samsung:Galaxy S22 Ultra, Galaxy S21 Ultra, Galaxy S21, Galaxy S20 Ultra, Galaxy S20+, Galaxy S10+, Galaxy S9+, Galaxy S9, Galaxy S8+, Galaxy Note10+, Galaxy Note9, Galaxy Note8

Huawei:Mate 50 Pro, Mate 40 Pro+, Mate 40 Pro, Mate 30 Pro, Mate 30, Mate 20 Pro, P40 Pro+, P30 Pro, P30, P20, Nova 9, Nova 10 Pro, Nova 8 Pro, Nova 7 Pro, Nova 5 Pro

Xiaomi:Mi 12S Ultra, Mi12 Pro, Mi 11 Ultra, Mi CC9 Pro, Mi9 Explorer, Mi 10 Pro, Mi 10 Ultra, Mi 8, Mix 3, Mix 2, Redmi K30 Ultra, Redmi K50 Gaming, Redmi K40 Pro+
Honor:V40, 30 Pro+, V20, Magic 2, 20
Vivo:X80 Pro, X70 Pro+, X50 Pro+, X60 Pro+, X50 Pro+, X30 Pro, NEX 3, NEX S, X27

Oppo:Reno8 Pro+, Reno7 Pro, Reno6 Pro+, Reno5 Pro+, Reno3 Pro, Reno2, Reno, Find X5 Pro, Find X3 Pro, Find X, Find X2 Pro
RealMe:Realme X50 Pro, Realme X7pro, RealmeX
OnePlus:10 Pro, 9 Pro, 8 Pro, 7 Pro, 6T
FAQs
What is the maximum payload of Crane 4?
Canon C70+24-70mm f 2.8
What cameras can be controlled by Bluetooth Shutter on Crane 4?
Please click here to "CRANE 4 Camera Compatibility List", get to know the details of Stabilizer and camera compatibility
How long is the runtime of Crane 4?
12 hours