(🎁Last day – 50% off) Car anti-skid storage mat
(🎁Last day – 50% off) Car anti-skid storage mat
Environmentally friendly PVC material anti-skid pad, waterproof and sunscreen, super tough, super adsorption force does not leave traces on any object.
Product Features:
REUSABLE – You can use this non-slip pad multiple times to restore the stickiness, just rinse the sticky pad with soap and water and you are good to go.
Versatile sticky pad for car, home and office, perfect for holding cell phone, perfume, keys, glasses, perfume bottle, camera, laptop and other gadgets and decorations.
Oversized to fit most gadgets – 11″ X 5″ inch, temperature resistant, non-magnetic, no adhesive, no glue, can be used in car, home or office.
Anti-slip particles – fine particles greatly increase the coefficient of friction, items will not fall
Made of environmentally friendly silicone material, wear-resistant and durable, environmental protection will not produce odor
Product parameters:
Dimensions: 6 inches long, 11 inches wide
Colour: Black
Material: Environmentally friendly PVC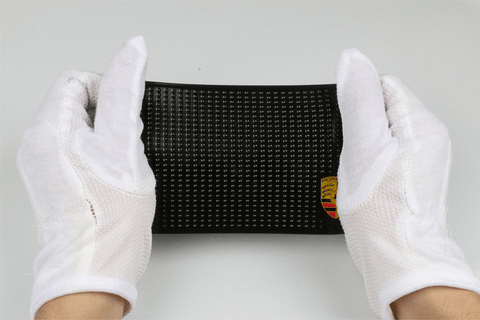 Precautions:
In the process of using this product, it should be cleaned with water frequently, and it should be reused after drying.
Do not use any anti-skid pads on the instrument panel with poor paint finish.
Please do not give this product to children to play or eat.
This product cannot fix all the small objects in the car. Please avoid placing valuable, easily damaged or dangerous objects.
The above dimensions are all measured by hand, if there is any error within 1-3mm, please understand
Products real shot
(🎁Last day – 50% off) Car anti-skid storage mat