CarePro HD Multifunction Earscope Cleaner
CarePro HD Multifunction Earscope Cleaner cleans the ear wax by combining the functions of the otoscope cover and ear canal tip into one easy-to-use device. The camera ensures accurate visualization of the ear canal.
"I really like this product. It is very durable and easy to use. I have been using it for over a week now, and so far, it hasn't broken or scratched. This is my first time using this type of pen, and I was extremely impressed with the results. It is easy to use, the control button is very quiet, and the light on the end is extremely helpful."—Maricel Hudson—39, Queen, New York
"CarePro is one of my favorite ear cleaners and I love that it has a camera as well. It's perfect for checking out my ear wax and I am able to clean my ears better than other ones that I've tried before."—Nathan Smith—45, Miami, Florida
Discover a better cleaning experience with the unique features of this ear scope.
With the help of this ear cleaner, you can enjoy effective health care for your ears. It is equipped with 6 LED lights and 5.0MP 1080P full HD camera, which could illuminate the ear inspection area and capture more realistic images or record stunning videos. Thus, the ear wax removal tool is easier to help you check whether there is an ear infection inside or remove the earwax safely. Besides, the silicone ear scoop features gentle touch on your inner ear and effectively scoops up all the earwax without any damage to hearing.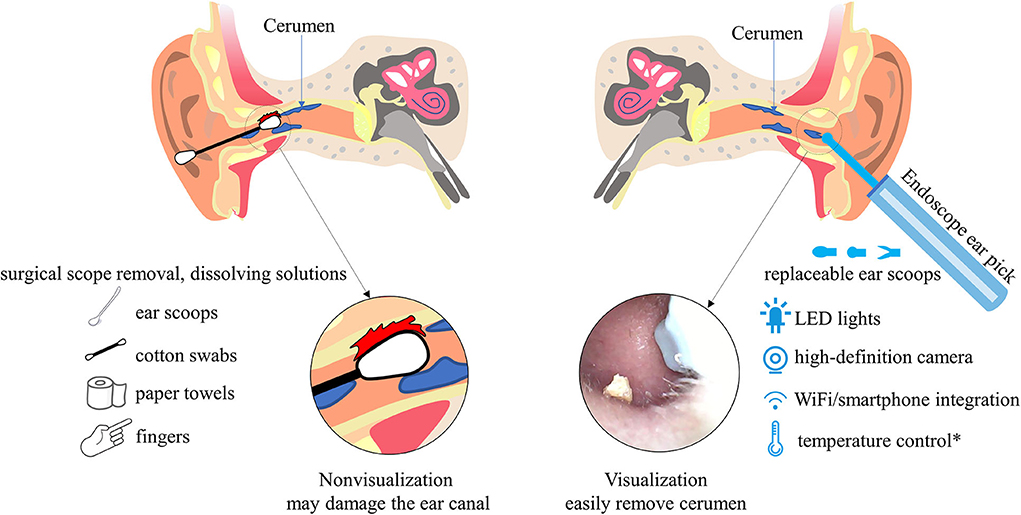 Provides consistent force for easier cleaning of ear canals & tubes.
The CarePro HD Multifunction Earscope Cleaner is a portable ear wax cleaner that provides complete protection from infections and diseases. This ear wax removal has a system that will control it at a constant temperature, to prevent hot or cold sensations. Its compact, portable design means you can use it on the go. You'll get clear images instantly after adjusting the angle and intensity of the light. A single-button operation makes this easy-to-use device simple and convenient.
The base for Storage and Display and Cover to Protect Lens
The Ear Wax Remover with Camera and Otoscope Cover, a new version of the Ear Wax Remover, adds a base and an otoscope cover to achieve storage and display integration, and also solves the problem of the lens adhering to dust or being scratched affecting clarity without the cover.
How does CarePro HD Multifunction Earscope Cleaner work?
CarePro HD Multifunction Earscope Cleaner ensures that your ear canal is free of wax, dirt, and debris. The cleaning process is enjoyable and results in a squeaky clean ear canal, every time. It helps you illuminate the ear canal, with a large field of view, and an intelligent 6-axis gyroscope, capturing HD pictures and videos in real-time.
What makes CarePro HD Multifunction Earscope Cleaner special?
Professional cleans earwax, effectively removing earwax

Provide smooth image delivery to make it easier to operate the ear scope

Protect the ear without damaging the eardrum

It helps you illuminate the ear canal

Allowing you to view the inner structure of the ear clearly.

Help you check whether there is an ear infection inside or remove the earwax safely
Here are more happy customers reviews …
"I have an IPhone 12 so picture quality is pretty good as long as you have a decent phone. I was amazed at what you can see and scoop with this thing…even if you clean your ears with Q tips daily. Wow! Gross."-Janel Rodriguez
"This is such a safe and easy way of cleaning yours and your children's ears. It is way easier and and more efficient q tips and more safe. I no longer have to buy any either. The app and camera show you exactly what you are doing so you are not blindly cleaning inside the ear. It has a clear perfect picture and video quality."-Felicia H.
Package Includes: 1x CarePro HD Multifunction Earscope Cleaner