ComfyWave Memory Foam Seat Cushion
Ultimate Comfort & Support For Long Time Sitting 👨‍🏫🙆‍♀️👩‍🦼
Imagine sitting all day on any chair in total comfort.
The ergonomic Seat Cushion is patented and shaped by in-house ergonomists, the Ergonomic Seat Cushion is scientifically designed to relieve sitting and hip pressure while improving sitting posture on any chair. Proprietary extra-dense charcoal memory foam is odor resistant and provides velvet support for all-day sitting comfort.
Features:
🌈Designed to Relieve Sciatica and Tailbone Pain From Sitting.
Our ComfyWave cushion balances the pelvis and relieves pressure on the tailbone, hips, and spine. It can turn any chair into an ergonomic, posture correcting, and pain-relieving seat.
🌈Pure Memory Foam
Most Comfortable Gel Memory Foam Cushion On The Market. ComfyWave all-in-one features are unrivaled. This seat cushion is made with 100% memory foam without any additives, meaning you'll get the most out of this awesome chair cushion. The memory foam helps to correct bad posture and alleviate pain caused by sitting for long hours.
Now we have another new version for you, made of premium quality durable memory foam with a cool off gel layer on top for superior comfort, great for summer.
🌈Provides Lower Back Pain & Sciatica Relief
Supports recovery from lower back problems, herniated discs, tailbone injuries, sciatica, and other spinal issues. Great for office, home, travel, car seat, or wheelchair use. Great outdoor and indoor seat cushion.
🌈Orthopedic & Ergonomic Design
This seat cushion was designed in a u-shape to provide ergonomic benefits as recommended by orthopedists to help reduce pain. The unique design alleviates pressure on these problem areas, making it easier to sit all day without having pain. The seat cushion has curves in all of the right places and the memory foam allows it to contour perfectly to support your body.
💲🎁Free Non-Slip Cooling Cover
Come with one FREE cooling cushion cover which is machine-washable & zippered for easy cleaning. Comfort and breathable design which suitable for hot weather like summer.
🔥⚡Great Bundle For Double Ultimate Comfort
Save More When Bought Together
Pair it with the Back Relief Lumbar Pillow. It contours naturally against the back to provide effective lumbar support for all-day back comfort.
Back Support Cushion – Clewso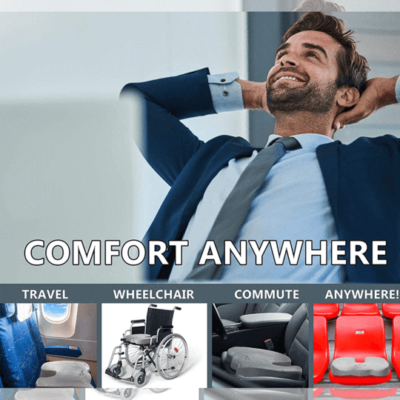 Specification:
ComfyWave Seat cushion: 45*35*7cm
Back Relief Lumbar Pillow: 32*33*11cm
Package Includes:
1x ComfyWave Memory Foam Seat Cushion (With selected color and version)
1x Back Relief Lumbar Pillow (If selected)