Double-headed Baby Food Scraping Mud
Double-headed Baby Food Scraping Mud
MAKE FEEDING EASY AND FUN!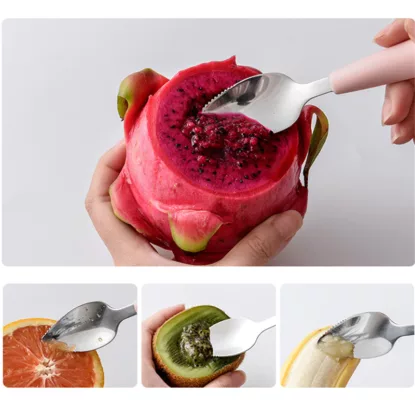 The Kids Feeding Spoon is constructed with stainless steel and TPE soft rubber material, making it both safe and healthy. The steel spoon's large head is ideal for scraping mud, while the small rubber head is ideal for feeding. The scoop head's rounded corners are polished, and the scoop's body is fine. It will cause no discomfort to the baby's gums.
It is designed with a non-slip handle, which can provide a comfortable and better grip. Toddler eating utensil is a good helper for baby food supplements. Suitable for home, kids, children, etc.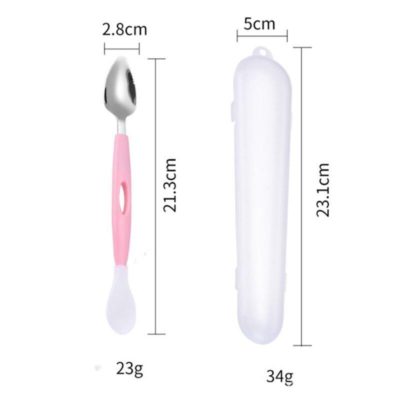 High Quality Material – The double-headed baby scraping and feeding spoon is constructed of solid stainless steel that resists rust, is extremely strong and durable, and is BPA-free, making it extremely safe to use.
Baby Spoon Design – The serration on the baby fruit spoon enables the spoon to scrape food quickly and easily feed the baby. Not only can it be used to cut grapefruit, citrus, kiwi, and lemon sections, but it can also be used to puree apples, strawberries, and avocados, as well as to dig out pumpkin seeds and eat dessert ice cream. Safer and more convenient than a knife.
Easy To Clean – Disinfect and place in boiling water for 1-2 minutes. Dishwasher safe (top-mounted)/steam sterilizer safe, your baby tableware will be kept incredibly clean. Comes with a box, very suitable as a gift for friends, very suitable for eating watermelon, kiwi, etc
Perfect for Travel – Comes with a box case which can keep the tableware stay clean, hygienic and healthy.