DRSHARP Precision Stainless Steel Nail Clippers
Are you in search of the perfect nail clippers to tackle your thick, yellowing fingernails and toenails?
Our DRSHARP Precision Stainless Steel Nail Clippers are exactly what you need.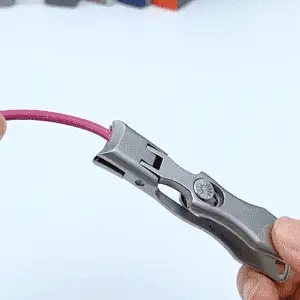 It performs flawlessly on tough, thick nails, enabling you to uphold grooming routines and maintain proper hygiene right in the comfort of your home.
Powerful Features
Extremely Sharp Curved Cutting Blades
The exceptionally sharp double-curved cutting edges can effortlessly trim thick nails, reducing the risk of nail splitting and ingrown toenails. They are also sharp enough to easily cut through wires and sticks.
Splash-Resistant Design
With a nail catcher that automatically gathers nail clippings, you can use it on your bed or sofa without worrying about nail scraps spreading everywhere, helping to keep your home tidy after nail trimming.
Spacious Jaw Opening
The sharp edge, featuring a 0.4-inch wide opening, effortlessly trims even the thickest toenails. This nail clipper is designed for ease of use, with extended power arms that ensure a clean, efficient cut for both fingernails and toenails.
Versatile Applications
This high-quality nail clipper is suitable for use in manicure salons, pedicure salons, and at home, catering to the grooming needs of men, women, seniors, and even pets. It makes for a wonderful gift for your loved ones!
Built to Last and Reliable
Crafted from robust stainless steel, it boasts exceptional durability, ensuring it remains rust-free and serves you for a lifetime. Its self-locking mechanism simplifies opening and closing, making it a convenient companion for your on-the-go needs.
Specification
Material: Stainless steel
Weight: 40G
Color: black, silver
Size: 9* 1.6CM
Package Includes: 1 x DRSHARP Precision Stainless Steel Nail Clippers