Easy Cards Reader (Transfer photos in 1 second)
Easy Cards Reader (Transfer photos in 1 second)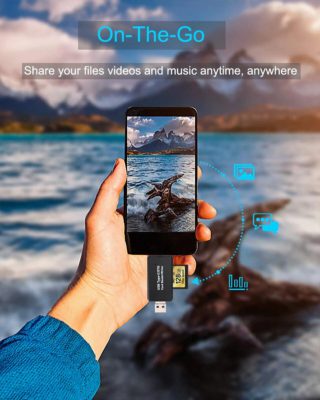 IS YOUR PHONE RUNNING OUT OF SPACE?
Just plug it into your Android phone or tablet using the built in Micro USB or Type-C connection and in a matter or seconds your files will be off your phone and securely saved on an SD or Micro SD Card.
NEED TO TRANSFER YOUR MEDIA TO YOUR COMPUTER?
Simple. You can connect to any computer using a lightning fast USB 2.0 connection. Your photos and videos will be backed up to your computer in a matter of minutes.
WANT TO SHARE PHOTOS WITH YOUR FRIENDS?
Just plug your SD Card into this reader and connect it to your friend's device. In no time they'll be browsing through your photos in amazement!
You can easily transferring files between your camera, phone, tablet or computer with this awesome Easy Cards Reader.

TRANSFERRING FILES BECOME SO EASY!
COMPATIBILITY:
Our Mobile Friendly SD Card Reader utilizes OTG (On-The-Go) technology to connect to your mobile device. Below is a partial list of compatible devices. Don't see your device? Just download an "OTG Checker" app and it will tell you if your device is OTG compatible.
PRODUCT DETAILS: FOR ANDROID DEVICES ONLY 
Slots for SD and  Micro SD cards
Micro USB (Connects to older Android devices)
Type-C (Connects to newer Android devices)
USB 2.0 (Connects to computers, TVs, and other devices)
The 3 in 1 Not compatible with iPhones, iPads, or Kindle Fires,the Upgrade 4 in 1 is OK
NO SD CARD INCLUDED.
INSTRUCTIONS:
Step 1: Insert a SD Card into the Easy Cards Reader.
Step 2: Lift the large USB connection to reveal the hidden Micro USB connection.
Step 3: Insert the Easy Cards Reader into your phone's charging port.
Step 4: Copy and paste files from your phone to the Easy Cards Reader or from the Easy Cards Reader to your phone using a File Manager app already installed on your phone.