Easy Fishing Knot Tool
A safe, quick and easy way to tie knots during fishing.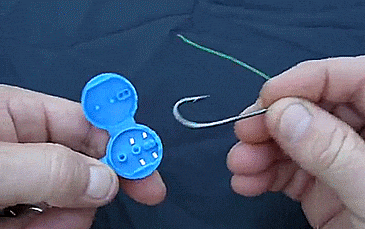 Make knot tying on fishing easy breezy with our innovative product! Introducing the EASY FISHING KNOT TOOL.
Easy Fishing Knot Tool is a TYING TOOL that is SPECIALLY MADE for FISHING KNOT and PREVENT the FINGER PRICKING. It is made of HIGH-QUALITY ABS PLASTIC material making it STURDY, SAFE, and LONG LASTING. It has a PROTECTED CASE that CAGES the HOOK to PROTECT your FINGERS. It SAFELY HOLDS the HOOKS and SWIVELS to HELP TIE PROPERLY, EASILY, and QUICKLY Jig Heads and Speed Clips for ATTACHING LURES and other RIGS including small variety of flies.
Easy Fishing Knot Tool is SUITABLE for STANDARD HOOKS. It ALSO PROTECTS the HOOK from HARMING the Pets, Passengers, Upholstery when in TRANSIT as it ACTS as a HOOK COVER as well. It is PERFECT for FRESH WATER, OPEN WATER, and ICE FISHING. It is IDEAL for PEOPLE with Arthritis, Cold Weather Condition, and Numb Fingers. It is VERY EASY and SAFE to USE. It also comes in FOUR VIBRANT COLORS.