Easy-Travel Leather Passport Holder
FEATURES:
Passport Holder Organizer
A must-have travel holder with convenient pockets interior that is specially designed to fit your passport and various document cards. Allowing you to secure all your travel essentials at one accessible place while keeping them perfectly organized. No worries as this holder also ensures to protect your items from folding, bending, chipping, crumpling, and so on. Saving you from the inconvenience of delayed flights due to lost passport and unaccepted document damages. Suitable for storing passport, visa card, debit card, vaccine cards, license, boarding pass, tickets, and other needed documents. The passport holder comes in 2 style selections, including 9 colors of classic styles and 6 colors of premium styles, to meet your different needs.
Easy to Show
These passport organizers do not only secure your important essentials, but they also keep them always ready for any possible inspection. All holder styles offer a convenient easily displayed design so you can just swiftly open and show or take your needed documents. Preventing you from the struggle of rummaging through each slot for a more breezy international travel experience. Moreover, the passport holders provide a band closure to prevent your travel essentials from slipping out.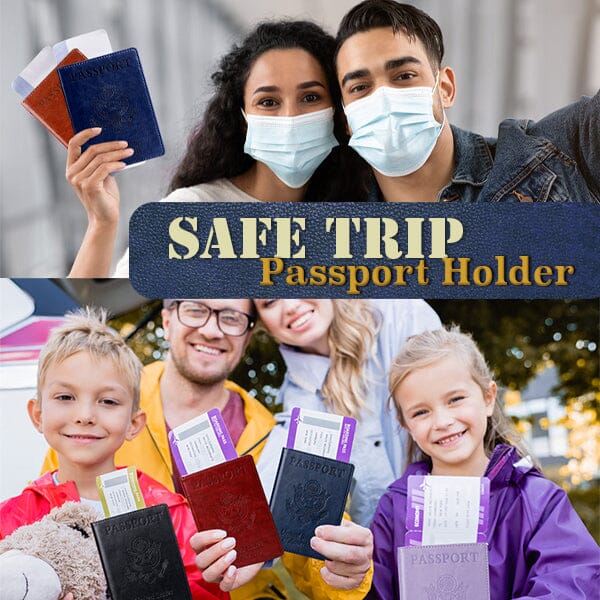 Highly Waterproof
The handy travel holders adopt an impressive 100% waterproofing performance. It can effectively repel water, rain, sweat, moisture, and other types of liquid from entering. Making sure to keep your passport and other important documents safe from getting wet and ruined after minor accidental splashes or spills. No need to run for a quick passport replacement anymore!     
Portable Design
These waterproof passport holders are totally lightweight and they feature a compact, ultra-slim design. All passport styles can neatly and nicely fit through your bags, pouches, wallets, and pockets without taking up too much space. Allowing you to go hands-free anytime before and after passport inspection and boarding.
Premium Quality
Made of high-quality PU leather material with excellent waterproof and protective capabilities. It can withstand years of multiple travel uses without fading, cracking, and wearing. These passport holders are suitable for both men and women of all ages. Each style is available in different trendy colors such as blue, black, camel, dark blue, black brown, brown, green, rose golden, teal, violet, wine red, and so on.
SPECIFICATIONS:
Material: PU Leather
Size: 5.5″ x 4″
Package Includes: 1 x Easy-Travel Leather Passport Holder