Education Music Interactive Plush Dog Toy
Bring you joy and joy
Puppy plush toys can improve the sense of touch, hearing and vision, and provide babies with a unique and interesting way to explore the surrounding environment.
Lovely companion
This soft toy is a cute and lively dog. The plush fur, music, and clapping function make it look cute and fuller in shape. It will become your child's good friend and companion.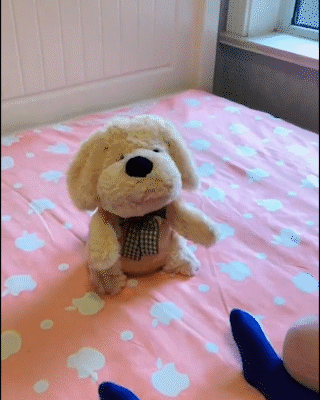 Super soft and hug
Our animated stuffed musical toys are super soft and want to embrace! Music plush toys can provide a comfortable and comfortable nap and sleep experience. The perfect peekaboo cat toy, suitable for babies.
Best gifts
Our plush dog toys are unisex, suitable for all ages. Suitable for babies and baby toys from 0-3 months, 6-12 months, 12-18 months. Musical toys over 1 year old are always popular.
HOW TO PLAY
Adults should open the zipper on the bottom of the puppy, and then the battery box with a screwdriver. Put in 3 AA batteries , and turn the switch to "ON". Then just ask your kids to press the button which is on hand of the puppy. Thus, kids can interact with the puppy and share it with friends.
Safe and thoughtful design
Our electronic toy puppy is made by 100% natural and environmental-friendly materials such as pp cotton and soft flannel. Parents don't need to worry that the interactive puppy toy will scratch toddlers' skin. Meanwhile, its eyes are securely sewn and children will not pull them down easily.