Eydis Day and Night Lip Plumper Kit
The Beauty of your lips lies within you, kiss your thin lips goodbye!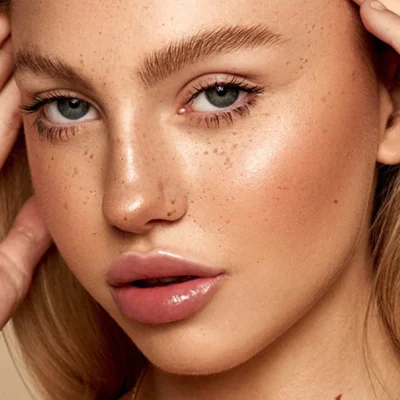 I have always wanted to increase the size of my lips since I was a teenager. I feel awkward looking at the mirror and taking my own photos with thin lips. Surgery was never an option for me so I grabbed this Eydis Day and Night Lip Plumper Kit online. I love that it instantly plumped them, with a nice formula that's moisturizing and long lasting! I really don't have to frequently reapply it to achieve that pouty look! I feel  even more gorgeous in my photos this time! A million thanks!!
Sheila Anderson, 32, Minneapolis, Minnesota
I never had the chance to reinvent myself while staying at home, busy taking care of my family. Just recently, I got a notice that I should be returning back to work. I never wanted to look odd with my lips that were dull and dry. This Eydis Day and Night Lip Plumper Kit was the best remedy I must say! I never run a test on lip plumpers but this one made a huge transformation on my look! I have softer fuller-looking lips immediately! Can't thank this product enough!!
Emily Jensen, 34, Anchorage, Alaska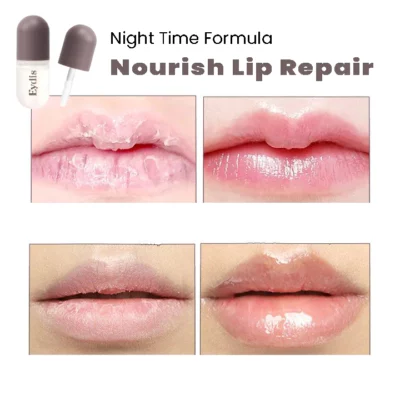 How does Eydis Day and Night Lip Plumper Gloss work?
Healthy lips have become a highly sought beauty feature for women. Various treatments and injections have been a popular choice for many but never knew the side effects afterwards. This Eydis Day and Night Lip Plumper Kit works by increasing the amount of collagen in your lips and then giving your skin the nutrients it needs to sustain that new level of collagen production, it is a lip plumper but in a whole new way. It's formulated with powerful natural ingredients to give your lips the extra volume they deserve. That is why a safer and healthier option like Eydis Day and Night Lip Plumper Kit has been developed and become the latest trend due to its highly conclusive composition way more essential than others. This amazing day-and-night lip treatment set is infused with plumping hydrators that give your lips a fuller, softer, and smoother appearance.
3 Key Ingredient boosting lip cell collagen: Ginger Extract, Mint, Vitamin E
Ginger Extract
Ginger extract stimulates blood flow to the area it's applied to, making your lips noticeably rounder and fuller during the day. It gives a volumizing effect while nourishing and hydrating the lips in a way that won't wear off. It promotes lip cell growth and effectively plumps the lips while speeding up the blood circulation.
Mint Leaves
The discoloration on the lips can often be treated with mint leaves. They efficiently lighten the dark areas over it and additionally moisturize and tone the lips. It also helps to stimulate the circulation under the lips which further creates some swelling, thus making them appear fuller!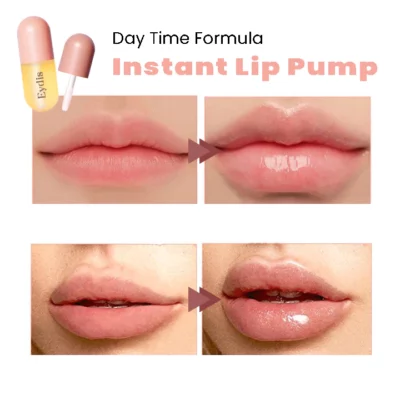 Vitamin E
It can be used to relieve chapped, dry lips. Since vitamin E promotes cell turnover and regeneration, using it on dry lips brings new cells to the surface faster. It moisturizes, soothes irritation, protects from sun damage, and even has subtle plumping properties.
What makes the Eydis Day and Night Lip Plumper Gloss your good choice?
a topical lip product that instantly plumps lips and delivers long-lasting hydration
works by increasing the amount of collagen in your lips and then giving your skin the nutrients it needs to sustain that new level of collagen production
help you achieve an enviable pout without having to rely on painful injections or invasive surgery
improve the look of your lips and plump them up in only a few minutes
give you naturally soft and fuller  lips without any burning or irritation
 made with a unique blend of ingredients that will instantly smooth, plump, and hydrate your lips while also reducing fine lines and wrinkles
formulated to be used on its own or as a base for your favorite lipstick or gloss
safe for all skin types
restore your lip's natural healthy state
Repairs various lip problems
More satisfied customers:
I've been using this Eydis Day and Night Lip Plumper Kit for a few weeks now, and it's been a game-changer. My lips were always chapped, dry and irritated and I was always looking for a way to make them softer. Then one day I saw an ad for this product and decided to give it a try. Now, my lips are so soft, they feel like butter! And the plumping effects are amazing: I can feel the difference when I apply this before going out to parties or dates. My lips are fuller, softer and more kissable than ever before. I've recommended this to all my friends who have experienced similar problems with their lips, and they love it too!
Georgia Williams, 27, Miami, Florida
I've tried a lot of plumpers in my day, but this is the first one that I've been able to use every day. The results are amazing! My lips are softer and fuller and even look younger. And they stay like that all day. No need for touch-ups. Plus, it's easy to apply—just add a drop to your lips and you're good to go! I highly recommend this kit to everyone who wants to achieve pouter and more attractive lips!
Annie Rogers, 35, Greenbay, Wisconsin
Specifications:
Package weight: 40g
Net weight: 5.5ml x 2
Shelf life: 3 years
Main ingredients: Ginger Extract, Mint, Vitamin E
Package Inclusion:
1 x Eydis Day and Night Lip Plumper Kit