FrostFix™ Anti-Snow Spray
The Science Behind FrostFix™ Anti-Snow Spray: Unparalleled Snow and Ice Repellence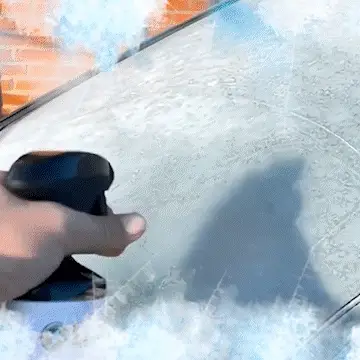 The efficacy of FrostFix™ Anti-Snow Spray lies in its advanced, scientifically-engineered formula. When applied to a surface, it creates an ultra-thin, hydrophobic layer that acts as a formidable barrier between the substrate and accumulating snow or ice. The molecular structure of the spray disrupts the natural adhesion process of snowflakes and ice particles, causing them to slide off effortlessly.
Thrilled Customers, Thriving Results: Say Goodbye to Snow Shoveling with FrostFix™
"FrostFix™ Anti-Snow Spray has exceeded all my expectations! Living in an area with harsh winters, snow accumulation used to be a constant struggle for me. Now, a quick spray forms a protective barrier that prevents snow build-up and makes cleaning effortless. It's transformed my winter mornings and made life so much easier. I can't recommend it enough!" – ★★★★★ Marc G.
Key Features:
Superb Performance ❄️
FrostFix™ creates a long-lasting, invisible barrier that stops snow from sticking. Its lab-tested formula ensures 99% less snow accumulation, giving you a clearer, safer drive every time.
Prevention of Freezing ❄️
FrostFix™ Anti-Snow Spray is designed to rapidly melt ice and by applying a thin layer, it effectively prevents freezing, making it a must-have for cold winter mornings.
Car & Eco-Friendly Formula ❄️
Rest easy knowing that our environmentally-friendly snow melting formula is chlorine-free and won't harm your vehicle. Biodegradable and non-toxic, it's the responsible choice for conscious consumers.
Time-Saver ❄️
Spray it on and let it do the work for you! A single application lasts up to one week, saving you valuable time and effort.
Wide Scope of Application ❄️
FrostFix™ isn't limited to just windshields. It's versatile enough to be used on exhaust pipes, furniture glass, keyholes, rearview mirrors, headlights, and the entire car body. One product, multiple applications.
Usage Instructions:
Clear away any loose snow from the surface.
Evenly spray FrostFix™ Anti-Snow on the affected area.
Allow a few minutes for the ice to slowly melt.
Wipe the surface with a dry cloth for a clear, frost-free finish.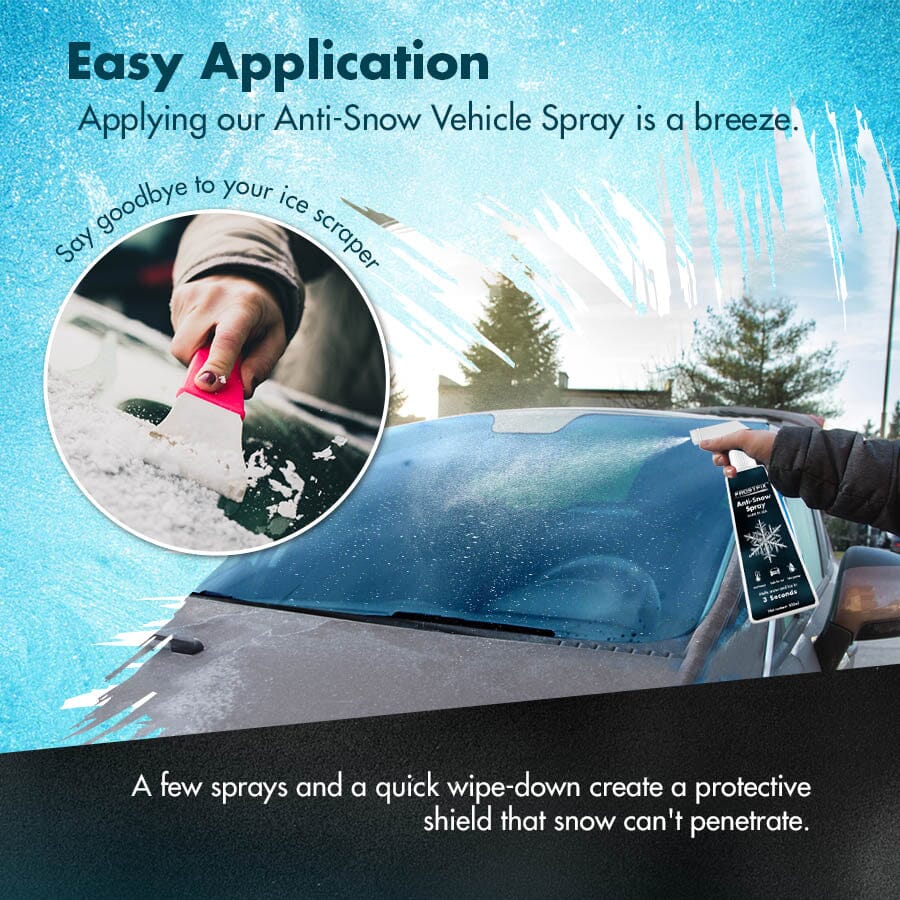 Application Areas:
Front Windshield
Exhaust Pipe
Furniture Glass
Keyhole
Rearview Mirror
Headlight
Whole Car Body
Specifications
Package Includes: 1 x FrostFix™ Anti-Snow Spray
Active Ingredients: Advanced proprietary polymer blend
Effective Duration: Up to 1 week per application
Application Temperature Range: -30°F to 140°F
Coverage: Approximately 200 sq ft per 16 oz can
Environmental Impact: Biodegradable, eco-friendly formula
Safety: Non-toxic, non-corrosive, and non-flammable
Application Surfaces: Compatible with metal, glass, plastic, and concrete
Set Time: 15-20 minutes
Shelf Life: 24 months when stored in a cool, dry place
Packaging: Available in 16 oz, 32 oz, and 1-gallon sizes
Regulatory Compliance: Meets EPA and other relevant industry standards