GLOWING MUSHROOM
🍄Hand made and painted, enjoy preferential prices for the first 50 orders every day. 
🍄Notice: This product is available for flash sale, and stock is limited. In case of payment failure, please check the information carefully and confirm it again. If it fails again, the product is sold out.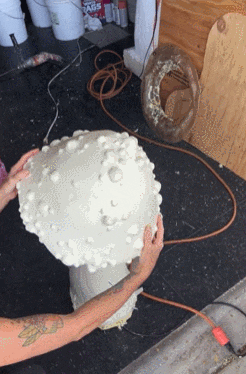 Power style:
Solar Power & Power Cord Power.
No need to charge, it can be used with simple installation upon arrival, safe and environmentally friendly.Don't worry about messy wires, it's easier to take care of.
If you live in an area where sunlight is often unavailable, power your mushrooms with our supplied power cord.
This mushroom with a smart led you can control from an app. Change color and brightness. Set timers.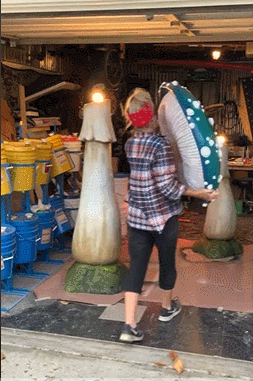 So much of accent product in a mushroom shape but none of those are as pretty and unique as Mushroom Lamp. The glow of the lights inside the mushroom creating a warm and cheerful feeling in a room or even outdoor landscape.
Enchant your garden with a touch of magic and whimsy. Our Handcrafted Colorful Solar Lighted Mushroom is the perfect addition to brighten up your outdoor space and create an unforgettable ambiance.
Each mushroom decoration is crafted from liquid acrylic glue liked. The artisan used the sponge, immerse in the acrylics, and carefully tap into the fiber glass Lamp. Once it dried, again, the artisan using another sponge immerse into wet white paint and started tapping the texture. The texture created a unique and one of a kind pattern which are completely random.
Our Glowing Mushroom Lamps are all handcrafted, to create a lifelike lamp we basically make a mold to replicate the mushroom stem, with a wire running through it for power and at the top of its stem to a bulb socket.
On the underside of the mushroom cap, we also designed some drawing props that can supplement the lighting effect, making it look very natural.
After seeing this Glowing Mushroom, you will suddenly understand how to decorate your own garden… like a scene from "Alice in Wonderland", or if you have a "mushroom addiction", you will like this product very much, because it is too Perfect for an ethereal late-night gathering in the woods…
Features:
Hand made and painted.
12 pounds of resin, ridged foam and fiberglass.
Freestanding indoors/outdoors.
PRODUCT INFORMATION

| | |
| --- | --- |
| Material | resin, ridged foam, and fiberglass |
| Package includes | 71 inches /59 inches/33 inches Glowing Mushroom |
| Country of Origin | USA |