Hair OUHOE™Darkening Shampoo Soap
How does hair grow?
Hair growth and regeneration begins with the hair follicle located in the lowest layer of the skin. It has a cyclic phase containing three phases which include:
💡 Anagen (active growth phase)
💡 Catagen (return phase)
💡 Resting phase (resting phase) The duration of the anagen phase is more importantly
How does it work?
This exquisite solid shampoo is specially formulated with fast-acting organic ingredients such as Black Sesame Extract, which promotes grey hair to black and strengthens all hair strands. It effectively removes toxins, dirt and other impurities from the scalp.
It also improves blood circulation, nourishes curls and supports a constant flow of nutrients through the scalp, initiating an active growth phase. Providing healthy, longer, faster growth and regrowth, the solid shampoo even prevents dandruff from forming and provides a grey-to-black effect, thus maintaining the natural colour of the hair.
OUHOE Gray Reverse Shampoo Bar provides long-lasting moisturising nourishment and hair colour darkening for thirsty grey hair. This keeps hair perfectly combed, bouncy and soft in all weather conditions. It is also suitable for all hair types and gives off a luxurious fragrance that is more captivating than traditional shampoos.
Empowered by Natural & safe ingredients
Black Sesame Extract: Rich in vitamins, minerals and antioxidants, it effectively promotes hair growth and health, making hair look darker and shinier.
Ginseng Root Extract: Effectively enhances the health of the hair root, promotes hair growth and improves texture, maintaining the overall health of the hair.
Bamboo Charcoal Powder: Used to adsorb impurities and oils, cleansing the scalp and hair follicles, providing a healthier growth environment and improving the appearance and colour of hair.
Olive Oil: Rich in Vitamin E and antioxidants, keeps hair moisturised and strong, reduces breakage and split ends, leaving hair looking smoother and shinier.
He Shou Wu Extract: Used to improve hair colour, especially to darken grey hair, by increasing melanin production.
OUHOE Gray Reverse Shampoo Bar Key Features & Highlights
✅ Stimulates hair growth in bald areas
✅ Increases overall hair volume
✅ Improves blood circulation to the scalp
✅ Strengthens every hair follicle and hair root
✅ Significantly reduces hair loss and receding bangs
✅ Anti-grey properties
Let our customers prove that it's real and effective!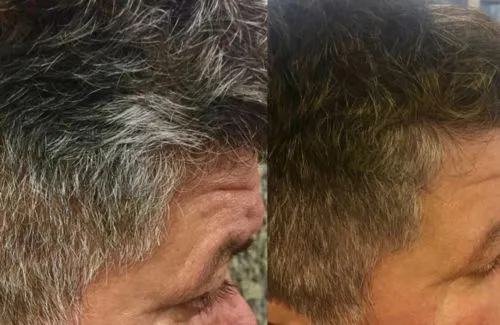 "Definitely works for me! I've been struggling with thinning hair and hair loss for a while now and have tried a few hair care serums and things like that, but nothing worked. That is until I came across this product and decided to give it a try. I started seeing new growth very quickly and saw results after 8 weeks of use! I love these products! They really help with hair growth and my hair is fuller thanks to this product. I would recommend them to others!"-Elena,California⭐⭐⭐⭐⭐
"I love this product so much that I noticed hair growth within a week! After 8 weeks of using it I can honestly say that my hair is thicker, it has repaired almost the entire bald area and I am in love with OUHOE!"-Jari,Köln⭐⭐⭐⭐⭐
FAQs – OUHOE Gray Reverse Shampoo Bar
Q1: How does the OUHOE Gray Reverse Shampoo Bar work to reverse gray hair?
A1: Our shampoo bar stimulates pigment cells deep in your roots, boosting melanin production. This process restores your natural pigmentation, gradually turning gray hair back to its original color.
Q2: How soon can I expect to see results?
A2: Many users notice breakthrough results in just a few weeks, like our satisfied customer Tom. Results may vary, but consistent use can lead to noticeable changes in hair color and health.
Q3: Is the color change permanent?
A3: Yes, the color change is permanent. Unlike temporary dyes that coat your hair, our shampoo bar works at the root level to stimulate natural pigmentation, providing lasting results.
Q4: Are there any side effects or risks associated with using this product?
A4: Our OUHOE Gray Reverse Shampoo Bar is formulated with natural and safe ingredients. It is suitable for all hair types and generally well-tolerated. However, as with any hair care product, we recommend performing a patch test to ensure you don't have any adverse reactions.
Q5: Can I use this shampoo bar if I have sensitive skin or scalp issues?
A5: Yes, our shampoo bar is gentle and safe to use on sensitive skin and scalp. It removes impurities and promotes a healthier scalp environment, which can benefit those with scalp issues.
Q6: How do I use the OUHOE Gray Reverse Shampoo Bar?
A6: Using it is easy! Wet your hair, rub the shampoo bar between your hands to create a lather, and then apply it to your hair and scalp. Massage gently, then rinse thoroughly. Use it consistently for best results.
Q7: Can I continue using my regular conditioner alongside this shampoo bar?
A7: Yes, you can use your regular conditioner if desired. Our shampoo bar is compatible with most hair care products.
Q8: Are there any specific instructions for storing the shampoo bar?
A8: To ensure its longevity, store the shampoo bar in a cool, dry place away from direct sunlight and moisture. A soap dish or container is ideal for keeping it dry between uses.
Q9: Can I use this shampoo bar if I have chemically treated hair, such as dyed or permed hair?
A9: Yes, our shampoo bar is safe to use on chemically treated hair. It can help restore and maintain your hair's natural color while nourishing and strengthening it.
Q10: Is this shampoo bar suitable for both men and women?
A10: Absolutely! Our OUHOE Gray Reverse Shampoo Bar is designed for both men and women who want to reverse gray hair and promote healthier, more vibrant hair.
Package Includes: 1 x Hair OUHOE™Darkening Shampoo Soap