HANGING COMPRESSIBLE STORAGE BAG
HANGING COMPRESSIBLE STORAGE BAG
Dedicated for keeping winter coats, jackets, dresses & gown whether long or short. This is a great space saving idea for packing bulky season clothes and adding more storage space to your closet. With the clear bags and 5 hooks hanger design, you still can make out what's inside.
The unique Colorchangeable double zip seal and non return valve which ensures no air get back in. You can identify the garment bags are sealed well or not by eyes. The valve is on the middle of the vacuum bags, which is easier to operate than on the top of the bag. It also fits for all kinds of household vacuum cleaner.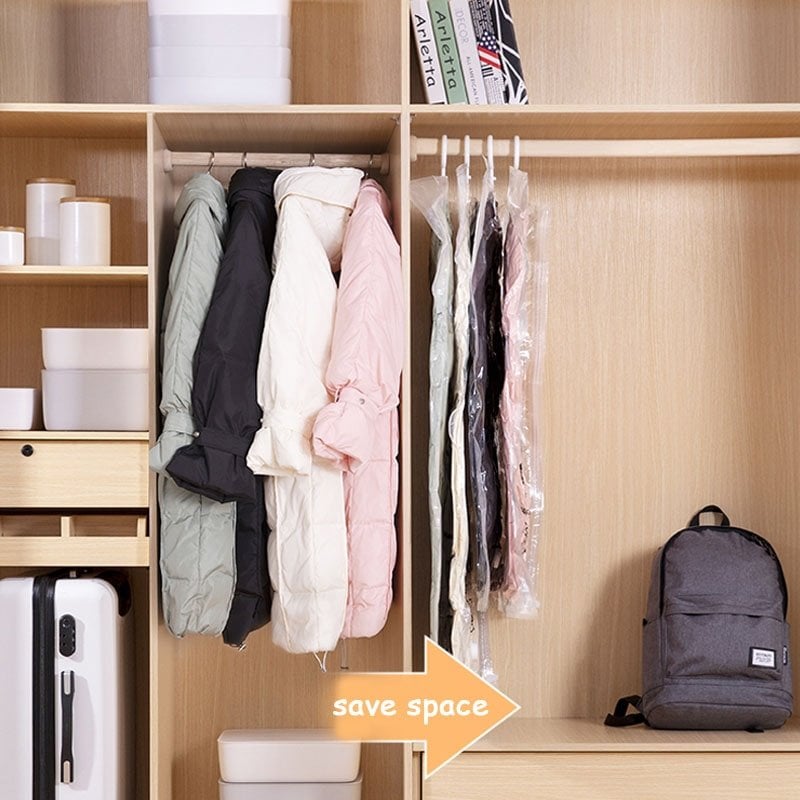 Our space bags are made of premium PA + PE material, softer than other space saver bags on the market and can be reused multiple times. They are perfect for long-term storage, keep clothes from odor and water.
Hang the space saving bag in your closet first. Add your clothes in the hanger rings. Seal the bags with the provided clips. Place the hose of the vacuum over the valve and vacuum the air out. Close the caps to create an air-tight seal.
Buy our vacuum seal bags with CONFIDENCE. If you are not satisfied with our bags, please contact us and we'll provide you free replacement or refund your money. You take NO RISK by ordering today!
HANGING COMPRESSIBLE STORAGE BAG