Hannya Revenge Demon Pendant Necklace

PROTECTION FROM THE PAST
The Hannya is said to provide protection against the past repeating itself. The Hannya mask can also be used to represent a painful or traumatic memory that haunts you, but which has also passed on a powerful lesson. In this way, the Hannya mask can be used to symbolize overcoming difficult times in life, while protecting the wearer from enduring similar struggles once again.
WARD OFF NEGATIVE ENERGIES!
The Hannya Mask is used as a symbol to promote good luck and ward off evil. In Japan, Hannya masks have been used throughout history as powerful talismans against negative energies, persons, and spirits.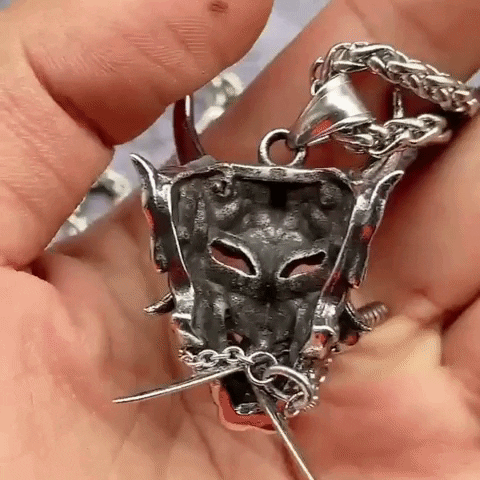 SIMPLISTIC BUT PREMIUM-QUALITY
Unlike necklaces from luxurious brands that cost an absurd amount, you can have this item at a significantly lesser price. However, despite its affordable cost, this pendant is made from a premium 925 Sterling Silver. Therefore, you can be ascertained that this will not easily get damaged with scratches and get rusted with water.
WHY DO CUSTOMERS LOVE THE HANNYA REVENGE PENDANT?
GOOD LUCK – Whether wearing it as a necklace or hanging in the home, Hannya masks are believed to protect their owners from misfortune and help generate beneficial circumstances.
WISDOM – The Japanese word Hannya means wisdom. If you're hoping to achieve a higher perspective in matters of love and the heart, the Hannya Mask Pendant is an excellent choice.
UNFORGIVING PERSON – The Hannya mask has long been used by members of the Japanese Yakuza gang to symbolize that the wearer is unforgiving and without mercy.
SPECIFICATIONS
SAFE AND SKIN FRIENDLY – With its hypoallergenic coating, this necklace assures you that it will never cause any adverse effects on your skin, such as itching, rashes, redness, among others.
925 STERLING SILVER – The pendant (1.2″ x 1.6″ in diameter) and the chain (27.5″ long) are each handcrafted from 925 sterling silver. These safe materials are insensitive and resistant to oxidation.
SENTIMENTAL VALUE – There is no better way to show your loved one how much you love her than to give her a symbolic piece of jewelry like our Hannya  Revenge Demon Pendant.
GOES WITH ANY OUTFITS – The Hannya Revenge Demon Pendant is perfect for parties, dates, or occasions and stands out with an attractive look.
Package Includes: 1 x Hannya Revenge Demon Pendant Necklace