HELD: Rotating Sports Phone Wristband
PRODUCT DETAILS
FREE ONE HAND WITH THIS CONVENIENT SPORTS WRISTBAND THAT CAN HOLD YOUR MOBILE PHONE WHILE RUNNING OR DOING OTHER ACTIVITIES.
Don't we all wish we got more than two hands? Well, this device is as close as you get at an affordable price. Introducing HELD Rotating Sports Phone Wristband. This phone holder features a 360° rotation with a detachable design. Take off your phone easily for a call or a selfie!
It give you complete access to your screen and will hold your phone intact even when running or riding a bike to your next destination.
Free your hands!
Open-face function allows full access to the screen and all buttons. The stretchable silicone holder secures the phone to your wrist, freeing your hands while walking without holding the phone in your hand.
Full Access
Completely access to all buttons and controls of the smartphone without taking it out from the case. It features a 360° rotation that allows you to adjust the viewing angle, for better user experience. This sets it apart from similar cell phone wristband jogging on the market. Now you can easily switch music or check messages without stopping while running on the treadmill or lifting weights.
Sports Wristband 360° Rotatable Forearm Armband Phone Holder for iPhoneX/8 Galaxy S9 for men&women
Skin-friendly and Good Fit
Breathable high-quality materials provide a soft, odor-free, and lightweight wearing experience. Great for running, cycling, walking, hiking, and all of your high-intensity workouts. Thanks to the elastic and adjustable Velcro fastener, the bracelet fits arms of different sizes. That the phone sits firmly on the wrist and prevents it from slipping or falling during exercise.
Perfect for Physical Activities
Superior elastic silicone grasps your cell phone firmly, never worry about dropping your phone again; Look cool and achieve maximum convenience while running, cycling, walking, hiking, and doing household chores like cooking, mowing, or cleaning.
1
Other Features:
🧡IDE COMPATILIBILITY. Compatible with iPhone 11 Pro Max / 11 Pro / 11 / XS Max / XR / XS / X / 8 Plus / 8/7 Plus / 7 / 6S Plus / 6S, Galaxy S10 / S10 Plus / S10e / S9 / S9 Plus / S8 / S8 Plus and all phones that have a 4-6.5 inch screen.
💜DETACHEABLE. Unique U-groove and detachable design bring slip and buckle, safe and stable. Take off your phone easily to answer the call, take photos or play games etc.
💚KEY POCKES AND EARPHONE HOLDER. HELD bands has special key pockets and earphone holder design, you can take your keys and earphones with you without having to bring a bag or pouch.
How to Use: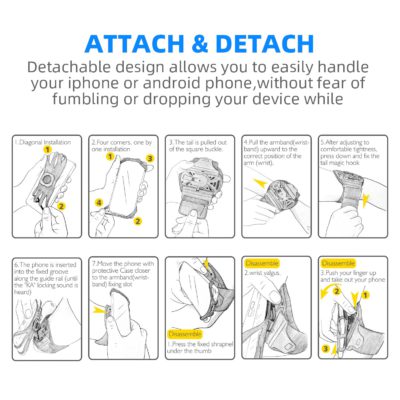 Does it feel weird when running/jogging with this on? Any wrist pain?
Answer: It fits and feels just like a wrist band. It's Velcro so you can tighten it up for your comfort.
Do earphones get in the way when running with this on?
Answer: Depends on the length of the earphone cable, the longer the cable the better. We would suggest getting a pair of Bluetooth earphones.
Do people who run with this take the phone out.
Answer: You can leave the phone in even when running. It works great and convenient to use. When you want to take a photo or video, you don't have to take it out of your pocket or use extra hands to hold.
Can you use this n a phone with a case on it?
Answer: Simple answer is yes, but if you have bulky 3D case it might still fit but we don't recommend as they will stretch the elastic and will feel less comfortable.
Does it bounce around or spin on its own when running really hard?
Answer: No, it will not bounce around or spin on its own when running really hard. The U-groove design mount will hold phone sturdy. It can be only rotated with hand.
📌SPECIFICATIONS📌
Material: Soft Silicone, Velcro
Compatibility: All mobile phones with 4.0 – 7.0in screen size
No more struggling to search for a new phone holder each time you upgrade your phone! 📱🏃‍♀️