Honey Jelly Mask Capsule
Honey Jelly Mask Capsule
Our Honey Jelly Mask Capsule is an overnight, rinse-free sleeping mask that revitalizes and renews skin into younger and radiant condition. The advanced formula helps visibly improve skin tone and elasticity. Your skin will be immediately soothed and rejuvenated just after one treatment and look more radiant and healthy.
This sleeping mask also gives deep nourishing effect which helps your skin recover the healthy and luminous look of youth. This one-time-use ampoules inhibits over exposure of formulation to light, air, and water while ensuring dispensing is easy and precise.
This jelly mask will infuse the skin with serum-strength, potent bioactive ingredients to boost the skin's natural renewal process. Infused with Royal Jelly, Aloe Vera and other natural ingredients that helps tone, firm and tighten the skin around the face and neck, transforming the skin while you sleep and replenishes moisture and suppleness.
FEATURES:
Anti-Wrinkle & Rejuvenation:
Improve the radiant and healthy look of your skin as it helps to reduce fine lines and wrinkles, calms and rapidly renews the look of over-stressed skin, helping to strengthen its resistance against future damages, at the same time enhancing cream and moisturizer penetration.
Stimulates Skin Cells:
Besides neutralize oxidative damage from everyday environmental exposure to decelerate signs of aging, it also activates the basal cells of the skin, enhances natural collagen growth and secretion of pollutants and toxins in skin.
Improves Elasticity & Firming:This will further prevent the skin around the face and neck from sagging, while increasing the elasticity of the skin, let your skin be firm, toned with natural radiance.
Deep Moisturizing & Nourishing:
Penetrate quickly and deeply to the skin to reduce the dryness of skin and help in increasing the metabolic rate. This would prevent the skin from premature aging.
Single-Use Capsule:
Allow limit exposure of formulation to destabilizing light, air, and water while ensuring dispensing is easy and precise. An ideal skin solution for travel.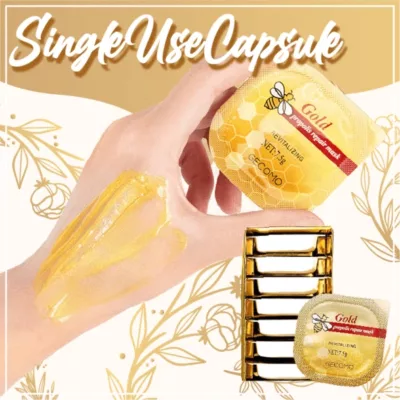 INSTRUCTIONS:
After cleansing, open the capsule and apply all the gel in it over the face evenly. Leave the gel mask on overnight. Do not rinse.
After washing your face the following morning, continue with the rest of your normal daily regimen.
SPEFICAITIONS:
Weight Per Capsule : 3.8g
PACKAGE INCLUDES:
7pcs x Royal Jelly Sleeping Mask Capsule