HYDROFIC – Ice Bath MAX
The NEW Ice Bath MAX – Bigger, Better, and Now with Exclusive Add-ons! Get the all-weather cover, Thermometer and Carry bag for FREE, making your cold water therapy experience even more exceptional.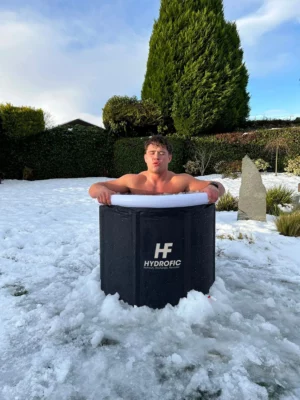 Whether you're looking to recover from a tough workout, soothe sore muscles, or simply enjoy the benefits of cold water therapy, we got you covered.
With its 5 layers of thermal insulated cooling technologyy, this innovative tub provides 100% body coverage and is easy to get in and out of.
It's the ultimate tool for anyone looking to experience the benefits of cold water therapy wherever you go, whether it's to the gym, a competition, or at home.
The high-quality material ensures durability and longevity, and the easy-to-use drain valve makes it simple to drain the water when you're done.
95 cm (37.5 in) diameter
75 cm (29.5 in) height
400 L capacity
Suitable heights up to 2m (6'7″)
5 x thermal insulated TPE layers
UV resistant skin-friendly PVC inner lining
1 x Ice Bath
1 x Protective Lid
1 x All Weather Cover
1 x Carry Bag
1 x Thermometer
6 x Durable Support Legs
1 x Inflatable Seating Cushion
1 x Hand Pump
1 x Drain Hose
1 x User Manual
Helps boost the immune system.
Improves circulation.
Deeper sleep.
Boost energy levels.
Reduce inflammation.
Improve metabolic function.
Improve mood.
COOLER MAX SPECIFICATIONS
Cool water down to 40 °F (5 °C)
Weighs 55lbs (25 kg)
1200W cooling power
1/2 HP compressor
Voltage and plug type vary by shipping destination.
Measuring 13 x 13 x 15 in / (34 x 34 x 37 cm)
Consistent water temperature maintenance
User-friendly controls
Low noise operation
Portable and easy to set up
WHY IT WORKS
When you submerge your body in cold water, the blood vessels in your skin and muscles constrict, reducing blood flow and inflammation. When you get out of the bath, the blood vessels dilate, increasing blood flow and oxygen to your muscles, which helps to reduce soreness and speed up recovery.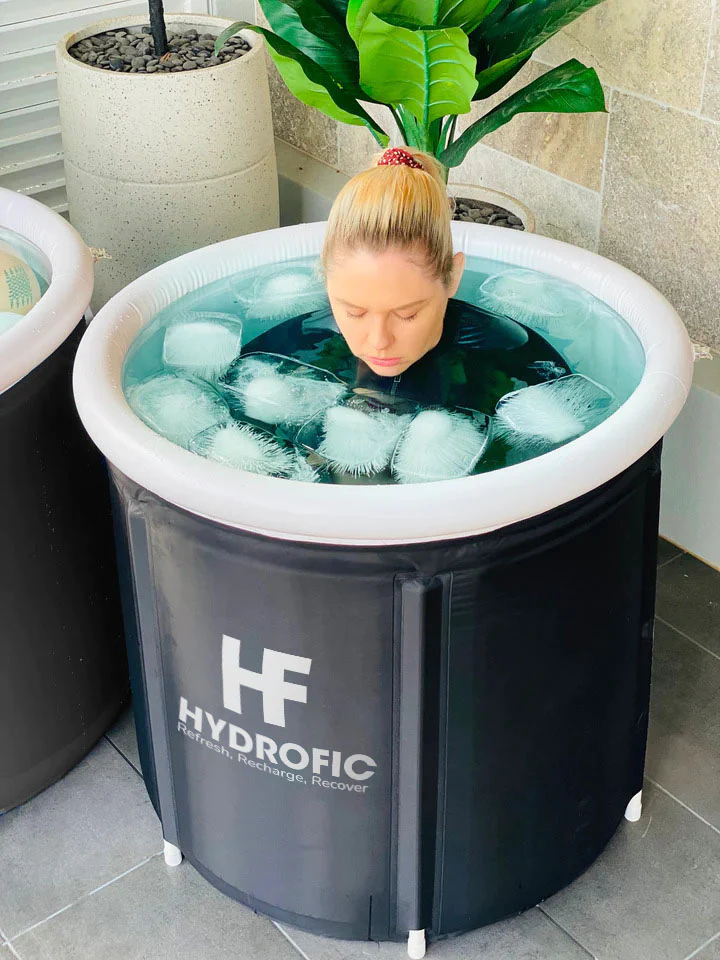 SPEEDS UP RECOVERY
Ice baths are a natural and effective way to speed up your recovery after intense workouts or competitions. By reducing inflammation, soreness, and muscle damage, they can help you recover faster and perform better
WHEN TO USE
Ice baths are a versatile tool that you can use in many different situations to improve your recovery and well-being. Whether you're an athlete, recovering from an injury, or just looking for a way to relax and recharge, ice baths can help. Try them after your next workout or competition, before a big event, or as part of your regular self-care routine. Start with short sessions and gradually increase the duration and frequency over time. Your body will thank you!