Kitchen Silicone Oil Bottle Oil Brush Baking Barbecue
Kitchen Silicone Oil Bottle Oil Brush Baking Barbecue
Features:
<< Unique design: This 2 in 1 silicone oil brush with oil dispenser makes spray oil easy and quantitative.
<< Apply evenly: You can squeeze the dripper head and evenly smear the oil on the surface of food or barbecue.
<< Precision pour: Gently squeeze the dripper and accurately control the amount of oil in the food according to the scale.
<< Can control the amount of oil: Just a slight pinch, you can quickly enter the oil, and the precise scale allows you to control the quantitative oil output. And the heightened design of the edge can avoids waste and leaking,automatic oil return, while also ensuring the cleanliness of the table.
<< Quantitative oil adsorption: The oil storage tank with clear scale allows you to accurately use your oil to make your delicious food every time.
<< Durable and heat resistant brush head: The silicone brush is heat resistant which can resist high temperature up to 250°C/482°F,not shed hair,no deformation,food safe material,durable and eco-friendly.The dense brush head can evenly smear the oil on the surface of food,can withstand high temperature,no odor and with strong toughness.
<< Wide mouth opening: Wide mouth opening design,easy and convenient to pour oil.
<< Anti slip: Anti slip bottom can keep the oil bottle in place,not easy to fall.
<< Widely used: It can be used as kitchen oil bottle brush, baking brush and barbecue brush and more. Works great on a variety of foods, including meats, pastries, sauces and so on.
<< Multipurpose: Suitable for a lot of condiments.The brush head can be used not only to brush oil, but also to brush various spices on delicious food,such as, soy source,vinegar and more.
Easy to use:
1. Add the condiments into the bottle.Wide mouth,easy to refill.And please do not refill condiments extend the prompt line.
2. Squeeze the dripper head to absorb oil quantificationally.
3. Squeeze to drip,control oil volume,quantitative oil.
4. Three-layer brush head apply evenly.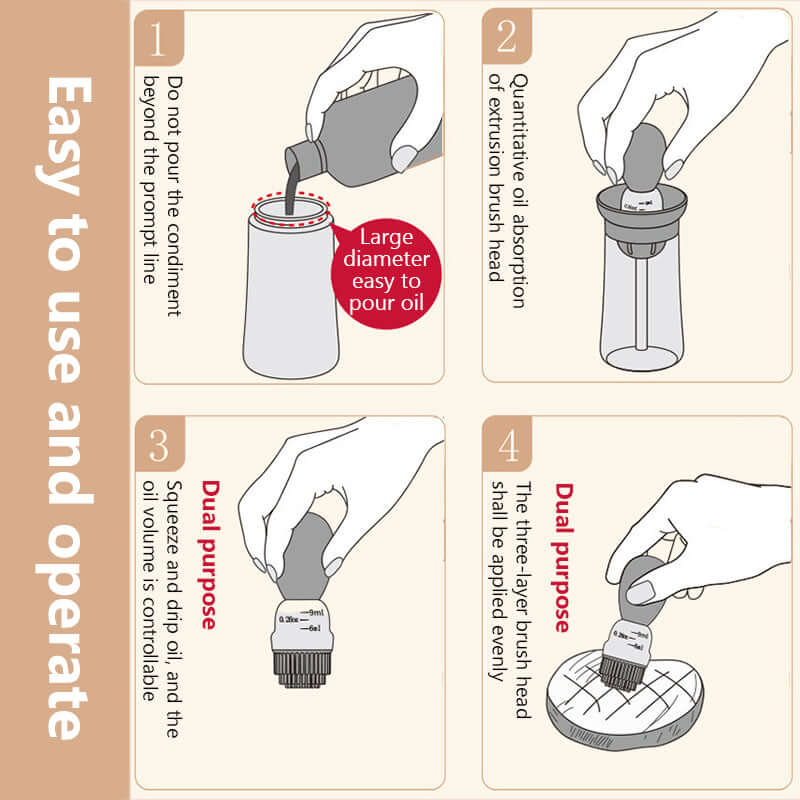 Specification
Color: red/orange+green/brown/blue

Size: 18*6.45cm
Material: glass,PP top cover,silicone
Capacity: 180ml
Weight: 243g/pcs
Function: suitable for kitchen,barbecue,cooking and more
Package includes:
1 x oil bottle brush
Notes:
Please allowed 1-3mm differences due to manual measurement, thank you for your understanding!
Due to the difference between different monitors, please understand that the picture may not reflect the actual color of the item.