LifeLong Pencil
The nib is made of metal, small in size, and the color is similar to that of a normal pencil, and the writing is smooth. The handwriting is also easy to erase with an eraser. There is a long eraser inside, which is easy to erase.
The reason why this metal inkless pen can write without sharpening a knife or ink is that the tip of the pen rubs on the paper, which causes the alloy metal molecules to decompose and stay on the surface of the paper; the inkless pen can be applied to most papers, Regardless of temperature or weather conditions, it can retain handwriting for a long time.
No need to sharpen a knife, no ink. Provide you with convenient writing, no need to worry about ink interruption. Non-slip pen holder; sturdy pen holder; comfortable grip. Stylish and sophisticated design.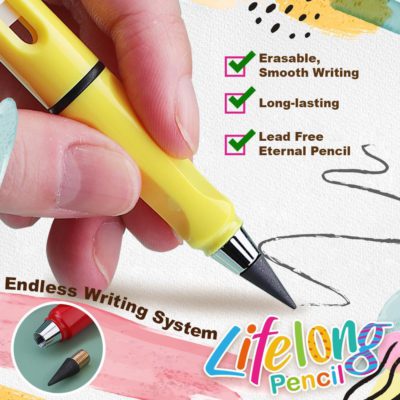 The perfect gift: the nib of the inkless pen rubs on the paper to decompose the alloy metal molecules and leave them on the surface of the paper. No need to sharpen pencils, consume wood, and never finish writing. What a great choice for students, painters, artists, teachers, etc.
The metal erasable pen can use the compressed nib to replace up to 100 traditional pencils, without sharpening or changing the refill; to help you reduce the time of sharpening or refilling, we have included 6 replaceable nibs for you use.
Specifications:
Material: Plastic
Nib Material: Metal Alloy
Colors: Black, White, Red, Pink, Blue, Light Blue,
Green, Light Green, Orange, Yellow
Size: 14 cm
Package Includes:
1x LifeLong Pencil
1x high-tech permanent writing nib