Lightweight Baby Carriers
Lightweight Baby Carriers
You can free your hands while holding the baby.
FASHION BLOGGER REAL EVALUATION
High Quality: This infant carrier wrap is made with premium cotton and 3D breathable mesh, comfortable, lightweight, cool and helps reduce sweat, bringing the baby the gentlest care, suitable for all seasons.
One Size Fits All: The baby carrier wrap is suitable for babies aged 0-36 months, 4 combinations of carry ways, you can freely change the ways of holding the baby according to your needs.
Hands-free Carring: The baby sling carrier is a perfect helper to give your arms a break in a busy life. It can carry your baby in on your front or back, face-in or face-out. The baby carrier sling lets you carry your baby boy or girl comfortable with proper support.
Improved Baby Neck Support: With a padded neck support pillow that can be flipped up or down, providing your baby with proper posture and support, to reduce neck pains or discomfort when they're traveling or sleeping.
Convenient&Easy to Use: Put the baby wrap carrier attaches to your body first and secures comfortably before your baby goes for a ride. Then put your baby in, and secure the baby with the safety buckle for the carry protection.
SPECIFICATIONS
Material: Cotton
Color: Green, Pink, Gray
Style: Lightweight, Mesh
Size: As Shown
suitable age: 0-36 months
weight capacity: 20kg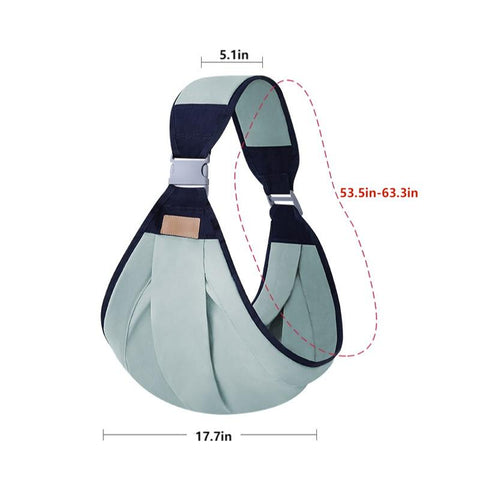 PACKAGE
1 * Lightweight Baby Carriers