LunaLoom™ UltraRenew Ultrasonic Facelift Device
An impaired lymphatic system can accelerate the formation of fatty tissue, which could become visible on the face.
An impaired lymphatic system means that lipids are not effectively absorbed but accumulate in the tissue instead. This leads to visible weight gain and additional weight management challenges. Such problems often occur after surgical procedures or physical traumas. Various causes, including tumor compression or malignant infiltration, can block the lymphatic channels.
What is Ultrasound Therapy?
The use of ultrasound energy renews the natural vitality of skin cells and reduces visible signs of aging. As we age, the natural breakdown of collagen results in less youthful skin and an increase in visible signs of aging such as skin sagging. Collagen is also important for repairing damaged tissue.
How does the LunaLoom™ UltraRenew Ultrasonic Facelift Device work?
The UltraRenew Ultrasonic Facelift Device can potentially improve your lymphatic drainage when used to massage your face from the center to the lymph nodes near the neck and ears upwards. With the lymphatic system in focus, this ultrasonic massage device aims to promote healthy blood circulation, balance body fluids, and support immune functions.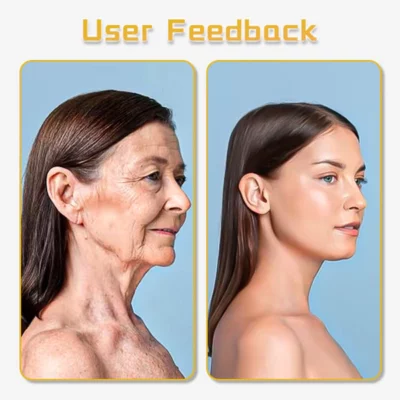 Why is the LunaLoom™ UltraRenew ultrasonic facelift unique?
⭐️ Tightens and lifts the skin.
⭐️ Rejuvenates collagen and elastin.
⭐️ 3 intensity options for massage.
⭐️ Reduces dark spots and UV markings.
⭐️ Reduces pores and capillaries.
⭐️ Smoothes and revitalizes the skin.
⭐️ Chemical-free and non-invasive.
⭐️ Firms eye and facial areas.
⭐️ Smoothes lines and wrinkles throughout the face
Package Includes: 1 x LunaLoom™ UltraRenew Ultrasonic Facelift Device
How to use:
1. Clean face: Remove makeup and cleanse your skin.
2. Apply gel: Use a conductive gel or serum for better ultrasound effects.
3. Turn on: Activate the device and choose the suitable mode or intensity level.
4. Glide the device: Glide in ascending movements from the center outwards, focusing on problem areas. Avoid staying in one place for too long.
5. Turn off & Wipe: After the treatment (lasting 5-15 minutes), turn off the device and wipe it clean.
6. Apply cream: Apply your favorite moisturizer or serum.
7. Regular use: Consult the user manual for the recommended frequency of use.