Mini Billiard Table
Mini Billiard Table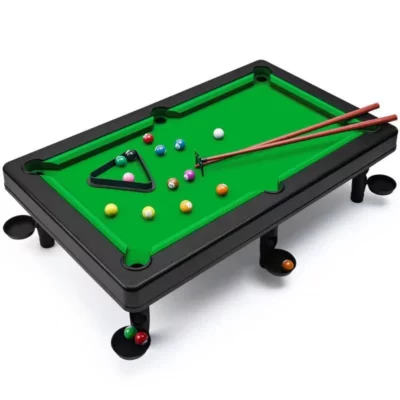 A pool table is a miniature version of a normal table. In addition to the one-to-one scaled-down billiard balls, there are also heavy solid wood cues. Attack, defend, score continuously… While exercising your eyesight, you can also exercise your brain thinking.
Easy To Install: You need to do is to take the snooker table out of the box and assemble the table legs, then you can start playing it and having fun.
Emulational Full Set: This full set playing equipment is as complete as real snooker table game's, including 1 billiard table, 16 balls, 2 cues, 1 tri-angle, 1 billiard chalk and a brush.
Mini Size Design: This table provides convenience for you to carry and play. Besides, when you don't need it, you can storage it without occupying much room.
Get Familiar With Rules Of Snooker: This mini snooker table is very suitable for green hands to get familiar with the rules of snooker games. Through practicing it, you can start the real snooker game easier.
Fun For All Ages: Snooker game is not only a game for children, but also a good game for adults, whoever you are, you can enjoy the snooker game with this mini table, especially for parents, playing this game with your kids is also a considerate way to accompany with them.