Mom To Daughter – Straighten Your Crown – Colorful Music Box
Mom To Daughter – Straighten Your Crown – Colorful Music Box
A PERFECT GIFT FOR YOUR DAUGHTER!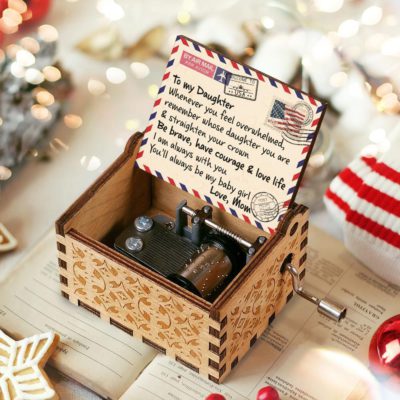 Best gift for your daughter!
This beautiful wooden music box has been loved for its vivid and unique design with a meaningful message engraved from the inside of the box.
"To my daughter
Whenever you feel overwhelmed,
remember whose daughter you are
& straighten your crown
Be brave, have courage & love life
I am always with you
You'll always be my baby girl
Love, Mom"
The beautiful rhythm of "You Are My Sunshine" is built-in the music box that will "WOW" your beloved as they turn the handle. They will treasure it their whole life.
Make an ideal gift for some special occasions such as Birthday, Anniversary, Christmas, etc.
FEATURES:
Dimensions: 2.55″ x 2.16″ x 1.57″ (65x55x40mm)
Material: Wood & Metal
Tune: You Are My Sunshine by Johnny Cash
Operation mode: Manual
Handcrafted With Love
Made To Order