Newborn Baby Shaping Memory Foam Pillow
PARENTS JUST WANT TO DO THEIR BEST FOR THE WELFARE OF THEIR KIDS. THIS PILLOW IS MADE NOT JUST FOR BABIES BUT FOR PARENT'S PEACE OF MIND.

The newborn baby's body is very soft, because the baby is not fully developed. The baby is sleeping 70% of the day, and all the things the baby touches are especially important at this time. If you place your baby directly on a flat surface, the shape of the head can easily become flat. This is what we often call the flat head syndrome.
That's why we designed Newborn Baby Shaping Memory Foam Pillow for babies.
Care for Comfort
ComfortPlus hopes to accompany each baby's growth, we care about your baby's welfare. Nurses and pediatricians recommend this head shaping pillows for babies. It is best to start using it when it is born. It is suitable for babies from 0-12 months.
Support Head & Neck
ComfortPlus baby pillows feature top grade slow-rebound soft memory foam mix curved hollow design to ensure comfort while effectively shaping the head shape, supporting the head, reducing the pressure on the neck and spine.
Proper Head Shape
ComfortPlus baby pillows are fully scientifically designed and are good friends for your baby's sleep. The scientific 3D concave size and depth pillows for babies will gently shape the your baby's to solve various head shape problem such as flat, skew and shard head syndrome.
No Direction Restrictions
Your babies can comfortably shift their heads to different sides. There's no risk of accidental suffocation or your baby's head getting hurt. Pediatrician recommends to replace a new pillow every 3 months to ensure the effectiveness of the pillow and the health of the baby to achieve optimal shaping.
Other Features:
👶BREATHEBLE FABRIC. This pillow is made of soft and comfortable Hydrophilic Foam which is soft and skin-friendly but also provides support. It is not affected by temperature and maintains good comfort in a low-temperature environment. Our flat head baby pillow has super strong air permeability. All our soft fabric cover was certified to protect your baby's delicate skin.
👶EASY TO CLEAN. Babies are prone to vomiting milk, drooling or sweating. Our baby support pillows are very easy to clean. You can scrub with baby cleaner and then dry in a well-ventilated place.
👶MULTIPURPOSE. This memory foam pillow is suitable for 0-12 months old babies. You can use it on rocking chair, stroller, crib, baby stroller. It can help adjust baby's sleeping position. you also can give the baby pillow as a gift to your relatives and friends.

Is it too small for my 6 months old baby?
Answer: No, ComfortPlus is designed for babies up to 12 months old. We can assure you that your baby's head will fit.
Does it support machine washing?
Answer: No, all memory foam shouldn't be washed in the machine as it will destroy the structure of the pillow. Wash with soap, water and a brush.
Can I use this pillow in my car seat?
Answer: Of course, our pillows are very light and easy to insert.
I see that it fixes deformed head shape, does that mean it can also prevent it?
Answer: Yes, our pillows can not only improve deformed head shapes but also prevent them. Pediatricians have recommended the use of memory foam for babies.
What kind of foam is this made from?
Answer: ComfortPlus pillows are made with top-grade polyurethane polymer. After use or being deformed, it will slowly return to its original shape. The material absorbs strong impact kinetic energy and can be used repeatedly without permanent deformation.
📌SPECIFICATIONS📌
Pillow Core Material: Memory Foam
Coat Material: Cotton
Colors: Pink, Blue, Yellow
Weight: 130g
Size: 25 x 21cm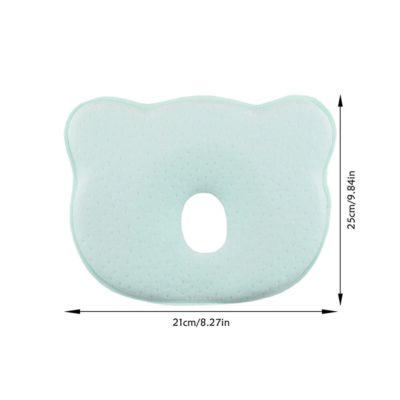 Let your baby feel as comfortable as sleeping in his parents' arms with these memory foam pillows.👶🛌😴