Outdoor Flashlight
Light Up Your Adventures, Anytime, Anywhere!
Are you ready to take your outdoor adventures to the next level?
Look no further! The AEXZR™ Outdoor Flashlight is the perfect companion for all your outdoor escapades. Whether you're an avid camper, or hiker, or just love exploring the great outdoors, our flashlight is designed to light up your world and keep you safe on your journey.
Why Choose AEXZR™ Outdoor Flashlight?
Features 1000 lumens LED Beads: AEXZR™ Outdoor Flashlight takes illumination to a whole new level with its incredible 1000 lumens of LED brilliance. Whether you're exploring the great outdoors, working on a project, or simply need reliable light in the darkest of moments, the AEXZR™ Outdoor Flashlight LED beads deliver a powerful beam that will light up your world. With 1000 lumens at your disposal, you can expect unparalleled brightness and clarity in all your adventures and tasks.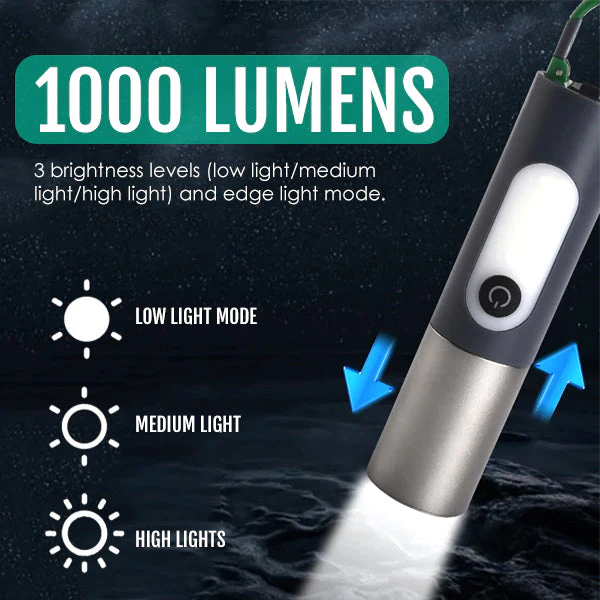 USB Charging: With USB Type C charging, the AEXZR™ Outdoor Flashlight is not only compatible with the latest tech, but it also ensures rapid, reliable charging. You can conveniently recharge your flashlight with the same cable you use for your smartphone, tablet, or laptop. It's a seamless, time-saving solution that adapts to your busy lifestyle.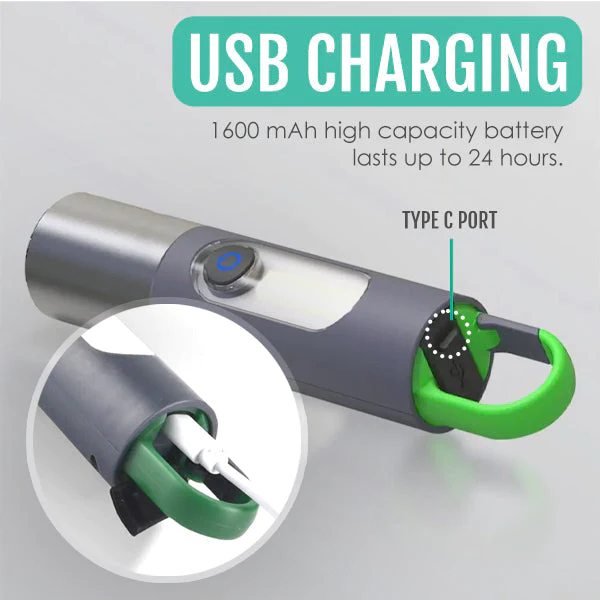 2 Variable Focus: The front zoom tube can be switched between spotlight and floodlight, which can easily handle different situations. The maximum distance can reach 200 meters when focusing. Adding a diffuser makes the light evenly softened, which can be used as a signal light and ambient light, providing more uses. Multifunctional pressure type carabiner hook, easy to carry, suitable for different scenes.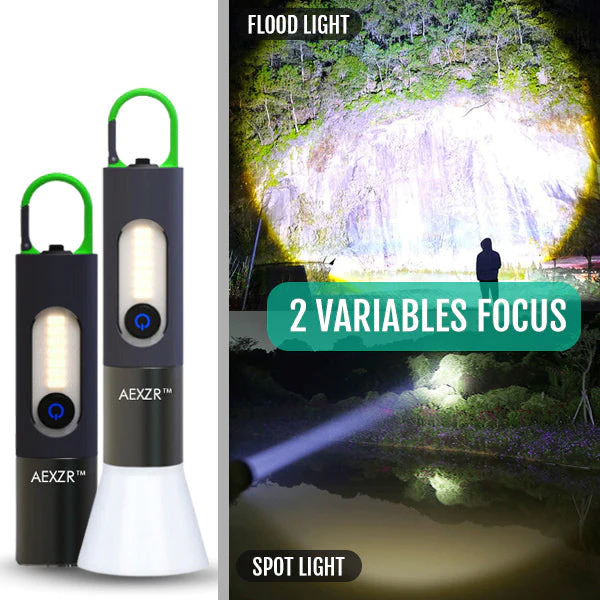 High-quality material: The surface of the aluminum shell is anodized, which is sweat and corrosion-resistant. The size of the handle follows the principles of human mechanics, making the user feel flexible and stress-free.
Versatile Usage: AEXZR™ Outdoor Flashlight comes with a  built-in hook that allows you to hang the flashlight effortlessly, transforming it into an overhead light source. This feature is incredibly handy when you need hands-free illumination for tasks like setting up a tent, reading by the campfire, or simply creating ambient lighting. Plus by adding the lampshade cup at the bottom, you can easily switch between different lighting modes to suit your specific needs. This flexibility makes it the ideal choice for a wide range of activities and settings.
SPECIFICATIONS
Type: Flash light
Power: 5 watts
Light source type: LED
Material: ABS + Aluminum
Charging method: Type-C charging
Optical distance: 200 meters
Package Includes: 1 x AEXZR™ Outdoor Flashlight