Oveallgo™ 24K Gold Snail Collagen Eye Mask
Why is there Wrinkles?
Many
 people
 develop
 wrinkles
 under
 their
 eyes
 as
 they
 age
.
 This
 is
 due
 to
 the
 thin
 skin
 in
 the
 area
 being
 more
 susceptible
 to
 the
 effects
 of
 aging
,
 such
 as
 the
 skin
's
 ability
 to
 renew
 itself
and
 collagen loss
.
The
 lack of elasticity
 in
 the
 skin
 around
 the
 eyes
 can
cause unwanted features such as
 puffiness, wrinkles and dark circles
.
Oveallgo™ 24K Gold Snail Collagen Eye Mask is a benefit-packed powerhouse for aging skin. It supports collagen production and improves skin cell turnover. This helps to firm the skin, while diminishing the appearance of fine lines, wrinkle, eyelid puffiness, dullness and dark spots – leaving behind a fresh, youthful glow and more revitalized look.
Dr.Berek has been in charge of skin research-related topics in the research institute for more than 20 years. We invited Dr.Berek for the 24K Gold eye mask upgraded experiment of using eye mask for 2 month.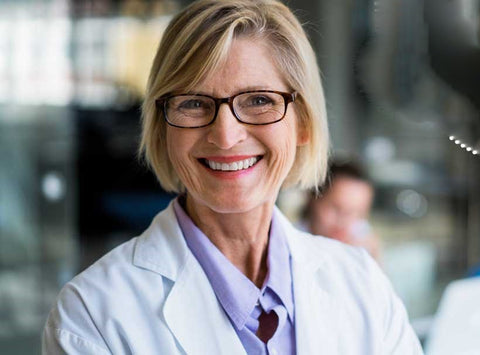 Since she insisted on using a more natural formula to make a safer and more effective way, she greatly appreciated the eye mask after the experiment. Now 2 month past, she is still using our eye mask, as she said, "The formula of the eye mask is proven safe and healthy, with quick effect, and it also conforms to my principle of green and natural formula. When I am applying the eye mask, not just feel the eye skin refreshing, but also indeed improves all the wrinkle and puffiness issue. At this price, eye mask is a well-deserved first choice for all people with eye area skin issue."
What Is The Actual Cause Of Eyelid Puffiness & Bags Under Eyes?
Melanin is the substance (pigment) that gives your skin its color. Leakage in the capillaries, due to low levels of Vitamin K or stress, beneath the skin is another major reason. The blood spreads out under the skin and becomes oxidized forming a dark purple hue. This color shows through the skin and gives the appearance of dark circles.
Bags under eyes are caused when the tissue structures and muscles supporting your eyelids weaken. The skin may start to sag, and fat that's usually around the eye can move into the area below your eyes. Also, the space below your eyes can gather fluid, making the area look puffy or swollen. OPENEYES Awaken Peptide Lifting Eye Gel is specially designed for target to reduce the appearance of dark circles and bags under eyes effectively and naturally.
3 Key Ingredients in Eye Mask

24K Gold Foil:
 The nano-treated gold foil has stronger negative ionscan better resist oxidation and resist free radical activity in the skin. Delay skin aging. Gold contains certain active ingredients, which can stimulate the vitality of skin cells and make the skin firmer.

Snail Slime: 5,000ppm Snail Secretion Filtrate(SSF) captured in Hydrogel coated Premium Sheet.The snail secretion filtrate is naturally rich in collagen, elastin, allantoin, and glucuronic acid. It can replenish collagen for the skin, promote cell metabolism and regeneration, repair skin tissue, eliminate wrinkles and scars, remove dark spots on the skin, and resist the damage of free radicals to the skin.

Crinkle Carrageenan&Fucus Algae Extract: Wrinkle carrageenan and Fucus algae extract are moisturizing ingredients extracted from natural seaweed, helps get rid of toxins, boost the skin's natural defense system. Apart from that, they also promote collagen production,  can activate cell activity, anti-aging.
 Deep into the under-eye muscles, repair the skin from the inside out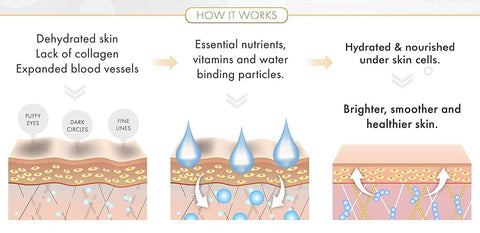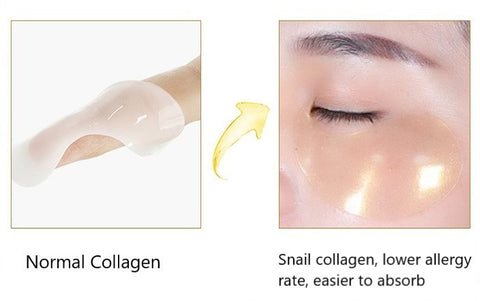 Eliminates Several Eye Problems
What Makes The Oveallgo™ 24K Gold Snail Collagen Eye Mask Be The GREAT CHOICE?
✔ Dermatologist Tested
✔ Reduces The Appearance Of Fine Lines & Wrinkles
✔ Reduces Puffiness & Dark Circles
✔ Plumps Up & Smooths Skin
✔ Instantly Replenishing & Calming
✔ Produce Collagen 5x More Than Similar Products
✔ Effective Brightening & Tightening
✔ Repairing & Moisturizing At The Same Time
Golden Snail Eye Mask use nail collagen, which is the most friendly and easily absorbed collagen for the human body, and it is all natural and will not have any effect on the human body. It is especially suitable for helping everyone who needs to get rid of wrinkles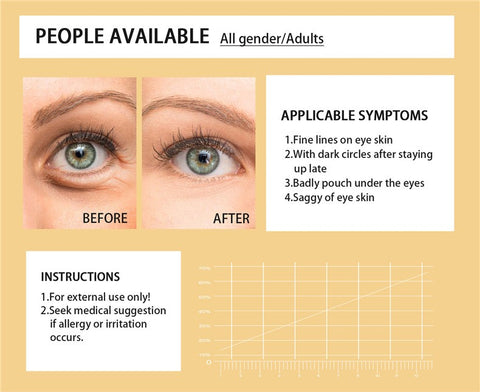 Features:
1. Upgraded-Design: We use high-quality material , the fitting eye radian of eye mask shape helps to perfectly fit for eyes,  not easy to slip off, convenient for your life!
2. SAFE & GENTLE: The eye masks are made with natural and gentle ingredients to make sure the efficiency.
3. Fast and Natural Treatment: Lock water and keep moisturized, doesn't dry out or irritate your skin, invisible difference after using.
4. Universal Usage&Convenience: For daily use, suits for all skin type and other face area, suitable for both mem&women. Wherever and whenever, just apply it and do your own stuff, get your refreshing skin.
5. Package: 1 Box-60 Patches/2 Box-120 Patches/4 Box-240 Patches/8 Box-480 Patches
Package Includes: 1 x Oveallgo™ 24K Gold Snail Collagen Eye Mask
How to Use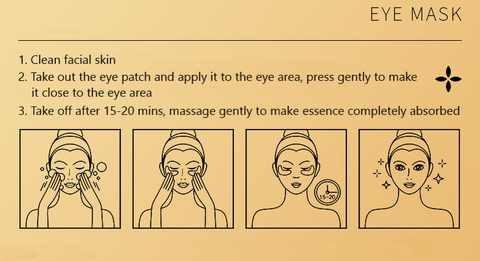 1. Clean facial skin
2. Take out the eye patch and apply it to the eye area, press gently to make it close to the eye area. Also avaliable for whole face area using.
3. Take it off after 15-20 minutes, massage gently to make the essence fully absorbed
Note: Please be care to avoid the essence getting into eyes.