Pet Astronaut Night Light Figurine
Pet Astronaut Night Light Figurine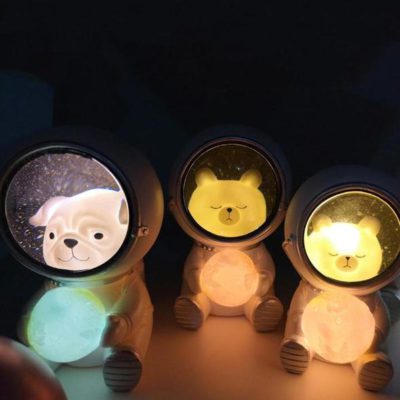 Elevate any space with the Pet Astronaut Lamp
It's an adorable figurine that lights up in various colors. Use it as a night light or as a display on any desk/table.
Features an adorable pet in a magnified helmet, holding a lit up moon
Amaze your family, friends and guests every time they see it!
An excellent gift for your kids, family, friends, and your beloved ones! Suitable for adults and children!
Creative Design
Unique Night Light
Made With Durable Resin
Cute Animal Astronauts
The Pet Astronaut Lamp is an adorable figurine that lights up. Use it as a night light or as a desk decoration.
Beautiful Night Light
This eye-catching and mysterious astronaut doubles as a cute decorative lamp, lighting up and beautifying your room at the same time. Features a soft glow, making it a perfect bed-time light.
Unique Display
Bears, kittens, and puppies all put on space suits and become astronauts. The lamp's creative appearance allows it to be displayed as a cute decor piece.
Excellent Design And Craftsmanship
Made to last a long time with durable resin that's waterproof. Each lamp is hand-crafted with attention to detail. Contains a white LED that displays a soft light.