PORTABLE CAR STEPPER
Reaching Your Car Roof Just Got Easier!

This Car Rooftop Doorstep gives you a swift and easy access to the roof of your car!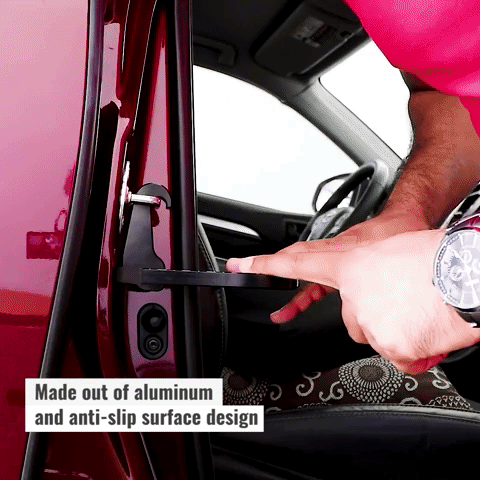 Easily climb and reach the roof of your car with the Car Doorstep!
This latch doorstep will assist you in reaching or storing bulky items on your car roof with ease.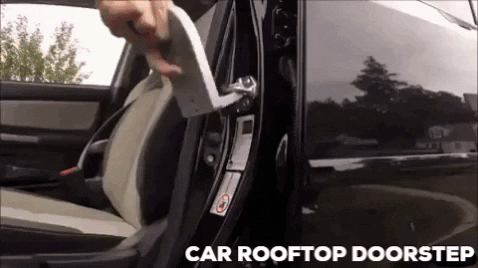 Made of aluminium alloy for durability, with a foldable and compact design for easy storage. Equipped with a safety hammer,the Car Doorstep is a strong tool to break car windows in case of emergency.
Quick installation and easily take down.Anti-scratch design for preventing scratchingand protecting car paint.
Features:

Foldable and easy to store, made from light-weighted durable Aluminum Alloy.It assists you easily in fixing or fetching Bike, Surfboard, or other Bulky Travel Items on car rooftop/ rack.
Safety Hammer Design provides you with a powerful tool for survival in case of emergency.
Support Up To 400 Pounds: it can support up to 400 pounds for access to car rooftop or rack, no problem for big guy handling bulky items (Max: 400 Pounds)
Dimension (5.9*3.9*3.9 inches) is big enough to fit for all sizes of feet,
Non-slip design
 provides solid and secure support for you standing on the doorstep, compatible with all kinds of SUV or RV.
f your car's rooftop is typically used for
transporting skis, kayaks, bikes,
 or any other outdoor gear, then you might benefit from having this 
Car Door Latch Hook Pedal.
Safety hammer design for survival in emergency.
With this Doorstep, you can put all your bulky items on car rooftop or rack without any struggle as to make full use of in-car space, and enjoy a wonderful journey with all necessary items along with you.
Specifications
Material: Aluminum Alloy + silicone
Size: 15*7.5*9CM
Color: Black
Max Load: 200kg
Package include : 1X Doorstep(as the photos shown)
Apply: Most Car Vehicles Trucks
Will The Car Folding Ladder Damage My Vehicle?
We at car folding ladder and safty hammer added Leather pad with each step to help avoid damagingyour vehicle.
This Leather pad acts as a buffer and protection between your vehicle and the car folding ladder.
So far we haven't had any issues with any vehicles we have tested it on.


Package Included
Portable Car Stepper x 1 pc