Power Ionics Healthiness Bracelet
The Power Ionics Healthiness Bracelet is the easiest way to start losing weight! Boost your metabolism and overall health instantly as soon as you wear it!
It features incredible healing and wellness gems that improves your mood and body. Here are the amazing benefits that each gem provides:
1. Negative Ion Gem – Helps relieve stress and improve mood
2. FAR Infrared Gem – Speeds up metabolism and promotes weight loss
3. Germanium Gem – Removes toxins and negative energy to cleanse your body
4. Therapeutic Magnets – Improves your blood circulation
Helps bring more oxygen to your blood that makes your blood flow healthy for better blood circulation. Better blood circulation means you can stay healthier and avoid risk of getting sick! No more expensive medical bills!
Supercharges your metabolism to help break down fat faster and in a healthy way. Get more out of your workouts and feel it burn more fat, it's the perfect accessory to get your dream body fast!
FASTER METABOLISM = FASTER DREAM BODY
Wear it everyday and watch your body transform into a slimmer you in no time! No need to do anything! Just wear it and see the results!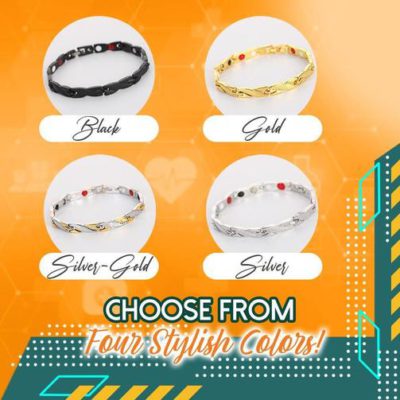 4 different styles to choose from to match all of your outfits! Perfect for any occasion or event. It's the ultimate accessory!
COLORS: Silver, Gold, Silver-Gold, Black
MATERIALS: Germanium, Magnet, Metal, Far Infrared
FEATURES: Weight loss, fast metabolism, removal of negative energy and toxins in the body