Pregnancy Seat Belt
Comfort and Safety for Pregnant Moms Belly
MORE SAFETY: Maternity Car belt adjuster makes the belt sit across the belt, instead of over the belly which causes much discomfort for growing bellies. It allows the pregnant driver to focus on driving, as well as makes pregnant passengers more comfortable and safer.
UNIVERSAL TO FIT: Maternity Car belt adjuster could be universal to fit different Cars to use. It could be adjusted to fit on the Car Front Seats.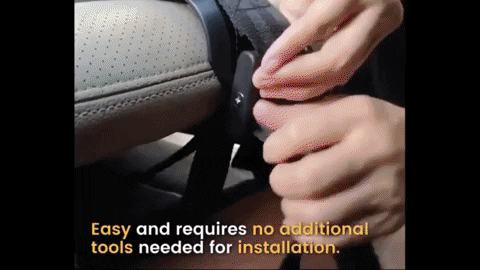 MORE FRIENDLY: For anyone have a big belly or has had abdominal or stomach surgery, a cesarean section, can help reduce discomfort and pain safely.
ATTENTION: The package will include one Maternity Car Belt Adjuster. If you are switching seats/cars a lot, (like from driver to passenger, or own 2 cars and more) we recommend buying 2, instead of removing it to another. 
The Pregnancy Seat Belt can be easily attached to a car seat to keep both the mother & baby comfortable, without any compromise in road safety. It adapts to securely fit seats and mothers of all shapes and sizes. 
 EASY INSTALLATION
1) Slide the belt adjuster between your car's seat and backrest. Ensure that the belt is not twisted or tangled.
2) Slide the adjuster's belt through the lower slot of the buckle.
3) Slide the adjuster's belt back over through the upper slot.
4) Slide the adjuster's belt through the bottom slot and tighten securely.