Ricpind EMSVibration PostureTrainer IntelligentDevice
Get your back, neck, and spine support with this Ricpind EMSVibration PostureTrainer IntelligentDevice! It will remind you to sit or stand straight up with gentle vibrations when you begin to slouch.
Let's take a look at our happy customers.
"The Ricpind EMSVibration PostureTrainer IntelligentDevice is a wonderful product that has helped me improve my posture. I use it every day for at least four hours and I have seen incredible results. This device uses micro-current technology to help the body to realign itself into proper form! I love this product and would highly recommend it to anyone who wants to improve their posture!"—Kelsea Perri—Houston, Texas
"I have been wearing the Ricpind EMSVibration PostureTrainer IntelligentDevice for about a month now, and I can tell you from experience that it works! I no longer slouch. It has also helped me stand up straighter, and my shirt stays tucked in my pants instead of coming untucked throughout the day. I really love this device and would recommend it to anybody who wants help standing or sitting up straight."—Anthony Johnson—Lexington, Kentucky
What are the causes of poor posture?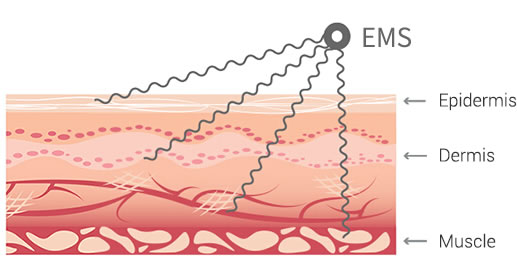 Electrical Muscle Stimulation (EMS) involves delivering small, low-voltage electrical impulses to a muscle via electrodes placed on the skin, in order to cause the muscle to contract. EMS creates steady electric impulses that stimulate muscle contractions–many of them over a sustained therapy session. This repetitive contracting and relaxing of the muscle have the effect of Increasing circulation (blood flow) to the affected tissue area, which aids in repair. EMS goes beyond the skin to deliver unique waves for a more comfortable sensation than traditional devices.
How does EMS help to correct posture?
EMS could result in a reduced forward body tilt and reduced spinal column curvatures, thus having a posture-improving effect. Electrical Muscle Stimulation (EMS) is a popular treatment for back pain, neck pain, muscle tightness, and muscle spasms. One of the core benefits of EMS training is better posture. A scientific study in 2017 found that posture and core muscle strength improved significantly after just eight weeks of EMS training. EMS training has a well-documented ability to reach the deeper muscles responsible for your posture. EMS helps strengthen the areas important for good posture like your back muscles, abdominal muscles, and neck muscles.
Your Ultimate Posture Correction Solution
Ricpind EMS Intelligent PostureTrainer Device is designed to promote the natural posture of the human body through muscle stimulation. The device is made of high-quality fabric that fits the human body curve and is skin-friendly and comfortable, allowing you to train your posture while remaining comfortable. Simple button design and integrated design make it easy to use in any position, while 360° surround posture correction ensures that every part of your body is adequately stimulated.
Alerts you when your posture needs adjusting and monitors your progress.
If you always feel tired and have backache and neck pain, then Ricpind EMSVibration PostureTrainer IntelligentDevice is the best choice for you. With the integrated intelligent posture trainer device, it will vibrate to remind you when you are in a bad posture by emitting low-frequency sound wave signals. If you wear our posture corrector for a period of time, you will develop the habit of straightening your back and gaining muscle memory.
Posture Reminder
Ricpind EMSVibration PostureTrainer IntelligentDevice is an intelligent device used to remind you should straighten your back; it will vibrate to remind the user every time the back is bent over 25 degrees. With its high-quality material and intelligent design, Ricpind EMSVibration PostureTrainer IntelligentDevice is durable, safe, and effective. It fits everyone who needs physical therapy or medical treatment.
Suitable for kids and adults
The Ricpind EMSVibration PostureTrainer IntelligentDevice is a posture training device for kids and adults who needs to correct their posture. The device uses the latest vibration and electrophysical stimulation to stimulate muscles, balance muscle strength and improve flexibility in your back that helps with posture.
Relieve upper back pain
Ricpind EMSVibration PostureTrainer IntelligentDevice helps correct poor posture and relieve pain caused by muscle stiffness and tension. The vibration actuator is designed to massage your back and spine, which can help improve both posture and flexibility. It can also help reduce the risk of injuries, especially back injuries associated with an unhealthy posture.
Unique features of Ricpind EMSVibration PostureTrainer IntelligentDevice
Form the correct seating posture and prevent short-sightedness.
Force the shoulder to be extended fully.
Eliminates back, and shoulder pain and muscle stress
Encourage posture-strengthening muscles growth independently
Help re-train your musculature
Help prevent forward bending, slouching, and rounded shoulders
Effortlessly maintain an upright position
Reminds you when you are not in a good posture
Develop the habit of straightening your back and gain muscle memory 
Specification:
USB charging (Battery capacity: 200mAh)
Charging interface: Type-C interface
Rate input: 5V/1A
Working hours: of battery life, equipped with 2 hours per day
Package Includes: 1 x Ricpind EMSVibration PostureTrainer IntelligentDevice