Seed Starter Trays with Grow Light
Seed Starter Trays with Grow Light
🔥HOT SALE🔥BUY A SET OF 5 GET 27 PCS( WITH LIGHTS )
5 x Fill Light
5 x Seed Trays
5 x Watertight Base Tray
5 x Humidity Lid Dome
5 x Plant Label
2 x Small Garden Tools
Spring is a good time for germination, and the seeds can be sown at this moment to get the fruits as soon as possible. Getting your hands-on results is extra rewarding!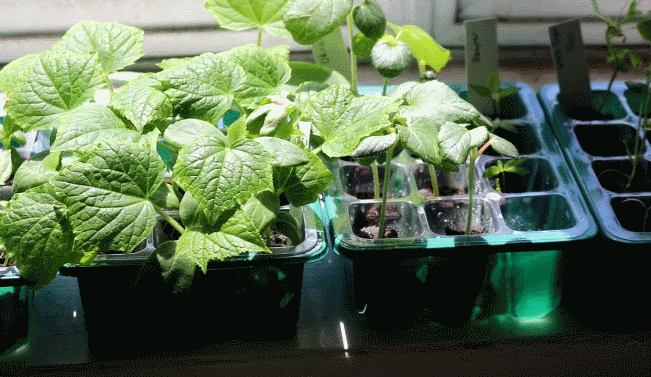 【Grow Lights】Plant growth lights can promote stem rooting, chlorophyll formation, carbohydrate accumulation, absorption and utilization. Plant growth lights can artificially control light quality, light intensity, and light cycle, so that plants are always in the best growing environment, which can improve quality and increase yield.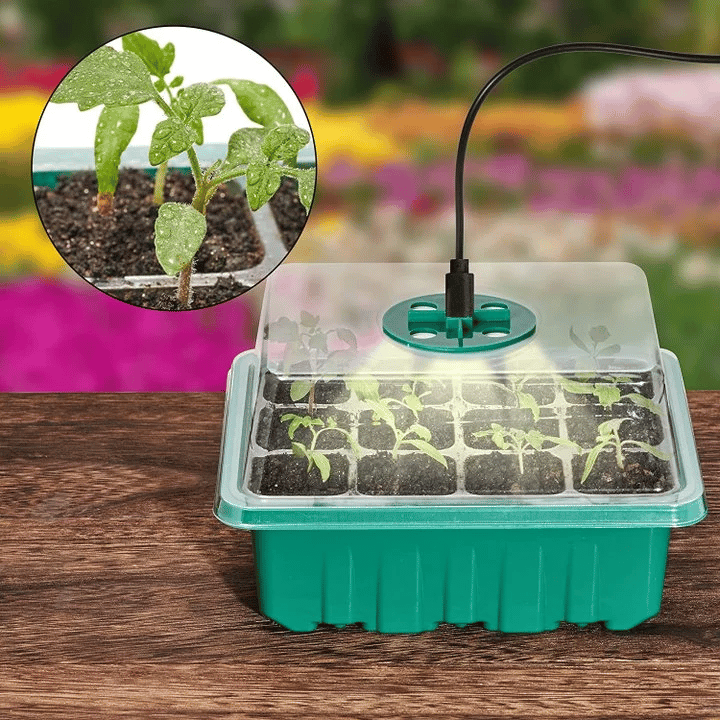 【Clear View Of Plant Roots】The seed starter tray use transparent materials that make it easy to observe the germination and growth of seeds during the breeding process without interrupting the growth process. The attached plant label helps you record the growth process.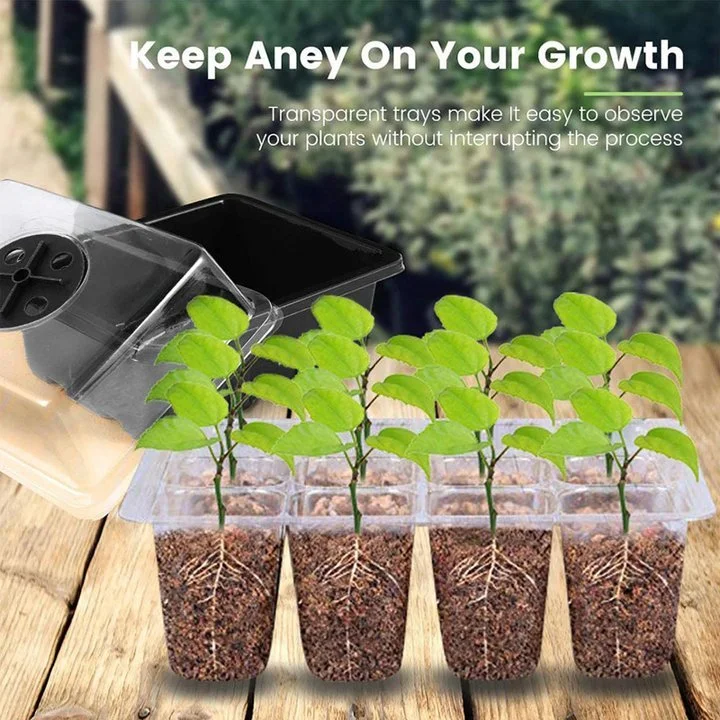 【Adjustable Humidity Design】Adjustable humidity from 50-100%. You can easily adjust the internal humidity to suit different growth stages from seeds to seedlings by rotating the regulator. Ventilation holes facilitate rapid plant growth and adequate control of the germination process.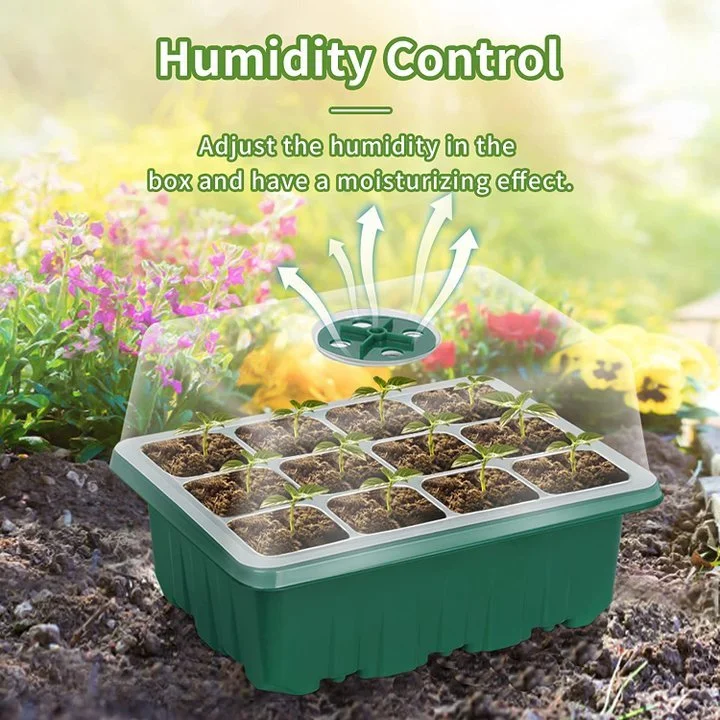 【Perfect for Plant and Seed】Each cell on seed sprouting trays has enough space for your seedlings to develop a strong root system before transplanting to your garden. Each greenhouse cell tray has a drainage hole at the bottom to properly ventilate and drain, make the roots develop better.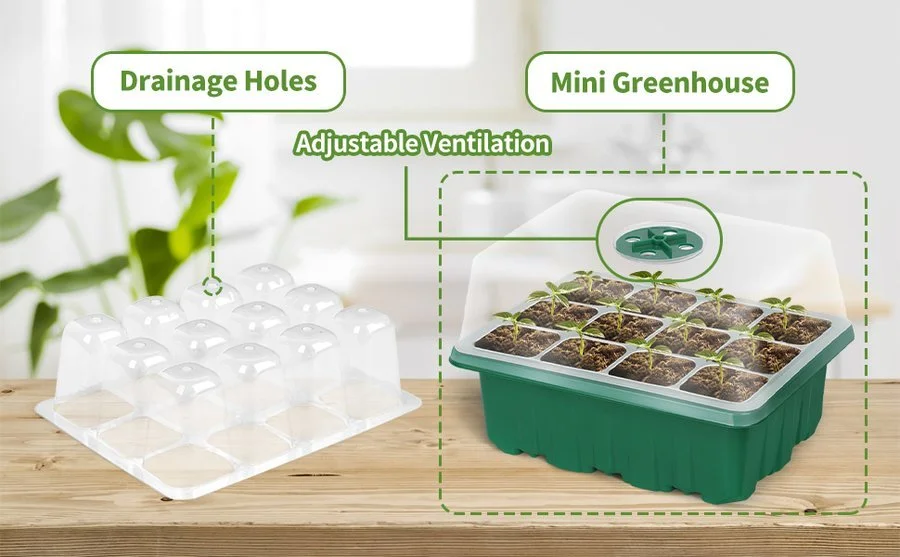 【Superb Material】The seedling starter trays are made of outstanding PET material, which is non-toxic, environmentally friendly, sturdy, not easy to break, and durable for long time use,and will not affect the germination and growth of seeds.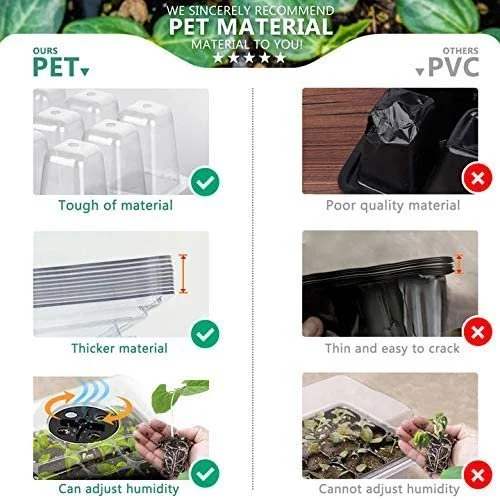 【Wide Applications】The indoor greenhouse kit with grow light is a great option for a large variety of plants such as flowers, vegetables, fruits, tomatoes, and other plants. The watertight base tray is also very suitable for hydroponic use. The plant growing kit will encourage faster growth by giving your seedlings more access to nutrients and plenty of space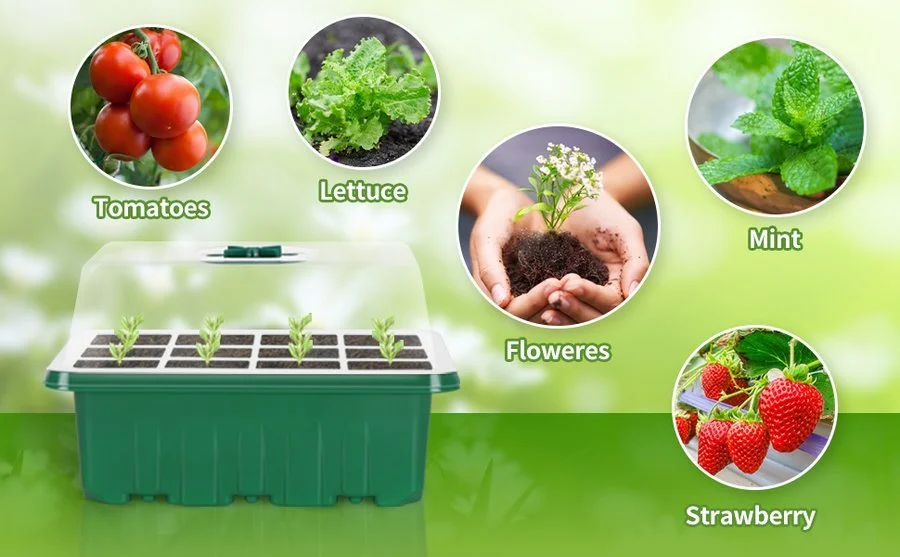 Seed Starter Trays with Grow Light
SIZE:17.5*13.5*5.5CM
WHITOUT LIGHTS:1 Seed Trays